Introducing the Dell Precision T3600
As far as enterprise-class workstations go, we're at the point now where there are fundamentally two major competitors: an entrenched HP, and a very hungry Dell. We've had a couple of HP workstations in for review already (and more on the way), but today we're taking a look at one of the entries in Dell's substantially revamped Precision line.
Dell has completely rejiggered the designs of their Precision workstation towers. While the performance is going to be what you'd expect since HP and Dell are still fundamentally pulling from the same pool of high-performance hardware from Intel and NVIDIA, build and design are where Dell is really looking at distinguishing themselves from the competition with their new Precision line.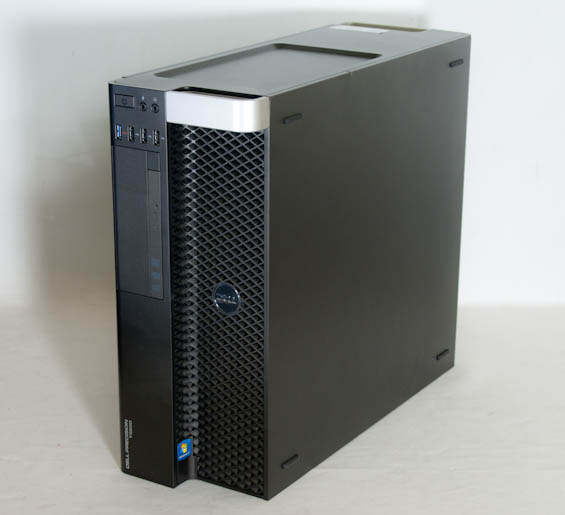 With all that said, though, that doesn't mean the underlying hardware isn't interesting. Intel's Sandy Bridge-E-based Xeon processors are on the market now, and NVIDIA continues to push Fermi for their high-end workstation graphics. Up until this point we've had mostly entry level cards in the workstations we've reviewed, so it's a nice change of pace to get a beefier machine in.
Dell Precision T3600 Specifications
Chassis
Dell Custom
Processor
Intel Xeon E5-2667
(6x2.9GHz + HTT, Turbo to 3.5GHz, 32nm, 15MB L3, 130W)
Motherboard
Dell Custom with C600 Chipset
Memory
4x2GB Hynix ECC DDR3-1333 (max 4x16GB)
Graphics
NVIDIA Quadro 4000
(256 CUDA cores, 475MHz/950MHz/2.8GHz core/shaders/memory, 256-bit memory bus)
Hard Drive(s)
2x Samsung HD256GM 256GB 10K-RPM SAS HDDs in RAID 0
Optical Drive(s)
HL-DT-ST Slimline DVD-RAM
Power Supply
Dell Custom 80 Plus Gold
Networking
Intel 82579LM Gigabit Ethernet
Audio
Realtek ALC269
Speaker and mic/line-in jacks
Front Side
Optical drive
3x USB 2.0
1x USB 3.0
Headphone and mic jacks
BIOS indicator lights
Top
-
Back Side
Speaker and mic/line-in jacks
Serial port
5x USB 2.0
1x USB 3.0
Ethernet jack
PS/2 keyboard and mouse ports
DVI-D (Quadro)
2x DisplayPort (Quadro)
Operating System
Windows 7 Professional 64-bit SP1
Extras
Externally removable, toolless 80 Plus Gold power supply
USB 3.0
Toolless SAS drive bays
Dell RMT technology
Intel vPro
Warranty
3-year parts and 3-year on-site service
Pricing
Starting at: $1,099
Price as configured: $4,450
While Sandy Bridge-E didn't exactly set the enthusiast world on fire, in the workstation space it has a much more tangible impact. The Intel Xeon E5-2667 is a hex-core processor with 15MB of L3 cache, running at a nominal 2.9GHz but able to turbo up to 3.2GHz on all six cores or 3.5GHz on a single core. Attached to its integrated quad-channel memory controller are four sticks of 2GB Hynix DDR3-1333 ECC RAM for a total of 8GB, but this is one of the places where Dell leverages a feature unique to them called RMT, or Reliable Memory Technology.
Dell's RMT is impressive in that it works on top of the built-in error correction mechanisms inherent to ECC memory. Whenever there's a page fault, RMT will basically map where the bad page in the memory is and when the computer reboots it will prevent the system from using that page. As a result, the system maintains its uptime by working around the bad memory. Once there are seven or more faults in a single DIMM, the system will then suggest you replace that stick. Useful!
While our review system didn't come configured with SSDs, we did get a pair of Samsung 10,000-RPM hard drives running off of a SAS connection and configured in RAID 0. Dell offers a nice spread of storage options, starting at basic 7,200-RPM SATA hard drives and moving up to SSDs and 15K-RPM SAS drives.
Handling workstation graphics processing duties is the NVIDIA Quadro 4000, essentially the third-fastest workstation GPU NVIDIA offers. It's interesting to note that their top three are all basically die-harvested GF100 parts, but they also have substantially lower peak wattage than desktop-class Fermi cards do. The Quadro 4000 is particularly interesting because it's a GF100 with basically half of its CUDA cores disabled, leaving it with just 256 CUDA cores at its disposal. Its memory bus has also been reduced to 256-bit from 384-bit, and all of its clocks are comparatively low: 475MHz base clock, 950MHz on the CUDA cores, and the 2GB of GDDR5 runs at just 2.8GHz. At the same time, making these reductions allows the Quadro 4000 to function with a single slot cooler and a TDP of just 142 watts. While it doesn't initially make sense to pare down a GF100 this much, keep in mind that the chip itself is far more efficient at double-precision math than any of the consumer Fermi derivatives: NVIDIA rates it for 243.2 gigaFLOPs in double-precision, half of its single-precision throughput. Compare this to Kepler's GK104 or even Fermi's GF104/GF114, both of which take a swan dive once double-precision calculation is required.
Finally, in a welcome change of pace from the last generation of Precision workstations, the T3600 comes with an 80 Plus Gold, 90% efficient power supply standard. In our review of the T1600 we chastised Dell for cheaping out on the power supply, so we're happy to see that problem resolved in the new generation of Precision towers.
Obviously all this workstation class hardware doesn't come cheap. While the base model T3600 starts out at $1100, as configured our test system costs roughly four times as much. Just looking at online prices (e.g. not what Dell actually charges for the various upgrades), $750 of that is for the Quadro 4000, while the Xeon E5-2667 "only" costs over $1500 online. Ouch! We couldn't find any prices for the Samsung SAS drives Dell uses, but 300GB SAS 10K-RPM drives generally go for $300 or more depending on features, and the SAS controller card adds to the price as well. In other words, the price of workstation class hardware quickly adds up, but there's the promise of better service, support, and reliability to go along with the cost.