Peeking Inside the New Precision Line
Dell held a press event in San Francisco, California on Friday, April 20th to unveil their revised Precision line-up and featured guest speakers from both the mechanical engineering industries and the motion graphics industries as well as guests from NVIDIA and Intel. The new Precision line is a very big deal to Dell, and it's clear they went back to the drawing board after their last generation. When a big company like Dell is genuinely hungry for marketshare, the end users always benefit the most, and that seems to be the case with these new towers as Dell tries to claw more customers away from HP.
It's very easy to be cynical about a product launch where the vendor talks about how powerful their new system is, because in the strictest sense it's not really their hardware: it's the combination of hardware from other vendors that is so powerful. Fundamentally vendors use what's available, and what's available from Intel and NVIDIA right now is impressively powerful. That's especially true when you're talking about leveraging six- and eight-core processors based on Intel's Sandy Bridge-E architecture, and NVIDIA's Maximus and SLI technologies.
Where Dell is scoring big with the T3600, T5600, and T7600 towers is in the chassis design and in their Reliable Memory Technology secret sauce. Dell still doesn't have anything like HP's Performance Advisor on the software side, but RMT is arguably more valuable since uptime is in some cases even more critical than raw performance.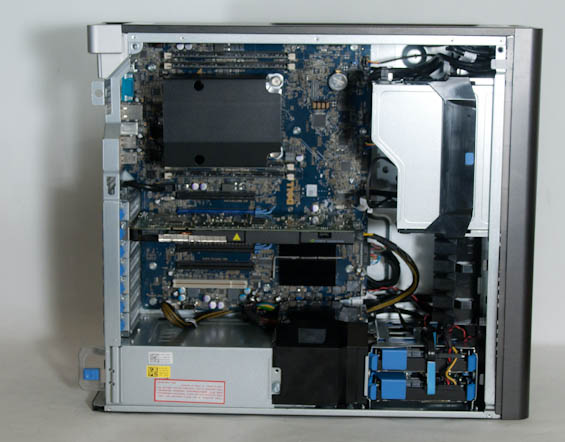 Each of the towers sports the same fundamentals in the chassis design. There are two large aluminum handles that make it easier to carry, but the top can also be removed and have rails attached so that the towers can be installed in a rack-mounted orientation. There's a direct front-to-back airflow design that takes advantage of tower-style coolers on the processor, allowing the system to be acoustically and thermally efficient while remaining stackable.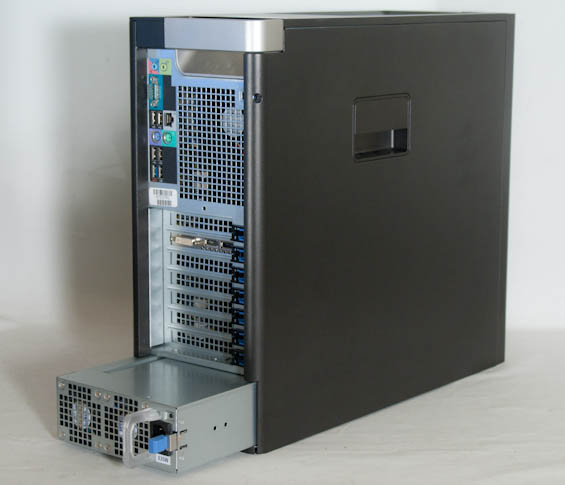 The interiors are also much, much cleaner than the previous generation, and drive bays are now toolless along with, get this, a toolless power supply. The PSU appears to be fundamentally modular but also a proprietary design (with all the pro's and con's associated with that); if the PSU in a system fails, you can actually pull it out of the back of the system then slide a new one in and have the system back up and running in under a minute, no rewiring required. While on the one hand this leaves you at Dell's mercy for getting replacement units, on the other hand the tremendous value in retained uptime and lack of service time may very well make up for it. Besides, when you're paying for enterprise class workstations, features like this are what makes a design better than the competition.
Recognizing that optical drives are becoming less and less important, Dell specced the new line with slimline drives instead of full-sized 5.25" drives. They maintained the 5.25" drive bay, though, and that allows the end consumer the flexibility of configuring the system with either an optical drive, a quad of 2.5" drive bays, or whatever else they might need in that bay. It's a nice touch.
Finally, as I mentioned on the previous page, Dell has their own patented technology called RMT, or Reliable Memory Technology, which maps and isolates bad memory pages whenever there's a page fault, allowing the end user to continue using the rest of the DIMM and thus maintaining precious system uptime. Only when a DIMM has seven or more faults will the system suggest that you outright replace the stick.
The differences between the four Precision lines (T1650, T3600, T5600, T7600) really can be broken down simply. The T1650 is the entry level, single-socket, average-powered system. The T3600 is the first step up; it supports the fastest graphics cards available as well as running dual GPUs, but remains a single-socket system. The next step up is the T5600, which switches over to a dual-socket configuration, offers four DIMM slots per socket, and is able to support two PCI Express graphics cards (or theoretically a GPU and an NVIDIA Tesla card for Maximus). Finally, the big daddy is the T7600, which features two sockets and eight DIMM slots per socket, with support for up to three PCI Express cards should end users choose to run SLI and/or Maximus.