AZZA is a relatively new company when it comes to enclosures. Their major splash came with the Fusion 4000 enclosure (which we're still slated to review at some point in the future), a case that can house both a full ATX system and a secondary Mini-ITX system simultaneously. Someone over at AZZA is definitely thinking outside the box, and that becomes increasingly evident when we take a look at their most recent launch, the Genesis 9000.
The Genesis 9000 is an incredibly flexible enclosure, not in terms of building materials (which are almost entirely SECC steel) but in terms of assembly. This is a case that looks incredibly daunting to build in (partly because it's 36 pounds on its own) because of how many ways you can actually build a system in it. More than that, AZZA has gone slightly off the beaten path with the cooling system. The result is a very unique case at a remarkably competitive price, and after multiple nights of testing, we're only too happy to share our conclusions with you.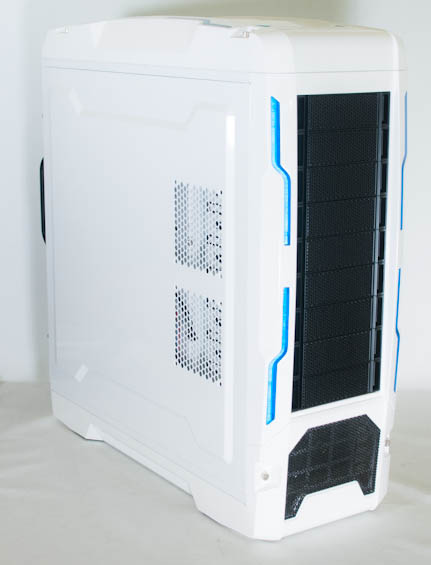 Saying AZZA is relatively new isn't wholly accurate; they're new to the end user, but they've been building enclosures and power supplies for OEMs like XION for some time now. The hardware that's been released in America under the AZZA label has been distinctive, though, and it's extremely gratifying to see newer Taiwanese companies like AZZA and Bitfenix carving out their own niches with designs that go beyond the basic "gamer" boxes. The Genesis 9000 is one of those designs.
AZZA Genesis 9000 Specifications
Motherboard Form Factor
Mini-ITX, Micro ATX, ATX, E-ATX, XL-ATX
Drive Bays
External
9x 5.25"
Internal
5x 2.5"/3.5" (drive sleds housed inside 5.25" bays)
Cooling
Front
-
Rear
1x 120mm exhaust fan
Top
2x 230mm exhaust fans
Side
2x 120mm intake fans and 1x200mm fan mount, 2x 120mm fan mounts on opposite panel
Bottom
2x 140mm intake fans with space for up to 3x230mm fans
Expansion Slots
9
I/O Port
2x USB 3.0, 2x USB 2.0, eSATA, 1x Headphone, 1x Mic
Power Supply Size
Standard ATX
Clearances
HSF
200 mm
PSU
2x 240 mm
GPU
15.7" / 400mm
Dimensions
25.1" x 9.8" x 23.2"
640mm x 250mm x 590mm
Weight
36 lbs / 16.33kg
Special Features
USB 3.0 connectivity via internal headers
Removable, rotatable motherboard tray
Dual power supply bays
Integrated fan/LED controller
Support for 480mm radiator in top of enclosure and 240mm radiator in bottom
Price
$169
Honestly, for $169 you get a hell of a lot of case. The Genesis 9000 sports a healthy number of ports in the I/O cluster, nine expansion slots, and uses its array of 5.25" bays as a means for supporting 3.5" and 2.5" drives. The drive trays feel like a bit of wasted space, but they're made of solid steel and two of them even have hot-swap backplates that also include 3-pin fan headers. In a pinch you can easily buy an aftermarket 5.25"-to-2x2.5" adaptor as well.
That's before you get to the pair of power supply bays, army of internal fans, LED enclosure lighting, and fan controller. And a removable motherboard tray! There's a lot to dig into here, so let's get started.