Build Quality and Heat
Dell's design for the OptiPlex 9010 All-in-One shares a lot in common with the fancier XPS One 2710, but while the 2710's cooling system had a hard time coping with both the Intel i7-3770S and dedicated graphics hardware, the similar system in the 9010 AiO is far less overworked. The result is an aesthetic and cooling design that's inappropriate for one system but elegant for another, and it's really quite elegant for the 9010 AiO. In fact I'd argue it's actually more attractive than the glossy XPS One 2710; matte plastics don't pick up fingerprints quite the way glossy ones do, and they're less distracting. The shell of the 9010 AiO doesn't look or feel cheap, but it's not stodgy either.
During a meeting with Dell in San Francisco recently (the impending Windows 8 launch means the major vendors are coming out of the woodwork in a big way), they stressed the essential modularity of the 9010 AiO's design. The system doesn't use an external power brick, and the mounting system is completely VESA compatible; it really is designed to go just about anywhere and be as self-sufficient as possible. I'd be more bullish on that if it weren't for the display.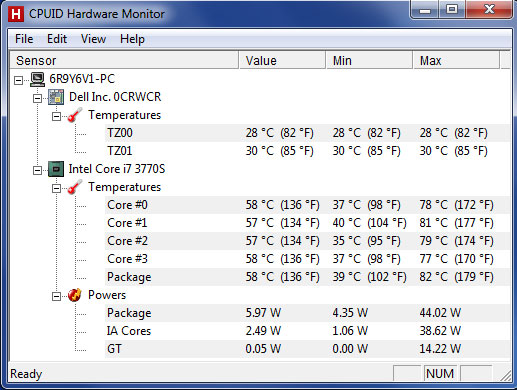 As I mentioned, though, thermals are much, much better and noise is better as a result. In fact, while the 2710 sounded like a jet engine under load, you have to put your ear up to the 9010 AiO even while it's being crunched to really hear the fan. Idle and load noise are both under the 30dB floor of the noise meter I use.
Power Consumption
Given the modest power requirements of Ivy Bridge and the chintzy TN panel, it's reasonable to expect the Dell OptiPlex 9010 All-in-One (I do wish they'd crunch these names a bit better) to be pretty frugal when pulling power from the wall. It turns out that's an entirely reasonable expectation.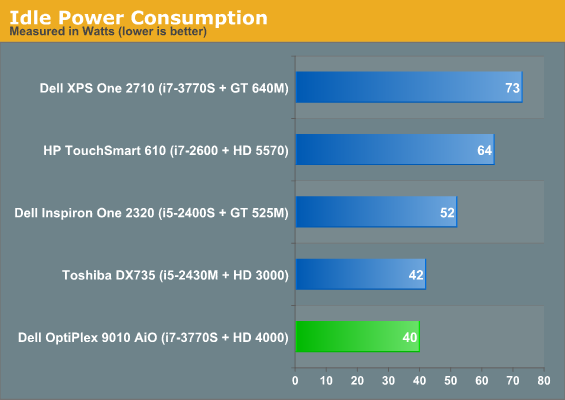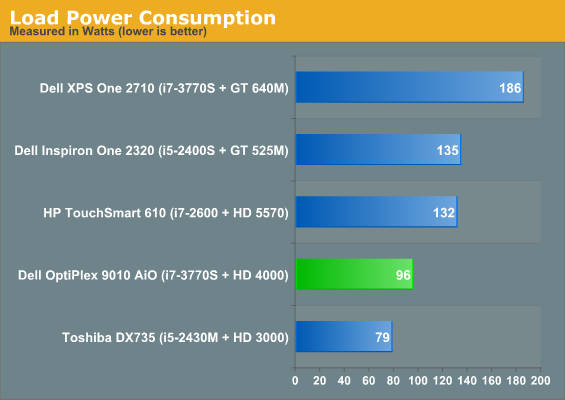 That turns out to be the case; the 9010 AiO draws less power under stress than an incandescent light bulb. In fact it's even slightly more efficient at idle than Toshiba's DX735, an all-in-one powered by a mobile processor instead of a low-voltage desktop model. There's a lot to be said for this kind of efficiency, and it makes a strong argument for mass deployment in an environment where cumulative power consumption can start to become a very big deal.