I just got back from Seoul last night where Samsung held their SSD Global Summit for the first time. As a souvenir, Samsung gave us all an 840 SSD because they were only able to ship 840 Pros for the initial reviews. While I haven't had time to run the 840 through all of our tests yet, I just finished running our Storage Bench suite and thought I would give you a quick teaser on its performance:
Samsung SSD 840 Specifications
Capacity
120GB
250GB
500GB
Sequential Read
530MB/s
540MB/s
540MB/s
Sequential Write
130MB/s
250MB/s
330MB/s
4KB Random Read
86K IOPS
96K IOPS
98K IOPS
4KB Random Write
32K IOPS
62K IOPS
70K IOPS
Cache (LPDDR2)
256MB
512MB
512MB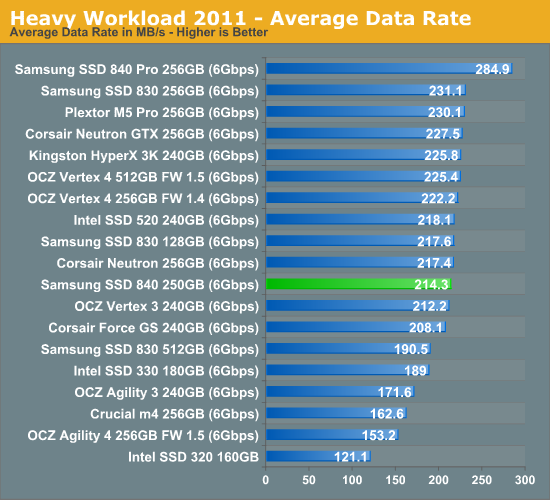 The 840 is very close to the 840 Pro in terms of read performance but since our Heavy suite consists of lots of writes, the 840 can't challenge the 840 Pro. Some of this can be due to the firmware but I'm betting the biggest reason is the use of TLC NAND. Read latency isn't affected that much by the third bit per cell but erase and program times are considerably longer (50% increase in write latency), which results in worse write performance.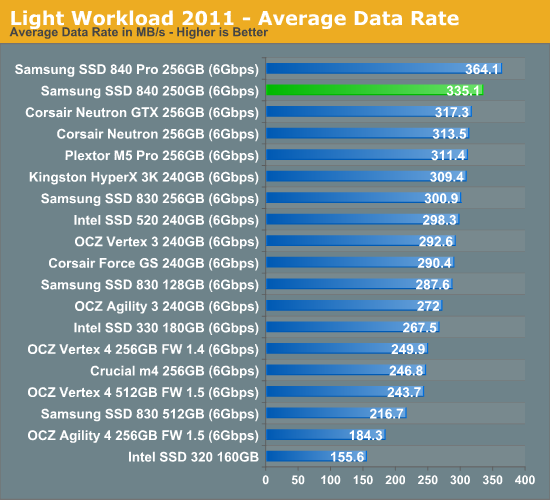 Our Light suite is more read centric, which is a good thing for the 840; only the 840 Pro is faster than it. Samsung's engineers also said that they specifically concentrated on read performance on the 840 because it's aimed towards consumers whose usage is often very read centric. I can definitely agree with their engineers and I think Samsung's current lineup is very logical: Cheap TLC based SSD for consumer with good read performance and a more expensive but all-around high performance drive for enthusiasts and professionals.
Our full review will be up soon, so stay tuned!