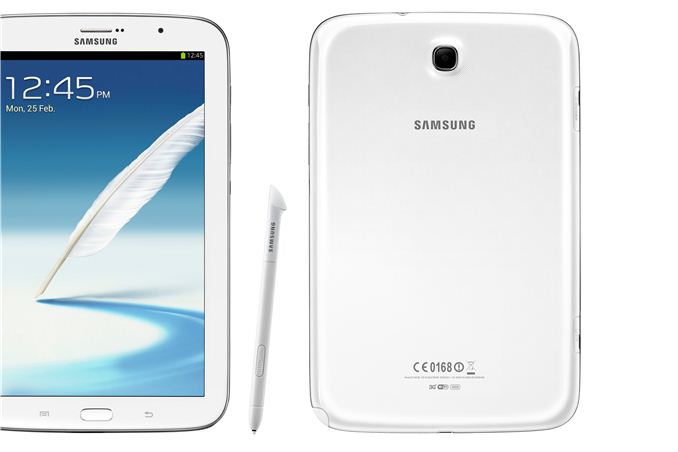 Samsung's goal for 2013 is to see the same success in tablets as it did in smartphones in 2012. It's a lofty goal, but one that is entirely feasible if the company brings more Nexus 10-class devices to market this year.
Today Samsung is officially introducing its first tablet launch of the new year: the Galaxy Note 8.0. To understand the Galaxy Tab/Note divide, you simply have to look at the Galaxy Tabs as content consumption focused devices while the Galaxy Note offerings are geared more towards productivity.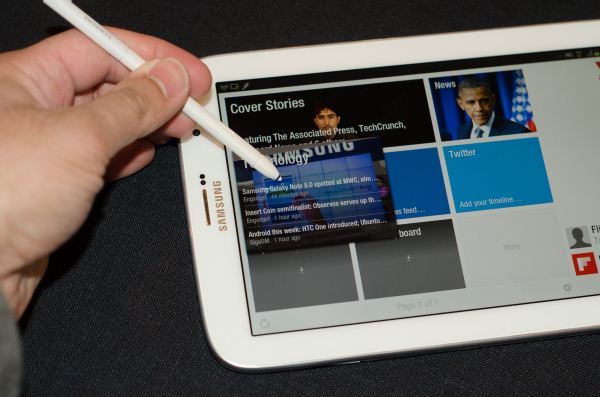 A big part of the productivity story is the integrated S Pen, which is present on all Galaxy Note devices including the new 8.0. The S Pen is a battery-less stylus that is driven by a Wacom digitizer layer in the Galaxy Note display stack. Samsung offers a combination of its own apps as well as customized third party apps to take advantage of the S Pen.
Where the Galaxy Note 8.0 breaks new ground is that it is the first device to ship with Awesome Note for Android. Samsung claims to have at least a 1 year exclusive for the pre-loaded Android version of the popular iOS application.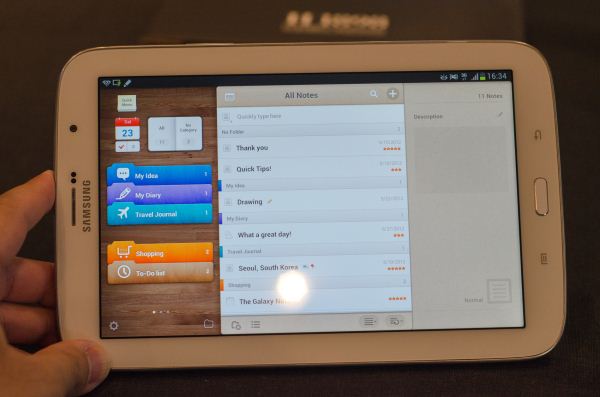 The Galaxy Note 8.0 integrates Samsung's Exynos 4 Quad (4412) SoC, which features four ARM Cortex A9 cores running at up to 1.6GHz. The 4412 also features ARM's Mali 400MP4 GPU, this is the same SoC used in the Galaxy Note 10.1. The SoC is paired with 2GB of RAM.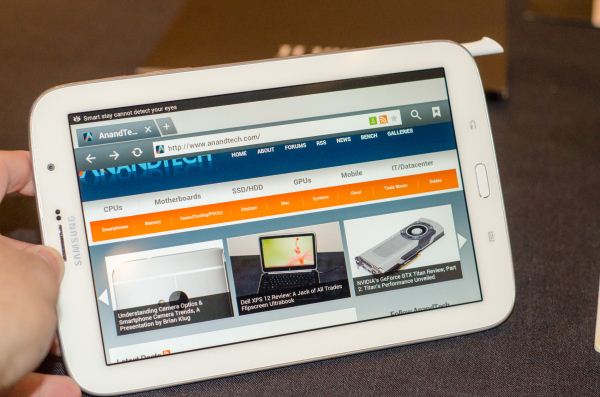 As its name implies, the Galaxy Note 8.0 features an 8-inch 1280 x 800 Samsung PLS display. New for the Note 8.0 is a special reading mode that appears to play with white balance/color calibration in order to reduce eyestrain: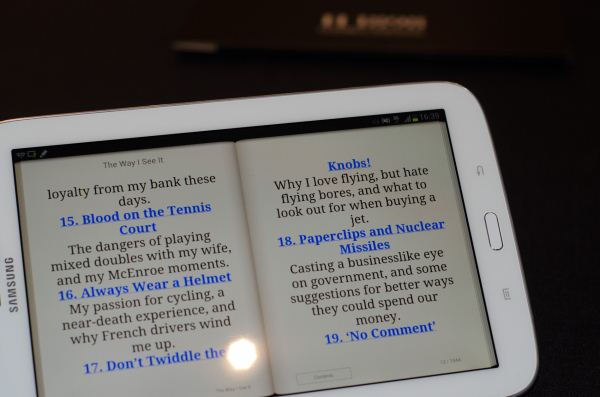 Reading Mode: Disabled
The usual features like Smart Stay (using the front facing camera to detect when you're looking at the tablet and thus overriding display timeout settings) are also present.
Just like the rest of the Note lineup, Samsung includes an integrated IR blaster in the Galaxy Note 8.0.
Camera duties are handled by a 5MP rear facing module and a 1.3MP front facing camera.
The Note 8.0 will be available in 16GB and 32GB configurations, with a microSD card slot for expansion. There's a non-removable 4600 mAh battery inside the Galaxy Note 8.0 (should be around 17 Wh, so slightly bigger than what's in the iPad mini).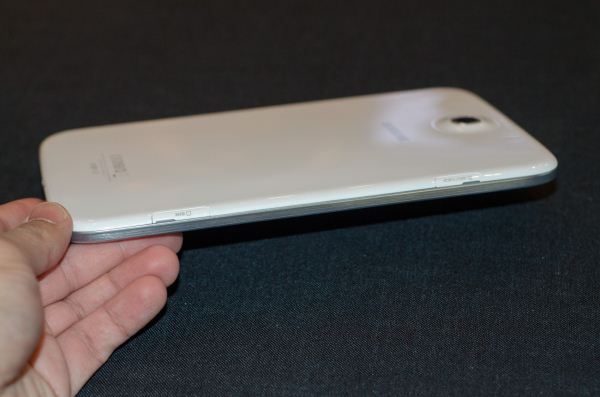 The 8.0 will ship with Android 4.1.2. All of the aforementioned specs apply to the international version of the Note 8.0, with US details forthcoming. Samsung will have WiFi, 3G and 4G LTE versions of the Galaxy Note 8.0 available starting sometime in Q2. The cellular versions retain full phone capabilities; in other words, you can hold a Galaxy Note 8.0 3G up to your head and make phone calls just like you would with a Galaxy S 3.
This year Samsung is trying to shorten the gap between the launch of a WiFi tablet and subsequent cellular enabled derivatives.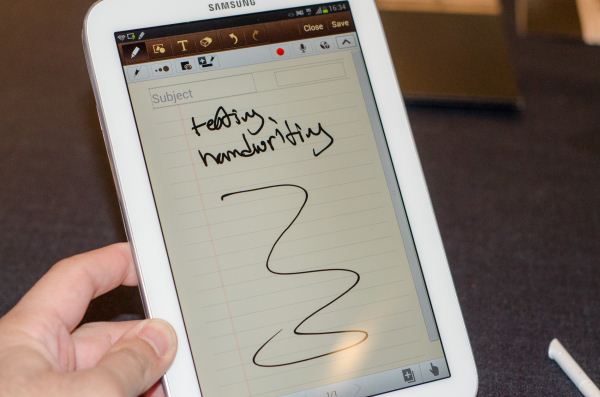 I had the opportunity to play with a pre-production version of the Galaxy Note 8.0 in Barcelona. The 8-inch form factor is honestly a good balance between portability and productivity. It's a bit bigger than the iPad mini, but at 338 grams it never feels heavy.The device itself looks very similar to other shipping Galaxy devices, with glossy plastic dominating the materials list.
iPad mini vs Galaxy Note 8.0
Apple iPad mini
Samsung Galaxy Note 8.0
Dimensions
200 x 134.7 x 7.2mm
210.8 x 135.6 x 7.95mm
Display
7.85-inch 1024 x 768 IPS
8.0-inch 1280 x 800 PLS
Weight
308g (WiFi)
338g (WiFi)
Processor
1GHz Apple A5 (2 x Cortex A9, PowerVR SGX543MP2)

Samsung Exynos 4412 (4 x Cortex A9, Mali 400MP4)

Connectivity
WiFi , Optional 4G LTE
WiFi , Optional 3G/4G LTE
Memory
512MB
2GB
Storage
16GB—64GB
16GB/32GB + microSD
Battery
16.3Wh
~17Wh
Starting Price
$329
TBD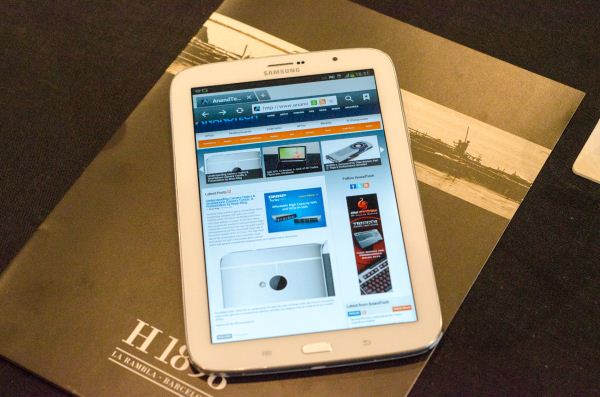 The S Pen functionality is obviously a big selling point of the Galaxy Note family, and it seems to work relatively well. I wouldn't put the Galaxy Note lineup on the same level as Microsoft's Surface Pro, but it's also nowhere near as expensive either. The device's performance is a lot better with the latest software builds on the 8.0 that it was on the Galaxy Note 10.1 back when I first used it. There's still perceivable lag when using the pen to draw/write, but the stylus is still usable. Samsung also enables the ability to display multiple applications on the screen at the same time, which is also much better implemented than when the 10.1 first launched.
Overall, I'm not a fan of the Touchwiz UX customizations however and I'd much rather see a lighter weight software layer from Samsung instead. Icons and text always seem a bit too large for my tastes, although I understand what Samsung is going for with the design. Despite those complaints, the user interface remained relatively quick and responsive in my brief hands on.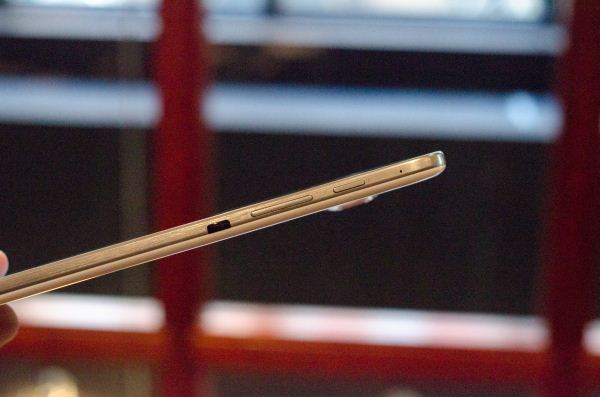 While I believe the Galaxy Note 8.0 will do a good job filling out the Note lineup, if Samsung really wants to end up at the top of the tablet market it needs a much more aggressive foot forward. I would like to see increased emphasis on higher quality materials, a more streamlined/lightweight Touchwiz stack and aggressive adoption of new features. Samsung did a great job with the Nexus 10, I'd love to see what it could do with a similar approach to tablets of all sizes.