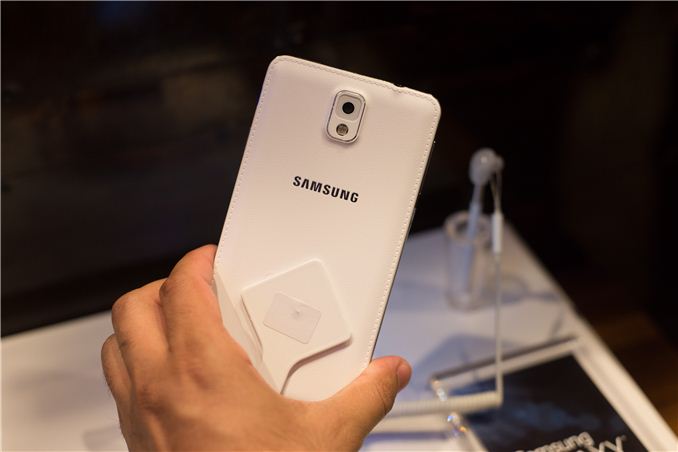 Samsung was among the first to discover the demand for very large smartphones and quickly addressed that market with its Galaxy Note lineup. The smartphone Notes combine a large display (greater than 5-inches) with an active digitizer (S Pen). Last year Samsung expanded the Note family to include 8 and 10-inch tablets as well as smartphones. Blurring lines even further are the cellular variants of Galaxy Note tablets, some of which can function as full fledged smartphones in that they can make and receive phonecalls. Earlier today Samsung announced the third generation of its successful Galaxy Note smartphone device, the aptly named Galaxy Note 3.
The Note 3 continues Samsung's recent habit of making its devices thinner and lighter while increasing screen size. The Note 3 increases its screen size by 0.18" diagonally compared to the Note 2 (the 5.7-inch display actually measures 144.3mm or 5.68"). Despite the larger display, nearly all dimensions of the Note 3 shrink compared to its predecessor. The Note 3 is slightly taller (+0.1mm) but is less than a millimeter narrower and nearly a full millimeter thinner. The Note 3 also drops in weight by 12 grams. The result is an even bigger display in a smaller, more usable device.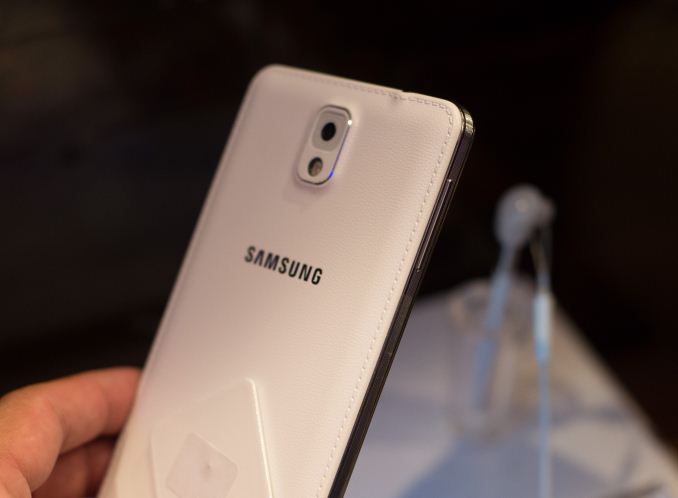 Responding in part to criticism of Samsung's use of cheap feeling plastics in thier phones, the Galaxy Note 3 adds a bit of texture into the mix. The back of the device is covered in a soft touch faux leather, complete with stitching. The plastic trim around the device also gains a texture, apparently designed to mimic pages of a notebook: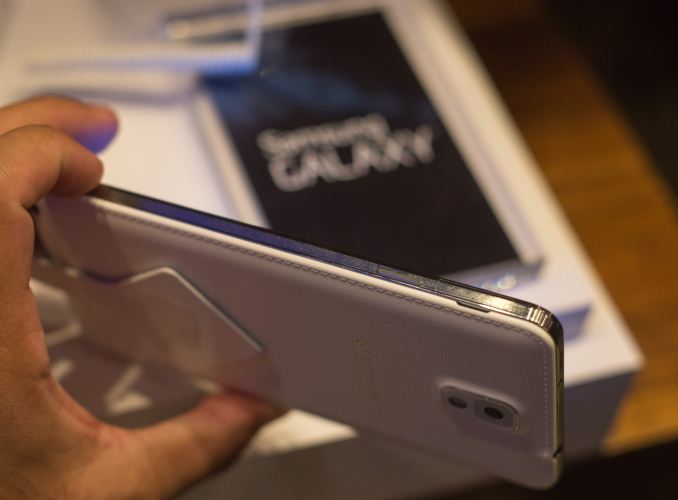 The combination of the two definitely help make the Note 3 feel less of a slippery mess, but those hoping for a truly premium feel will probably continue to be disappointed. The Galaxy Note 3 will be available in classic white, jet black and blush pink at launch. The back cover is removable, hiding a slightly larger 12.16Wh (3.8V) removable battery. Samsung offers other back covers in 9 other colors if you want some additional personalization.
Internally the Galaxy Note 3 becomes a far more modern platform. LTE versions of the Galaxy Note 3 will feature a 2.3GHz Qualcomm Snapdragon 800 SoC, while 3G versions will use Samsung's updated Exynos 5 Octa (5420). The Exynos 5420 features four ARM Cortex A15s running at up to 1.9GHz and four Cortex A7s running at up to 1.3GHz. The updated design should hopefully feature a fully cache coherent interface between both processor islands, something that wasn't functional in the first Exynos 5 Octa SoC.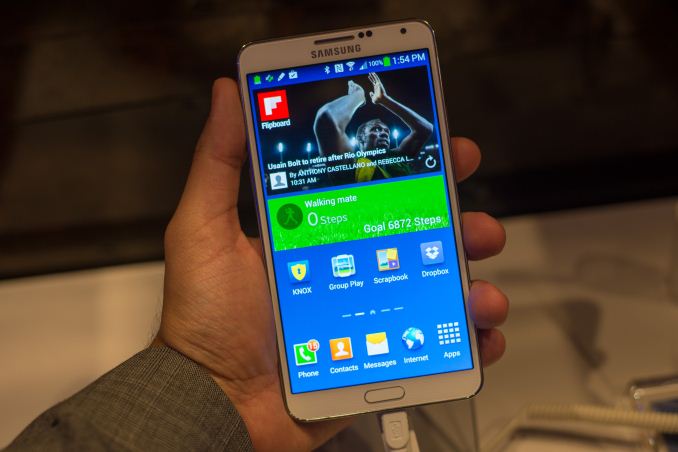 The rear facing camera gets a bump up to 13MP, while the front facing sensor moves to 2MP. Samsung is likely using the same sensors it uses in the Galaxy S 4 in the new Note 3. The on-board memory also sees an increase to 3GB. Finally, like the Galaxy S 4, the Galaxy Note 3 adds 802.11ac support.
Galaxy Note Physical Comparison
Samsung Galaxy Note (USA)
Samsung Galaxy Note 2
Samsung Galaxy Note 3
Samsung Galaxy S 4
Height
146.8 mm
151.1 mm
151.2 mm
136.6 mm
Width
82.9 mm
80.5 mm
79.2 mm
69.9 mm
Depth
9.7 mm
9.4 mm
8.3 mm
7.9 mm
Weight
178 g
180 g
168 g
130 g
CPU
1.5GHz APQ8060 (Dual Core Scorpion)
1.6GHz Samsung Exynos 4412 (Quad Core Cortex A9)
LTE: 2.3GHz MSM8974 Snapdragon 800 or 3G: 1.9GHz Exynos 5420
1.9GHz Snapdragon 600 or 3G: 1.6GHz Exynos 5410
GPU
Adreno 220
Mali-400MP4
Adreno 330 or Mali-T628 MP6
Adreno 320 or PowerVR SGX 544MP3
RAM
1 GB LPDDR2
2 GB LPDDR2
3 GB
2 GB LPDDR2
NAND
16 GB NAND with up to 32 GB microSD
16/32/64 GB NAND (?) with up to 64 GB microSD
32/64 GB NAND with up to 64 GB microSD
16/32 GB NAND with up to 64 GB microSD
Camera
8 MP with LED Flash + 2 MP front facing
8 MP with LED Flash + 1.9 MP front facing
13 MP with LED Flash + 2 MP front facing
13 MP with LED Flash + 2 MP front facing
Screen
5.3" 1280 x 800 HD SAMOLED
5.5" 1280 x 720 HD SAMOLED
5.68" 1920 x 1080 HD SAMOLED
5.0" 1920 x 1080 HD SAMOLED
Battery
Removable 9.25 Whr
Removable 11.78 Whr
Removable 12.16 Whr
Removable 9.88 Whr
A big part of the Galaxy Note story is the integrated S Pen active digitzer. Samsung redesigned the S Pen for the new Note and combined it with some new features:
Action Memo allows users to handwrite a note, and automatically execute a function or convert that handwritten information into formatted content. Action Memo can instantly initiate a call, add to contacts, look up an address on a map, search the web, save a task to a to-do list, and more

Scrapbook enables users to organize or track down content and information from various sources including the web, YouTube and Gallery in one place so that users can easily look back at collected content all at once. When consumers save content for future use, Scrapbook also collects source material or URLs allowing them to easily refer back to the original source.

The Screen Write feature captures the full screen image of the current page on the device and allows users to write comments or additional information onto the captured image.

S Finder allows users to expansively search for content on their device regardless of the type. By putting in keywords or filters such as date, location, and content type, users can search related documents, events, communication threads, and even the Help page – all in one place. In addition, users can also search for hand-written content in their Notes and memo applications, as well as symbols and formulas.

Pen Window allows users to use the S Pen not only for drawing sketches or writing notes, but now also for opening a small application window for a true multitasking experience. Simply by drawing a window of any size, anywhere on the screen, users can easily and quickly open another application window such as YouTube, calculator or Browser without pausing current activity on the screen.
Other traditional Touchwiz features see enhancements with the Note 3 as well. Samsung has supported multi-window applications for a while now, but with the Note 3 you can now actually open multiple windows of the same application (e.g. two browser windows displaying different things). Samsung also added a new group play mode that lets you wirelessly connect up to five devices and play video across all of the devices acting as a single large display.
The Galaxy Note 3 ships with Android 4.3 and KNOX. Devices will be available starting on September 25th in 140 countries around the world. Availability on US carriers (AT&T, Sprint, T-Mobile, Verizon & US Cellular) will come later this year.