Power, Temperature, & Noise
Having seen the gaming performance of the card, let's move on to power, temperature, and noise to get a better look at the performance characteristics of EVGA's new ACX cooler. This will also give us a chance to evaluate the costs of EVGA's factory overclock with respect to power consumption.
GeForce GTX 780 Voltages
780SC ACX Max Boost
Ref GTX 780 Max Boost
780SC ACX Idle
1.1625v
1.1625v
0.862v
Briefly, since the 780SC ACX is a factory overclocked semi-custom card, other than clockspeeds there haven't been any further board-level modifications by EVGA. The max voltage is still 1.1625v, with the 780SC ACX simply running at higher clockspeeds anywhere along the voltage curve.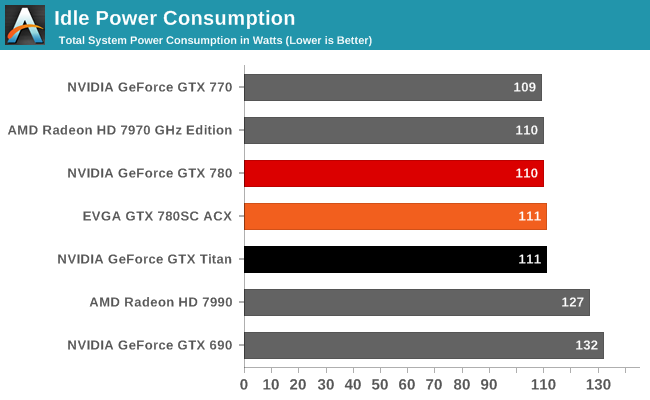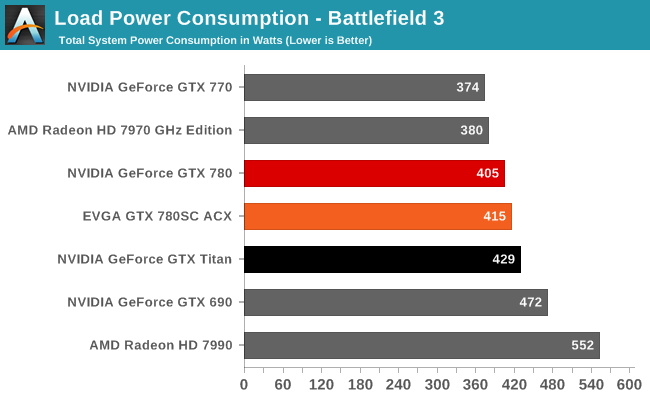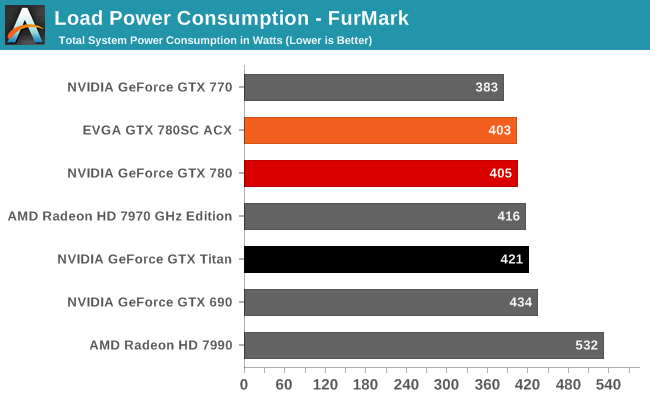 With voltages going unchanged, power consumption is similarly unfazed. Load power consumption under BF3 increases by just 10W at the wall to 415W, and even then some portion of that is due to the increased CPU load to generate more frames. Looking at FurMark and its much more GPU-focused load, the 780SC ACX does even better at 2W less.
Given that the official TDP for GTX 780 is 250W, these small shifts in power consumption end up being just short of trivial. There is a minor power consumption increase due to the overclock, but with such a small increase the performance may as well be free. Especially in light of the fact that the 780SC ACX's power consumption is still around 15W less than that of GTX Titan, owing in part to binning, and in part to the fact that the card has half as many GDDR5 memory chips as Titan.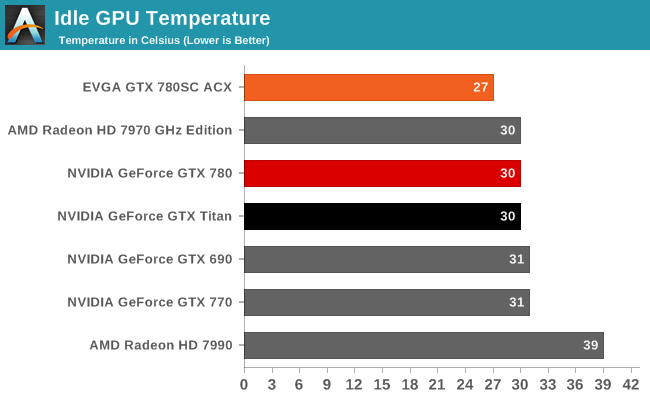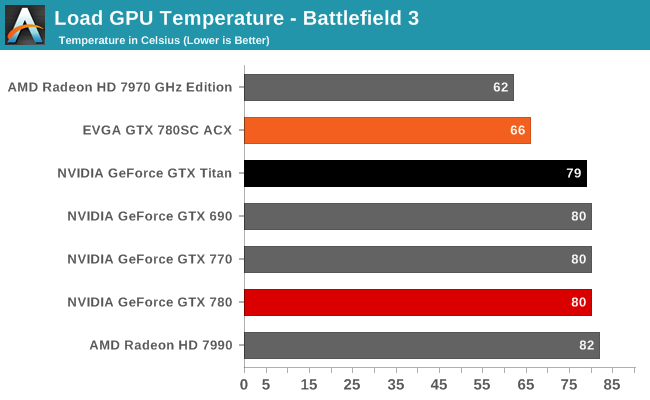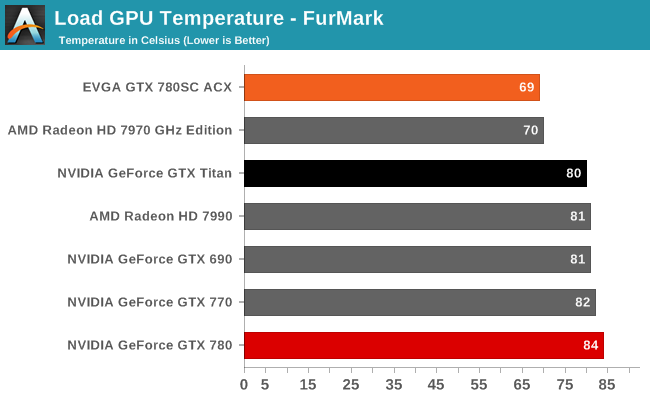 Moving on to temperatures we finally get to see EVGA's ACX cooler in action. We don't have any other semi-custom GTX 780s on hand so we can't make any proper comparisons to other open air coolers, but with that said the numbers we're seeing here are consistent with a good open air cooler. Compared to the reference GTX 780 and its blower, the ACX cooler proves capable of pushing the card under 30C at idle, and meanwhile load temperatures are an impressive 15C below the reference GTX 780. In fact of all of the high-end cards in our lineup, it's the coolest under FurMark at 69C.
Such strong cooling performnace delivers a side benefit for the 780SC ACX in the form of keeping it away from the GTX 780's stock thermal throttle point of 80C. As the card never reaches 80C it never throttles based on thermal conditions, allowing it to hit higher clockspeed bins more often, thereby slightly boosting performance. Ultimately it's still equally power constrained – which typically goes hand in hand with thermal constraints – but in the right scenarios it's good for an extra bin or two.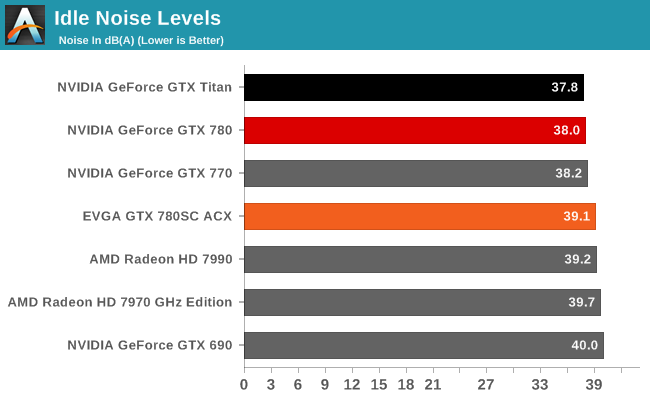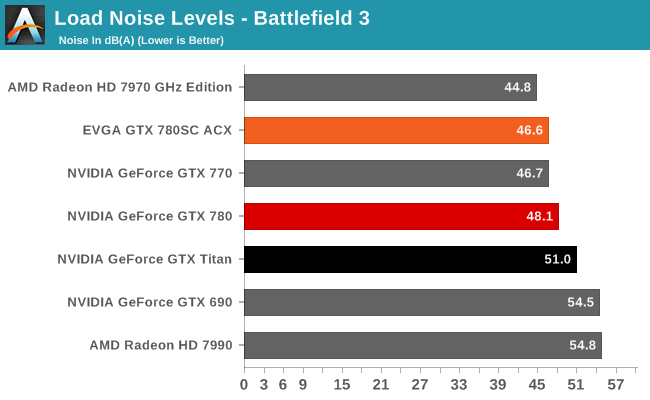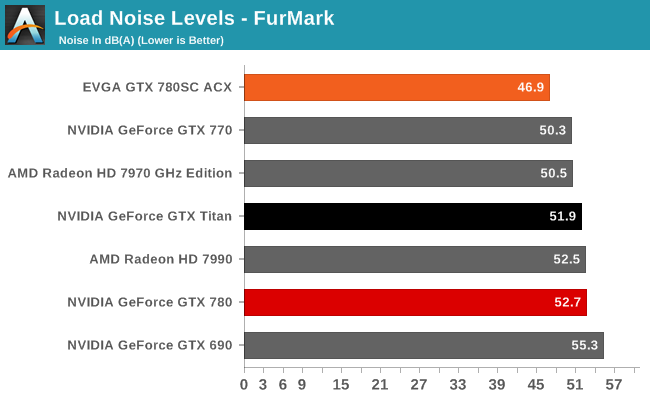 Finally let's take a look at noise. The GTX 780's reference cooler was in part tuned for very good idle noise levels, so it's not something that's easily surpassed. In this case the 780SC ACX ends up being just over 1dB louder, an unsurprising outcome given the competition and the fact that twin fan open air coolers as a whole typically fall into this scenario.
Meanwhile load noise looks quite good. Based on our data it looks like EVGA has tuned the 780SC ACX to slightly favor temperatures over noise, but even so they're still easily beating the reference GTX 780. This ends up being a 1.5dB advantage under BF3, while the more punishing (and ultimately worst case scenario) FurMark sees the card beat the reference GTX 780 by just under 6dB. Or compared to Titan the advantages are even greater, with a 4.4dB advantage to the 780SC under BF3 and a similar advantage under FurMark. In the end, unlike the 780/Titan reference cooler, the ACX cooler doesn't need to significantly increase its fan speeds to handle the extra load presented by FurMark, which is why we see noise levels almost identical between that and BF3.
Ultimately EVGA's ACX cooler performs very well under load, which is no less than what we'd expect given the design and EVGA's expertise in the matter. Like other open air coolers, the ACX cooler provides lower temperatures and lower noise levels than the equivalent reference blower, delivering Titan-like performance for under 47dB. Of course it goes without saying that this is a tradeoff; an open air cooler pushes more of the cooling load onto the chassis itself, so while the ACX cooler is highly effective in a large, airy case like our Spedo, it's generally not the best choice for small and/or low airflow scenarios, those scenarios being where the reference blower best excels.