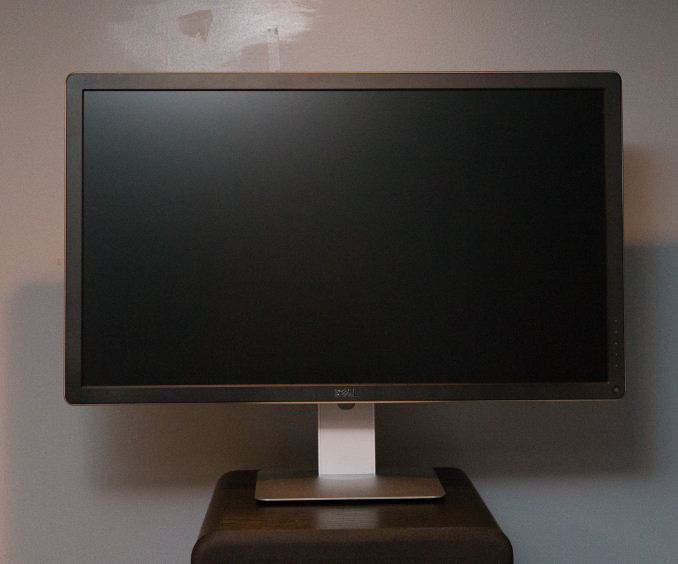 Last year I spent time with one of the first UltraHD monitors to be come out and came away convinced of the benefits. Even though the screen size was not much larger than my usual display, the extra clarity and detail was totally worth it. It sealed my decision to buy a MacBook Pro Retina when it was updated last fall as well. Now we've seen the field of UltraHD displays expand considerably and so we now look at another 32" UltraHD display, the Dell UP3214Q.
The Dell UP3214Q is very similar to the ASUS PQ321Q that I looked at last year. Both are 32" and both feature a 3840x2160 resolution. They are also both saddled with one of the current UltraHD weaknesses: a requirement that you have DisplayPort 1.2 MST support to get 60 Hz refresh rates. However, the Dell UP3214Q does have a few higher-end features that the ASUS lacks to help set it apart.
The first feature is that it supports the full AdobeRGB color gamut and not the more limited sRGB gamut. Since these initial UltraHD monitors are expensive and more likely to be used by professionals than home users, this support can go a long way. Second it has built-in support for Dell's calibration software that lets you set two presets to be whatever settings you desire. If you have day and night settings, or different settings for online vs. print, this can be accomplished.
It also offers a larger selection of inputs than the ASUS model. With HDMI 1.4, DisplayPort, and MiniDisplayPort options you can connect it to two 60Hz UltraHD sources at once instead of just a single PC. This is most useful for those that wish to use it with a laptop as well as a desktop. Like many of the upper-end Dell displays it also features a 4-port USB 3.0 hub as well as a media card reader on the side. Unfortunately all of the USB 3.0 ports are hard to access on the rear instead of placing a pair on the side. I swap out my monitors more than 99.9% of the population but I hate having the USB ports being so hard to access.
The updated Dell design features a metal trim around the border which gives it a modern, semi-industrial look and also seems to work as a way to dissipate heat. I found this out as trying to adjust the monitor from the top after it has been on for a few hours can cause it to get quite warm. An IR temperature gun gave me readings of almost 130F. I've had monitors get warm to the touch before but the Dell UP3214Q is certainly the hottest so far, and that's quite surprising considering it uses LED backlighting. The stand that the Dell includes is also a new industrial design but still includes height adjustment, tilt, swivel and a way to route cables. There is no pivot so if you want to use your 32" UltraHD display in Portrait mode you'll need to use the 100mm VESA mounts with a different stand.
Dell also has their on-screen menu system that I still think is the best in the business. They've made an unfortunate move to touch-sensitive buttons but the overall user interface is still the same. From an ergonomics perspective the Dell is an overall winner. I'd like to see them find a way to side-mount the inputs so they are easier to access, and move a couple USB ports around, but overall it is good.
Viewing angles, as an IPS display, are fantastic. I'd be hesitant about a TN panel of this size because off-angle issues could arise far too easily but it is not a problem with the Dell. With specs, ergonomics, and the on-screen display of the Dell UP3214Q there is not much that I find issue with...well, other than a high price, but that's expected.
Dell UP3214Q
Video Inputs
HDMI 1.4a, DisplayPort, Mini DisplayPort
Panel Type
IGZO IPS
Pixel Pitch
0.182mm
Colors
1.07 Billion
Brightness
350 cd/m2
Contrast Ratio
1000:1
Response Time
8ms GtG
Viewable Size
32"
Resolution
3840x2160
Viewing Angle (H/V)
176 / 176
Backlight
LED
Power Consumption (operation)
100W Typical, 170W Max
Power Consumption (standby)
1.2W Typical
Screen Treatment
Anti-Glare
Height-Adjustable
Yes, 3.5"
Tilt
Yes
Pivot
No
Swivel
Yes
VESA Wall Mounting
Yes, 100mm
Dimensions w/ Base (WxHxD)
29.5" x 19" x 8.4"
Weight
20.3 lbs.
Additional Features
4 port USB 3.0 hub, card reader
Limited Warranty
3 years
Accessories
MiniDP to DP Cable, USB 3.0 cable, power cord
Price
$3,499 (Currently $2800)