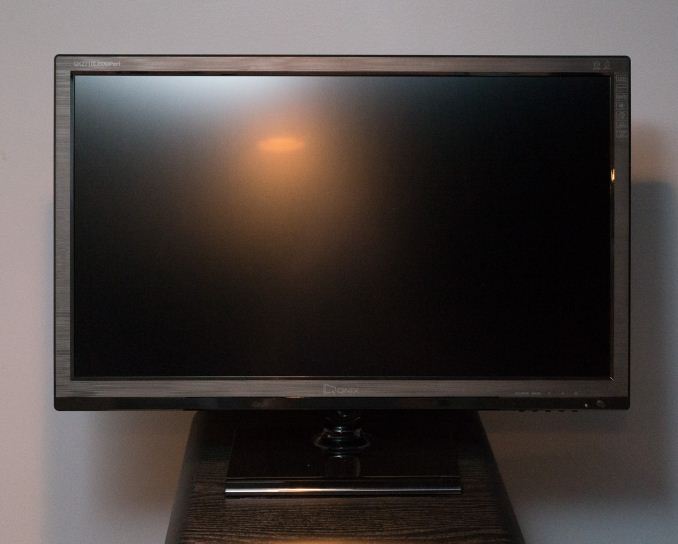 The best thing to happen to the computer monitor marketplace has been the introduction of inexpensive QuadHD displays from South Korea. At a time when a $700 monitor was considered cheap in the United States, these were available on Ebay for around $300 and utilized the same panel as more expensive offerings, though often with a lower grade panel. The introduction of these displays forced mainstream vendors in the USA to introduce more affordable models, and saw other vendors introduce more affordable products as well.
As good as this introduction has been for consumers, I always held back from recommending the displays to most people. One reason is that as an imported product that lacks a US distributor, there was very little warranty associated with them. If you received a model that had issues from a seller on Ebay, the service or replacement options you could expect were really up in the air.
Second, there was no real testing being done on them. A review sample of a foreign, imported product was impossible to get, and just buying them to test isn't feasible. Now I finally have been offered one of these displays to test, the QNIX QX2710 LED DPmulti True10 (henceforth called the QNIX in this review). With an updated 10-bit panel and a DisplayPort input, it offers more spec-wise than the previous models. Instead of being limited to a DVI input, it also includes DSub, DisplayPort, and HDMI inputs. The panel is a 10-bit model which it accomplishes by being 8-bit with A-FRC to simulate the last two bits. Taking full advantage of a 10-bit panel is hard to do and is usually limited to just a few applications, but being true 8-bit is important.
There is an on-screen menu system that offers adjustments for Brightness and Contrast, color temperature, and a dynamic contrast mode. Enabling the Dynamic Contrast mode disables the Brightness and Contrast controls, while also setting the light output to a retina-searing level. Navigating the menu system is pretty easy overall, though not at the level of the best displays.
There is a pair of 5W speakers built into the rear of the display and they sound like most speakers on the rear of a monitor. Sound is muffled and they'll work in a pinch, but I wouldn't want to use them on a daily basis. One semi-interesting feature is that the QNIX can accept a 4K input and then it scales it to 2560x1440. I don't see a reason to do this with a PC, but with a video device (i.e. a future 4K Blu-ray player, or a video game system) where your output choices are limited to 4K or 1080p, the downscaled 4K image could look better on the QNIX than upscaled 1080p.
The specs suggest that the QNIX can be overclocked to 120Hz by using a custom resolution setting for the video card, but I am unable to make it work in any configurations that I've tried (DisplayPort or DVI, AMD or NVIDIA cards). Going to 110Hz worked fine, but higher settings did not for me. It might be a panel lottery, where some work at 120Hz and some do not, but I wouldn't assume you will get 120 Hz to work for certain. Still, pushing beyond 60Hz is at least possible.
Update: Commenters pointed out that the QNIX "overclocks" by dropping frames. To test this I used the QNIX on TestUFO.com at both 90Hz and 60Hz and took 1/5 second exposures of the Frame Skipping Check. Below you can see screenshots showing that at 90Hz, the QNIX is simply dropping frames instead of creating extra frames. At 110Hz I began to get sparkles on the screen, obviously pushing the limits of what the panel can do. Because of this, I'd discount any overclocking mentions from the QNIX as it isn't a true higher referesh rate panel.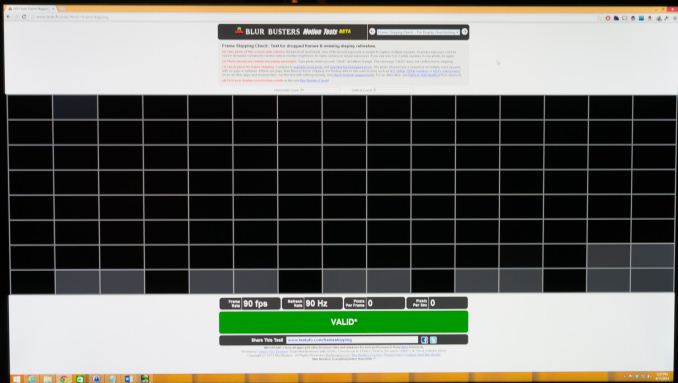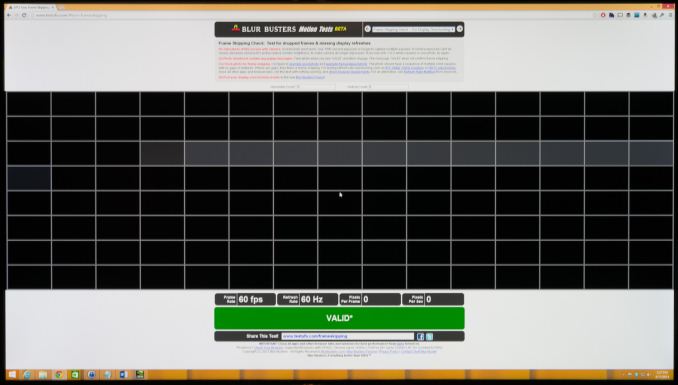 The monitor stand offers only a tilt adjustment, with no height, pivot or swivel. A nice design cue is the inputs being on the side of the monitor and not on the bottom. Placing them on the bottom makes hooking things up hard and I wish fewer companies would do it, particularly on budget models with no height adjustment.
QNIX QX2710 LED DPmulti True10
Video Inputs
HDMI 1.4a, DisplayPort, DVI, Dsub
Panel Type
AHVA
Pixel Pitch
0.231mm
Colors
1.07 Billion
Brightness
350 cd/m2
Contrast Ratio
1000:1
Response Time
4ms GtG
Viewable Size
27"
Resolution
2560x1440
Viewing Angle (H/V)
178 / 178
Backlight
LED
Power Consumption (operation)
46 W
Power Consumption (standby)
0.5 W
Screen Treatment
Anti-Glare
Height-Adjustable
No
Tilt
Yes
Pivot
No
Swivel
No
VESA Wall Mounting
Yes, 100mm VESA
Dimensions w/ Base (WxHxD)
25 3/8" x 18 1/2" x 6 3/4"
Weight
10.2 lbs.
Additional Features
3.5mm stereo in, 3.5mm stereo out, 2x5W speakers
Limited Warranty
1 year
Accessories
3.5mm audio cable, DVI cable, power adapter
Price
Around $365 via eBay