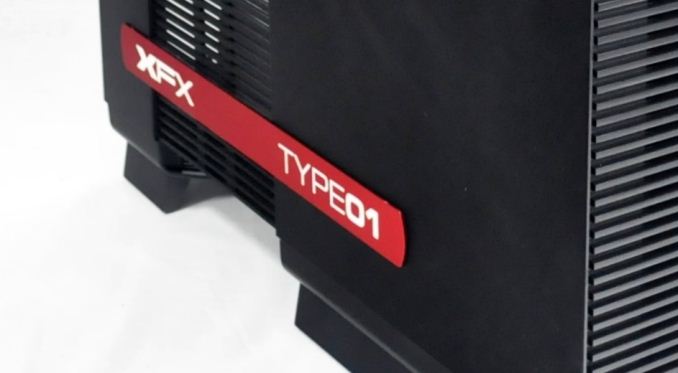 XFX Type 01 Bravo Case Review: Introduction
Companies often try to diversify their product lineup into other market segments, and today's review is such an attempt. XFX began as a graphics card manufacturer, later branching into motherboards, power supplies, and now cases. Today we're reviewing the Type 01 Bravo today, first ever PC case from XFX.
XFX is a company traditionally focused on gamers and their marketing has always been gaming-related -- they started by making graphics cards, after all. Thus, it is no surprise that their first case is being marketed as a "gaming case". On paper, the Type 01 Bravo is a feature-packed, roomy mid-tower PC case and, with a retail price of $129.99 plus shipping, it appears to be reasonably priced. But there's more to making a good case than paper specs, so let's find out if the Type 01 Bravo is is actually worth buying.
XFX Type 01 Bravo Specifications
Motherboard Form Factor
Mini-ITX, Micro-ATX, ATX
Drive Bays
External
3 x 5.25"
1 x 3.5" (using a 5.25" to 3.5" adapter)
Internal
5 x 2.5" or 3.5" (upper front drive cage)
3 x 3.5" (lower front drive cage)
Cooling
Front
1 x 200 mm (included)
Rear
1 x 120 mm / 140 mm (140 mm included)
Top
1 x 120 mm / 140 mm (optional)
Left Side
3 x 120 mm (optional)
Bottom
1 x 120 mm / 140 mm (optional)
I/O Port
2 × USB 3.0
2 × USB 3.0
1 × Headphone
1 × Mic
Power Supply Size
ATX
Clearances
HSF
175 mm
PSU
Any
GPU
340 mm (with 3.5" drive cage)
370 mm (with 2.5" drive cage)
Dimensions
562 mm × 232 mm × 518 mm (H×W×D)
22.2 in × 9.2 in × 20.4 in (H×W×D)
Prominent Features
Unique XFX floating case design
Modern minimalist design style
Seamless hidden disc drive bays with folding doors
Open Mesh Bottom With Filter
Water Cool Ready
Isolated bottom mount PSU design
Solid and light ABS plastic construction
Standard Mid Size tower height
Full ATX motherboard compatibility
5-year warranty (with registration)
Price
$149.99 USD (MSRP)
Online: $130 (plus shipping)
Packaging & Bundle
We received the Type 01 Bravo in a very simple, brown cardboard box. There is virtually no artwork on the box at all, with the exception of horizontal stripes that resemble the corrugated theme of the case. Inside the box, the case is protected by thick, individualized expanded polyethylene foam slabs, enhanced with a cardboard shell. The box is understated but looks to provide a decent amount of padding and protection for the case.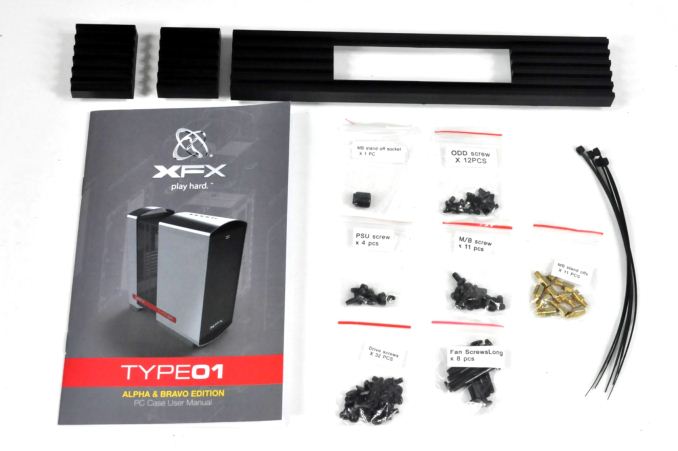 XFX did a decent job with the bundle as well. Although nothing really special is supplied, the company packages everything into individual, labelled plastic bags. Aside from the screws and standoffs, XFX also provides a few cable ties, a 5.25" to 3.5" front panel adapter, and a basic manual.