Power Optimizations
It is well known that the Haswell has been optimized for low idle power. Servers run at idle a lot less than mobile devices and thus more power management capabilities were needed.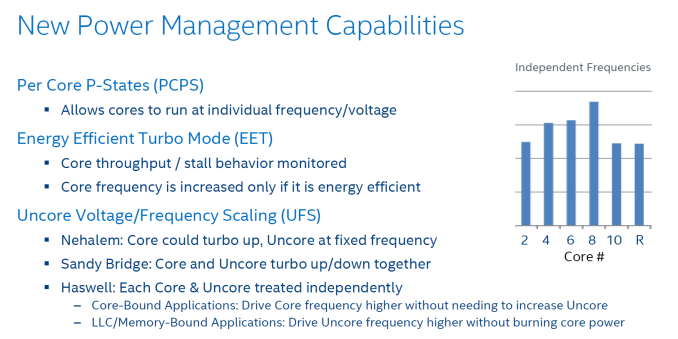 In Haswell EP, Intel introduces per core p-states (PCPS). PCPS is not necessarily a blessing, as a wrongly chosen p-state can result in higher response times. However, Intel is convinced PCPS will save power or will at least shift the power to where it is needed: to other cores or to the uncore (rings).
Floating Point intensive code is known to cause power peaks. AVX has doubled the theoretical FLOPS, and the FMA (Fused Multiply Add) of AVX 2.0 promises to double it again.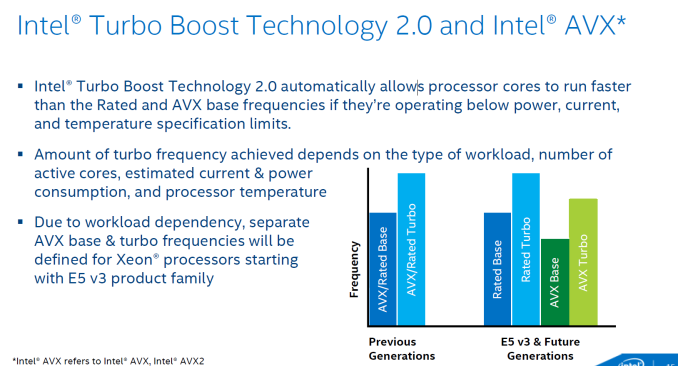 To cope with the huge difference between the power consumption of Integer and AVX code, Intel is introducing new base and Turbo Boost frequencies for all their SKUs; these are called AVX base/Turbo. For example, the E5-2693 v3 will start from a base frequency of 2.3GHz and turbo up to 3.3GHz when running non-AVX code. When it encounters AVX code however, it will not able to boost its clock to more than 3GHz during a 1 ms window of time. If the CPU comes close to thermal and TDP limits, clock speed will drop down to 1.9GHz, the "AVX base clock".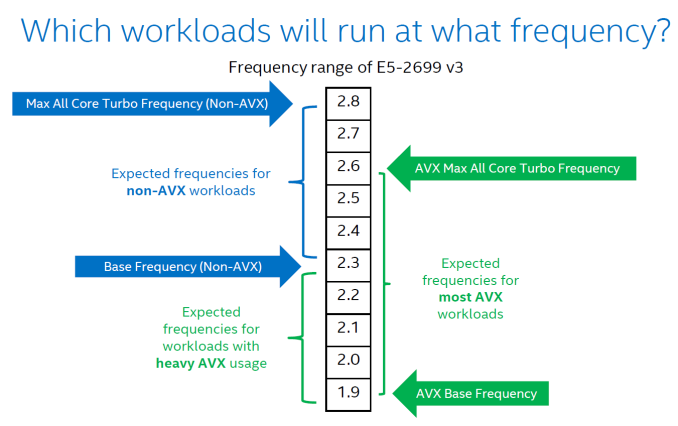 Here, Intel illustrates how this will work for their top SKU, the Xeon E5-2699 v3. Notice the lower base clock for AVX code (1.9 vs 2.3).