Mass Hot Storage: Knox
For OpenRackv1 to work, a new server design was needed that implemented bus bar connectors at the back. Using an updated Freedom-based chassis minus the PSU would cause a fair bit of empty space. Simply filling the entire space with 3.5" HDDs is wasteful, as most of Facebook's workloads aren't so storage hungry. The solution proved to be very similar to the power shelf, namely grouping the additional node storage outside the server chassis on a purpose built shelf: Knox was born.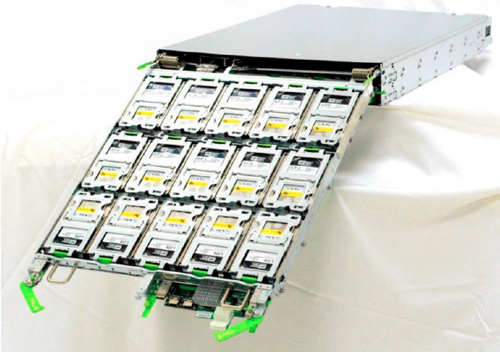 OCP Knox with one disk sled out (Image Courtesy The Register)
Put simply, Knox is a regular JBOD disk enclosure built for OpenRack which needs to be attached to host bus adapters of surrounding Winterfell compute nodes. It differs from standard 19" enclosures for two main reasons: it can fit 30 3.5" hard disks, and it makes the job of maintenance quite easy. To replace a disk, one must simply slide out the disk sled, pop open the disk bay, swap the disk, close the bay and slide the tray back into the rack. Done.
Object Storage
Seagate has contributed the specification of a "Storage device with Ethernet interface", also known by its productized version as Seagate Kinetic. These hard disks are meant to cut out the middle man and provide an object storage stack directly on the disk, in OCP speak this would mean the Knox node would not need to be connected to a compute instance but can be directly connected to the network. Seagate, together with Rausch Netzwerktechnik, has released the 'BigFoot Storage Object Open', a new chassis designed for these hard disks, with 12x 10GbE connectivity in a 2 OU form factor.
The concept of the BigFoot system is not unknown to Facebook either, as they have released a system with a similar goal, called Honey Badger. Honey Badger is a modified Knox enclosure and pairs with a compute card -- Panther+ -- to provide (cold) object storage services for pictures and such. Panther+ is fitted with an Intel Avoton SoC (C2350 for low end up to C2750 for high end configurations), up to four enabled DDR3 SODIMM slots, and mSATA/M.2 SATA3 onboard storage interfaces. This plugs onto the Honey Badger mainboard, which in turn contains the SAS controller, SAS expander, AST1250 BMC, two miniSAS connectors and a receptacle for a 10GbE OCP mezzanine networking card. Facebook has validated two configurations for the Honey Badger SAS chipset, one based on the LSI SAS3008 chip and LSI SAS3x24R expander, the other configuration consists out of the PMC PM8074 controller joined by the PMC PM8043 expander.
Doing this eliminates the need for a 'head node', usually a Winterfell system (Leopard will not be used by Facebook to serve up Knox storage), replaced by the more efficient Avoton design on the Panther card. Another good example of modularity and lock-in free hardware design, another dollar saved.
Cold Storage
A slightly modified version of Knox is used for cold storage, with specific attention being made to running the fans slowly and only spinning a disk when required.
Facebook meanwhile has built another cold storage solution, this time using an OpenRack filled with 24 magazines of 36 cartridge-like containers, each of which holds 12 Blu-ray discs. Apply some maths and you get a maximum capacity of 10,368 discs, and knowing you can fit up to 128GB on a single BD-XL disc, you have a very dense data store of up to 1.26PB. Compared to hard disks optical media touts greater reliability, with Blu-ray discs having a life expectancy of 50 years and some discs could even be able to live on for a century.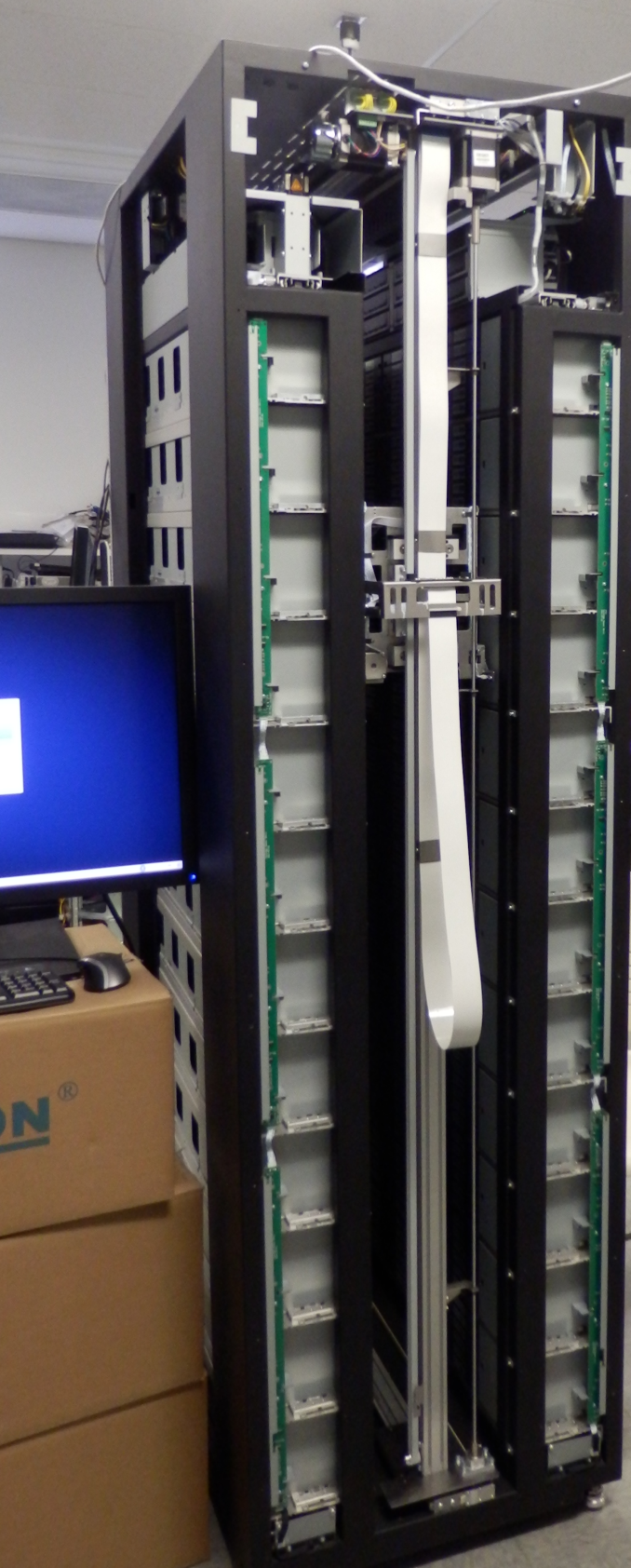 The rack resembles a jukebox; whenever a data is requested from a certain disk, a robot arm takes the cartridge to the top, where another systems slides the right discs into one of the Blu ray readers. This system serves a simple purpose: getting as much data as possible stored in a single rack, with access latency not being hugely important.