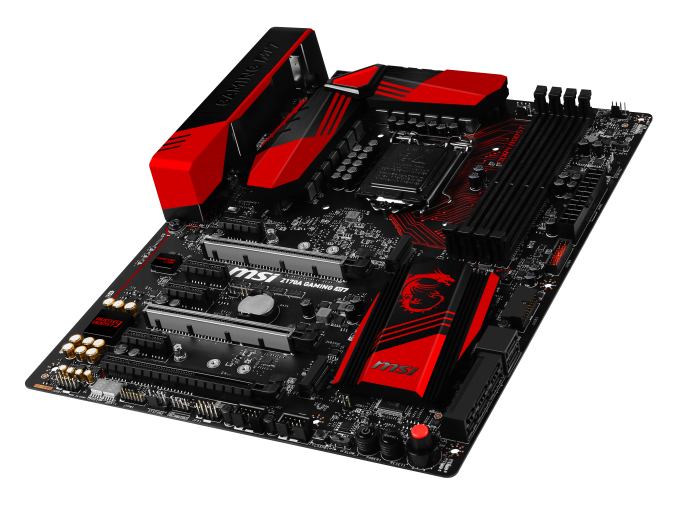 June, July and August in 2015 have all been a roller coaster of desktop and processor news. Intel officially launched the Broadwell processors at Computex, with NVIDIA also entering the GTX 980 Ti graphics card into the market for 4K gaming. AMD soon followed with the Fury X and Fury graphics cards featuring high bandwidth memory, and then Intel's Skylake processors burst through the door, along with Z170 motherboards giving more desktop options and dual-channel DDR4 memory to remain a focal point for the rest of the year. The first Z170 motherboard up on deck is the MSI Z170A Gaming M7 from MSI, a $230 mid-high push into the gaming-focused market.
Other AnandTech Reviews for Intel's 6th Generation CPUs and 100-Series Motherboards
Skylake-K Review: Core i7-6700K and Core i5-6600K - CPU Review
Comparison between the i7-6700K and i7-2600K in Bench - CPU Comparison
Overclocking Performance Mini-Test to 4.8 GHz - Overclocking
Skylake Architecture Analysis - Architecture
Z170 Chipset Analysis and 55+ Motherboards - Motherboard Overview
Discrete Graphics: An Update for Z170 Motherboards - PCIe Firmware Update
To read specifically about the Z170 chip/platform and the specifications therein, our deep dive into what it is can be found at this link.
MSI Z170A Gaming M7 Overview
Most users, if offered, would like a desktop that could do almost anything - instantaneous access to data, no-lag graphics, infinite memory, a billion cores and a system that would do what you wanted without lifting a finger. Back in reality, we have seen how the design of the Z170 chipset on the Skylake platform can afford many different configurations by virtue of its 26 high-speed IO lanes, split between six SATA 6 Gbps and 20 PCIe 3.0 lanes. Having 20 PCIe lanes means that functionality based on PCIe, such as USB 3.1, M.2, SATA Express, networking, and other things you can't think of is possible – and therein offers a wide range in possible motherboard configurations for Skylake. There are a few caveats with the PCIe lanes in what can go where, but for example we can have three PCIe 3.0 based storage drives in an Intel RAID configuration, or a motherboard manufacturer could strap in six network controllers and 14 dual-port SATA controllers with port multipliers. When it comes to the Gaming M7 from MSI, there is a big hint of using that extra chipset bandwidth, along with a set of new MSI features.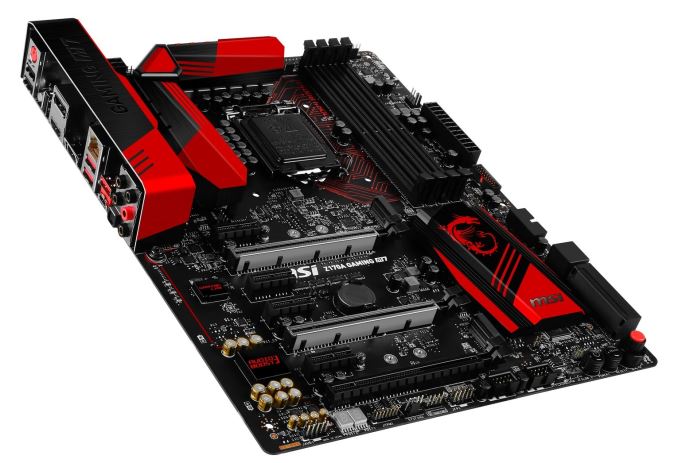 For the quick overview, MSI implements an x8/x8 configuration for graphics with a PCIe 3.0 x4 slot from the chipset allowing for up to dual SLI when all slots are populated or tri-CrossFire. The main GPU slots have a PCIe guard to prevent heavy graphics cards exerting pressure on the slot. The motherboard has two PCIe 3.0 x4 slots, two SATA Express ports and two USB 3.1 10 Gbps ports on the rear panel. These USB 3.1 ports are split between one type-A and one type-C, and they use the ASMedia ASM1142 controller. Networking is given by a Killer E2400 NIC, and also on the rear panel there are two HDMI ports with a DisplayPort. Audio comes via an upgraded Realtek ALC1150 solution.
MSI specific features, apart from the styling, involve the new Game BOOST dial in the bottom right of the motherboard which allows for a range of automatic overclocking. MSI's audio package includes the Nahimic audio application, designed to improve the audio output, but as you will read in this review my conclusion is not that favorable.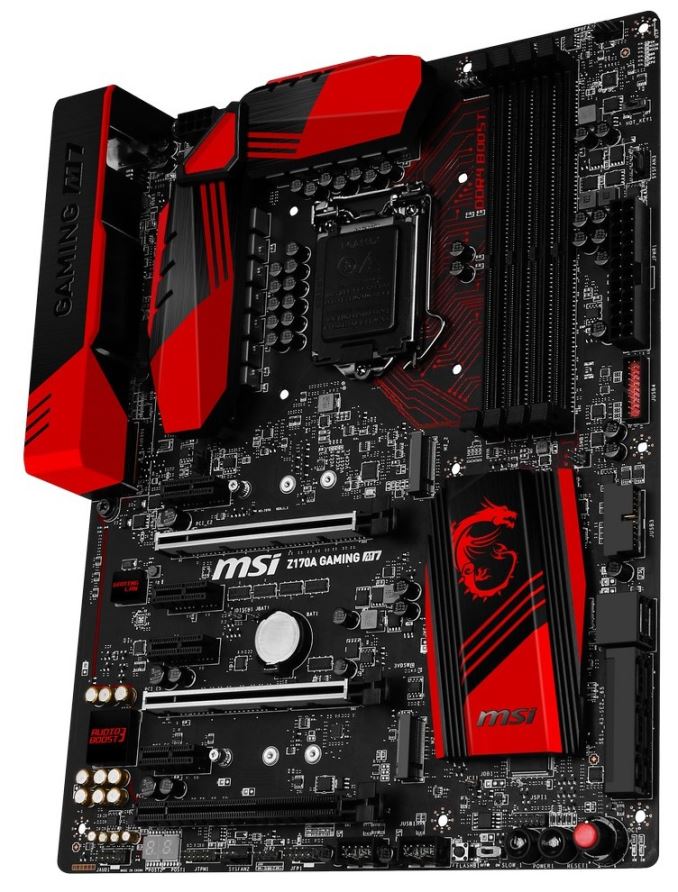 MSI's BIOS package is updated to include a nice EZ mode, providing a bounty of information without needing to move into advanced mode – although that has a style update as well. For those interested in Windows 7, MSI does include a mode to allow you to install it – see later in the review. The software package includes (aside from Nahimic's software) an XSplit license, although MSI's portion is unchanged since the last generation, focusing on ECO Center, Command Center and Live Update as the main areas, as well as RAMDisk software and home cloud software. MSI also offers a link to Steelseries' Engine 3 software for their peripherals.
For performance comparison, as our first motherboard review there might be an issue as it would top all of our charts and we would have to base comparative performance on itself. As a result, we also have two other motherboards pre-tested with reviews incoming for those. Compared to these, due to the MultiCore Enhancement being enabled, the MSI wins in CPU performance, but at the expense of power consumption at load. DPC Latency is middling, and the audio performance of the ALC1150 is below expectations, as is the POST time. USB 3.0/3.1 speed came out on top. Gaming benchmarks showed few issues, except with a GTX 770 on Shadow of Mordor for an unknown reason.
We used this board in our overclocking comparison of our Skylake i7-6700K samples, and as shown below while the Game BOOST didn't go far, we hit 4.6 GHz in reasonable fashion. That being said, we have hit 4.7 GHz/4.8 GHz with the same CPUs in other boards. This could be a function of early BIOSes, as the platform is still new.
Overall, the downsides of the M7 are the marketing tools that add little – the Killer NIC struggles to be a defining factor for any product and the Nahimic software is certainly not on my wish list, nor is the added cost of the license which is part of the MSRP. On the up-tick, the MSI has a nice feature set catering for extra functionality, such as USB 3.1 and M.2 with a side order of Game BOOST and an updated BIOS to match. Extra PCIe support and a good red/black style is also a positive point, along with dual HDMI. It's a fun board to look at, and using the motherboard for our Skylake testing was not much of an issue. A review is only ever a snapshot in time, so using a beta BIOS for this review and testing before launch is not always going to show the fully optimized outlay, so we will wait and see what happens with other MSI Z170 boards in the future.
Quick Links to Other Pages
In The Box and Visual Inspection
BIOS
Software
System Performance (Audio, USB, Power, POST Times on Windows 7, Latency)
CPU Performance, Short Form (Office Tests and Transcoding)
Gaming Performance 2015 (R7 240, GTX 770, GTX 980)
Conclusions
Quick Board Feature Comparison
Motherboard Comparison
MSI Z170 Gaming M7
Socket
LGA1151
LGA1151
MSRP at Review
$230
$230
DRAM
4 x DDR4
4 x DDR4
PCIe Layout
x8/x8
x8/x8
BIOS Version Tested
142
142
MCT Enabled Automatically?
Yes
Yes
USB 3.1 (10 Gbps)
ASMedia ASM1142
1 x Type-A
1 x Type-C
ASMedia ASM1142
1 x Type-A
1 x Type-C
M.2 Slots
2 x PCIe 3.0 x4
2 x PCIe 3.0 x4
U.2 Ports
No
No
Network Controller
1 x Killer E2400
1 x Killer E2400
Audio Controller
Realtek ALC1150
Realtek ALC1150
HDMI 2.0
No
No
MSI Z170A Gaming M7 Overclocking
Experience with MSI Z170A Gaming M7
In previous generations, MSI had the OC Genie – a one button overclock that was an easy application of a few multipliers, though nothing taxing the system. After some requests for a multi-level overclock function, they have introduced the Game BOOST dial.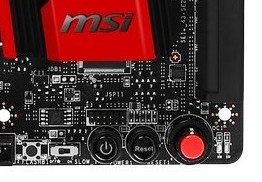 This is an 8-stage dial. Though there is a story behind the dial. I actually got a sneak preview of this feature near the end of development for the Z170 series, and at the time this was a dial that did many things – loading OC profiles, safe booting, memory safe booting, applying specific settings, and all that jazz. In other words, extremely complicated and designed solely for MSI's internal engineers/overclockers, because no-one is going to remember which position does what. After a few hours of discussions, going ever up the chain of command at MSI's motherboard division, I convinced the engineers that something simpler was needed. If the dial purely increased the overclock with each step, this is something everyone could understand.
As a last minute change to the design, MSI went for this idea. There's also a nod to Spinal Tap in the design, because this dial goes to eleven (it even says 11 on the PCB). While technically there are only 8 steps when turning, including zero, the overclock is staggered in a non-linear way for 0-1-2-4-6-8-10-11. Sure it could have gone to 8 or 10, "but this one goes to 11, which is better". Some people might say it is a silly idea, and chastise the design for being irregular, but it at least shows that there is room to be something other than emotionally rigid functionality in a motherboard feature.
Turning the dial and resetting the system applies the overclock, and for manual overclocking there is the advanced mode in the BIOS or the software. The onboard software from MSI still offers a dial for voltage which STILL goes to 2.1+ volts, which is an insane number that even their internal liquid nitrogen overclockers do not use. Come on MSI, change the dial to something sensible and offer an expanded OC dial behind a disclaimer that widens the range. Just in case.
Methodology
Our standard overclocking methodology is as follows. We select the automatic overclock options and test for stability with PovRay and OCCT to simulate high-end workloads. These stability tests aim to catch any immediate causes for memory or CPU errors.
For manual overclocks, based on the information gathered from previous testing, starts off at a nominal voltage and CPU multiplier, and the multiplier is increased until the stability tests are failed. The CPU voltage is increased gradually until the stability tests are passed, and the process repeated until the motherboard reduces the multiplier automatically (due to safety protocol) or the CPU temperature reaches a stupidly high level (100ºC+). Our test bed is not in a case, which should push overclocks higher with fresher (cooler) air.
Overclock Results
Because the M7 was used in our main Skylake review, we tested all of our CPUs on it, hence all the results. In future other motherboards will only be tested on one or two (it actually takes a long time to do these with stability tests at each stage). But we can see some consistency here – Game BOOST tends to fail quite early on (seemingly not enough voltage, or a load line calibration issue), but all the processors manually hit 4.5-4.6 GHz.