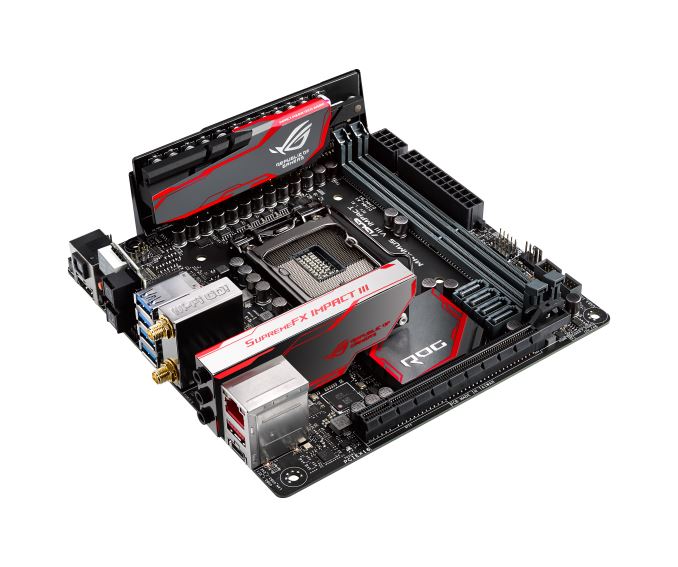 For the Z170 platform, ASUS is slowly increasing the number of Republic of Gamers motherboards available. Alongside the seniors Gene/Formula/Extreme, we have the Impact as a junior, sophomore models in Ranger and Hero but freshman in the Pro Gamer pair, the Extreme/Assembly, the Aura, and potentially more models down the line. Like a stick of seaside rock, ROG runs through the middle, with bits and pieces of the feature set ending up on different models. For this review, we look at the newest version of the Impact built for Skylake, the mini-ITX small motherboard line that has historically set a high standard for small PC builds.
Other AnandTech Reviews for Intel's 6th Generation CPUs and 100-Series Motherboards
Skylake-K Review: Core i7-6700K and Core i5-6600K - CPU Review
Comparison between the i7-6700K and i7-2600K in Bench – CPU Comparison
Overclocking Performance Mini-Test to 4.8 GHz – Overclocking
Skylake Architecture Analysis - Architecture
Z170 Chipset Analysis and 55+ Motherboards - Motherboard Overview
Discrete Graphics: An Update for Z170 Motherboards - PCIe Firmware Update
100-Series:
The GIGABYTE Z170X-Gaming G1 Review ($500)
The ASRock Z170 Extreme7+ Review ($240)
The MSI Z170 Gaming M7 Review ($230)
The ASUS Z170-A Review ($165)
To read specifically about the Z170 chip/platform and the specifications therein, our deep dive into what it is can be found at this link.
ASUS Maximus VIII Impact Z170 ROG Overview
There are a few well-known traits that the Impact motherboard line promotes, and anyone following the industry will recognize them. Unique to mini-ITX, the Impact line has a common theme of daughterboards for power delivery, semi-external audio (which is even unheard of on any size motherboard outside of the Impact without a separate PCIe card), and an effort on the hardware/software such that it still offers many features of the full sized ROG motherboards in the smaller form factor. They are as expensive as mini-ITX motherboards tend to get (save the mini-ITX on X99), stretching well into the territory of mid-to-high prices for full sized ATX motherboards.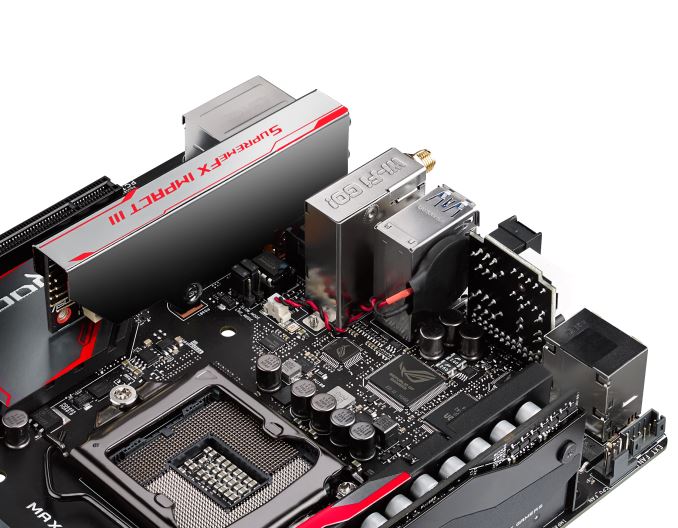 Perhaps unsurprisingly, the new Maximus VIII Impact follows the same traits, and this particular brand in ROG could potentially leave ASUS scratching their heads as to how to improve on a design which has historically performed very well when we look at our previous data. It has been mentioned to us in the past that the motherboard manufacturers are aware of other companies reverse engineering each other's ideas and implementing them the generation after, thus making the original idea no longer unique. But the Impact line remains strong - no-one has copied the right angled power attached design, nor the separate audio card, nor the rear-IO panel for two-digit debug and extra functionality, nor the extra fan extension card. Perhaps the mini-ITX motherboard market only has room for one premium player (although I find the hard to believe), but when you're the only one heading a specific niche, the requirement to innovate further is less of a concern as long as your target market is happy.
Semantics aside, the Maximus VIII Impact has one new issue to solve thanks to the introduction of the Z170 chipset - with 20 PCIe lanes from the chipset to use and abuse, the already jam packed design has to fit in more of the functionality similar to the rest of the 100-series line, such as USB 3.1 controllers, PCIe storage support with RAID, and others. To a certain extent the Impact is successful in this, although as mini-ITX boards tend to showcase, you only get 'one of each'.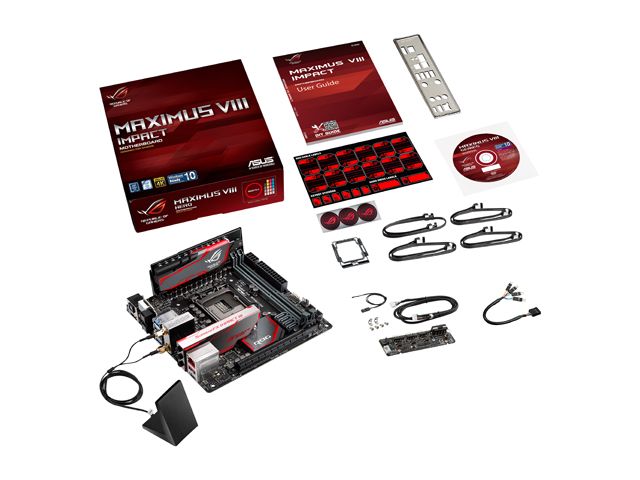 The features on the Impact start with the usual set: daughterboard based power delivery, SupremeFX audio on a separate add-in card, Intel networking, 2x2 dual band 802.11ac Wi-Fi supporting MU-MIMO, rear-IO based troubleshooting tools and support for additional fan headers via the fan extension card. New to the scene are USB 3.1 ports, one Type-A and one Type-C, supported through Intel's Alpine Ridge controller. Use of the AR controller typically indicates future Thunderbolt 3 support, but ASUS has told me this will not be the case on the Impact. The rear panel also has a U.2 port for PCIe based 2.5 inch storage, which at this point means only Intel's SSD 750, but at least they haven't stretched to the defunct SATA Express standard.
Performance of the Impact in most key areas makes it hard to ignore - a super low DPC latency is one of the lowest we have ever seen. Our test BIOS did come with MultiCore Turbo enabled but power consumption is particularly light compared to other MCT motherboards, and it comes with a good Mini-ITX audio response due to the configuration. POST times are long at over 22 seconds, but our overclocking results were impressive with 4.7 GHz being very comfortable and even hitting 4.9 GHz at high voltage.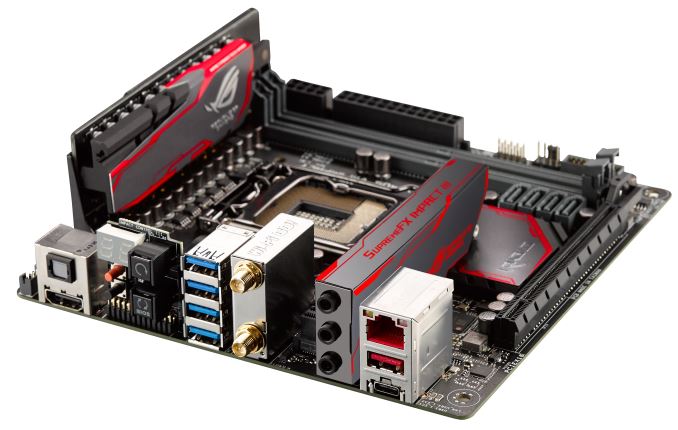 ASUS typically pushes the user experience of their BIOS and software packages, both of which get iterative updates on the last generation involving compatibility with the new chipset, USB 3.1 Turbo and a push into RAMDisk/RAMCaches now that we can get 16GB of DRAM per module, making the Impact support of up 32GB of overclocked memory.
Quick Links to Other Pages
In The Box and Visual Inspection
BIOS
Software
System Performance (Audio, USB, Power, POST Times on Windows 7, Latency)
CPU Performance, Short Form (Office Tests and Transcoding)
Gaming Performance 2015 (R7 240, GTX 770, GTX 980)
Conclusions
Quick Board Feature Comparison
Motherboard Comparison
ASUS Maximus VIII Impact
Socket
LGA1151
LGA1151
MSRP at Review
$250
$230
DRAM
2 x DDR4
4 x DDR4
PCIe Layout
x16
x8/x8
BIOS Version Tested
1101
142
MCT Enabled
Automatically?
Yes
Yes
USB 3.1 (10 Gbps)
Intel Alpine Ridge
1 x Type-A
1 x Type-C
ASMedia ASM1142
1 x Type-A
1 x Type-C
M.2 Slots
None
2 x PCIe 3.0 x4
U.2 Ports
1 x PCIe 3.0 x4
No
Network Controller
1 x Intel 219-V
1 x QCA61x4A
1 x Killer E2400
Audio Controller
Realtek ALC1150
Realtek ALC1150
HDMI 2.0
None
No
ASUS Maximus VIII Impact Z170 ROG Overclocking
Experience with ASUS Maximus VIII Impact Z170 ROG
The overclocking methodology from ASUS comes in several formats. Most of the larger ASUS motherboards have a Turbo Power Up switch with two overclock modes, but for the Impact this is moved into the BIOS as an option under 'TPU'.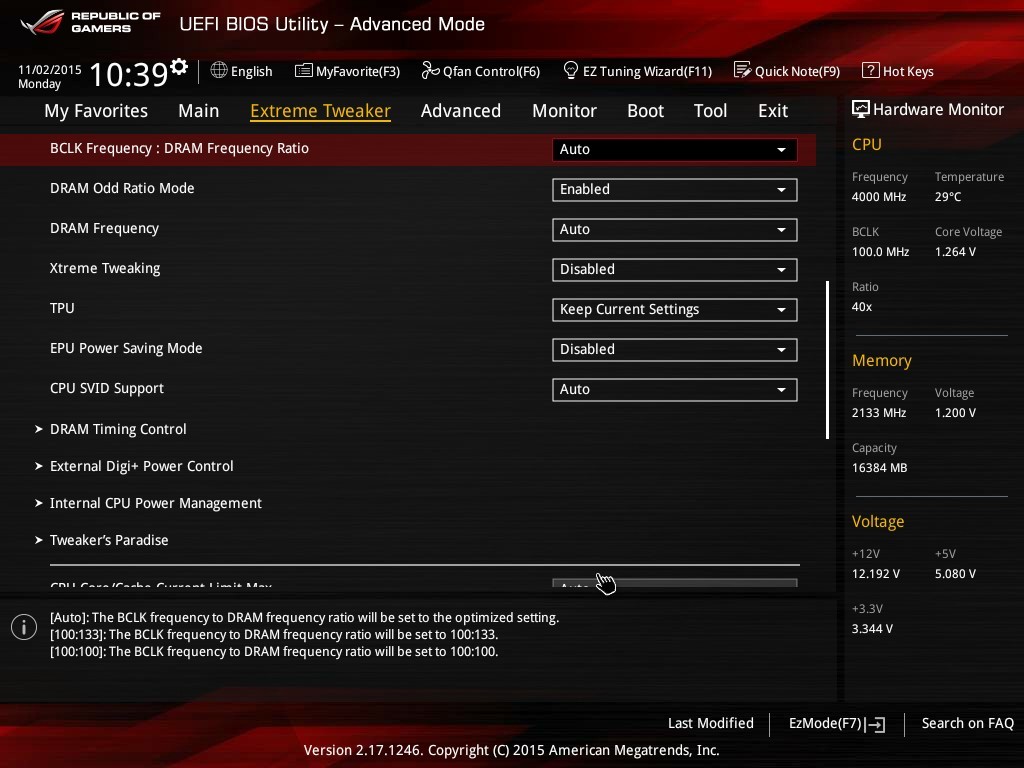 When in LN2 mode, the BIOS will open up more extreme overclocking features for those who want to take it sub-zero.
In the OS, the standard options manifest in the TPU option in the AI Suite software, giving manual control tools or the 5-Way Optimization method for frequency, power, fans and other components of the system. This has a number of options relating to max temperatures and voltages the user wants to support.
Methodology
Our standard overclocking methodology is as follows. We select the automatic overclock options and test for stability with PovRay and OCCT to simulate high-end workloads. These stability tests aim to catch any immediate causes for memory or CPU errors.
For manual overclocks, based on the information gathered from previous testing, starts off at a nominal voltage and CPU multiplier, and the multiplier is increased until the stability tests are failed. The CPU voltage is increased gradually until the stability tests are passed, and the process repeated until the motherboard reduces the multiplier automatically (due to safety protocol) or the CPU temperature reaches a stupidly high level (100ºC+). Our test bed is not in a case, which should push overclocks higher with fresher (cooler) air.
Overclock Results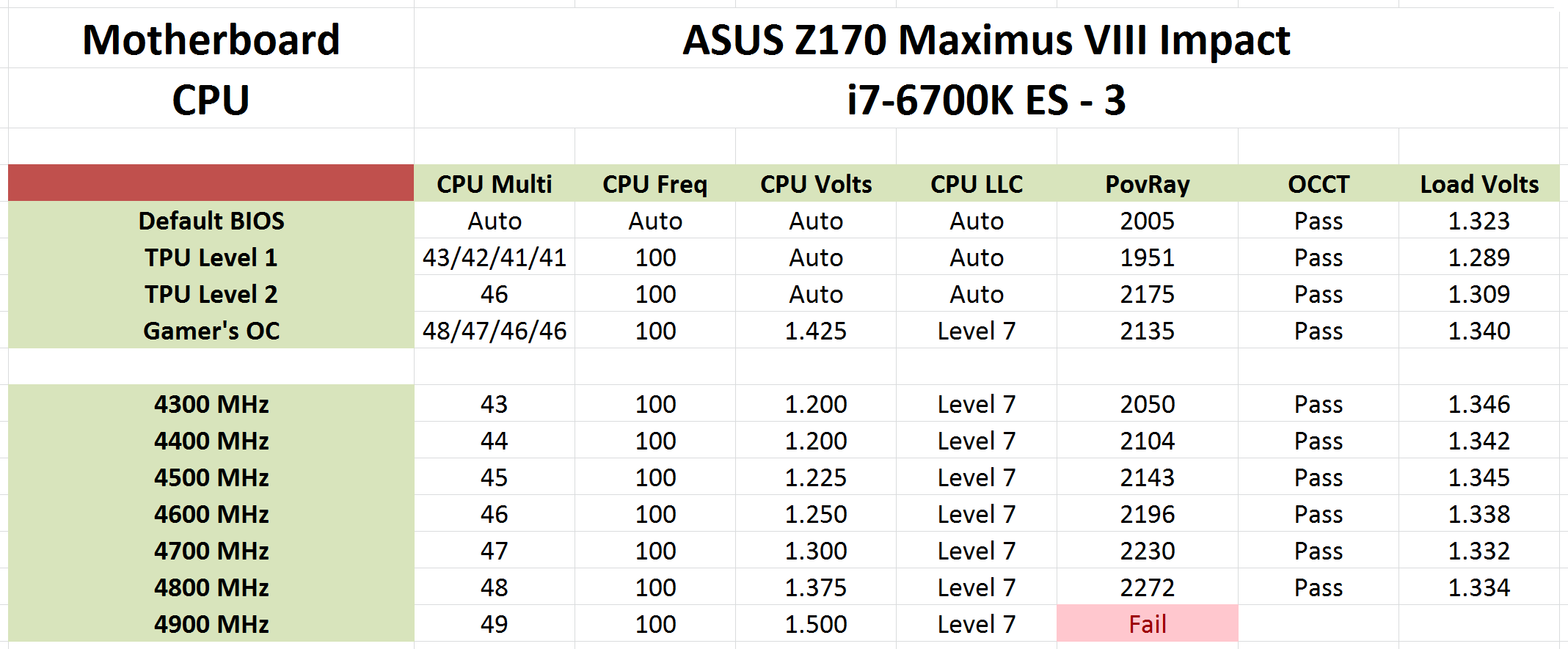 Overall, the nature of Skylake makes our CPUs comfortably get 4.5 GHz to 4.7 GHz on air/water without much issue. The Impact gets a very nice result with our CPU #3, sitting happy at 4.7 GHz for only 1.300 volts set in the BIOS.