Visual Inspection
The ASRock Z390 Taichi is a full-sized ATX motherboard with similar aesthetics compared to revious iterations of the Taichi range across multiple chipsets new and old. The main design traits of the Z390 Taichi consist of a black PCB with a grey cog inspired patterning throughout. The power delivery heatsink has a matte grey finish while the rear panel cover and audio PCB cover feature a black design which contrasts quite elegantly with the PCB. Integrated at three different points of the board, which includes the rear panel/audio covers and cool cog shaped chipset heatsink, are ASRock Polychrome Sync enabled RGB LEDs. Although ASRock has included a modest amount in comparison to other vendors, there is no need to go overkill on a board such as this which relies more on individuality and RGB seems to be on everything currently. In addition to the built-in RGB is room to expand upon with two regular 5050 RGB headers and a single addressable header for compatible products such as coolers.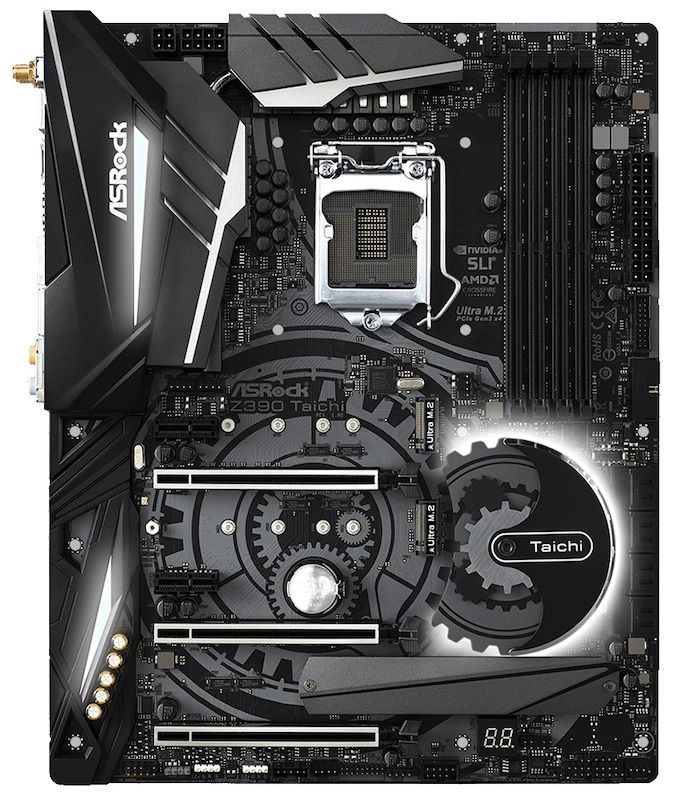 On the bottom half of the Z390 Taichi's PCB is three full-length PCIe 3.0 slots which have all been treated to ASRock's Steel Slot armor protection and offer support for both SLI and CrossFire multi-graphics card configurations. In addition to the full-length slots are a pair of PCIe 3.0 x1 slots.
ASRock Z390 Taichi CPU PCIe Layout
Number of Installed
PCIe Cards on CPU
PCIe_2
PCIe_4
PCIe_5
x1
x16
x0
x0
x2
x8
x8
x0
x3
x8
x4
x4
Focusing on the memory support, the Z390 Taichi has four available RAM slots which allow for up to DDR4-4200 to be used in dual channel mode; the four slots give users the capacity to use up to and including a total of 64 GB of system memory. The storage capabilities include eight SATA ports with six of them being fed natively from the Z390 chipset and the other two from an integrated ASMedia ASM1061 controller. The Z390 Taichi does include three M.2 slots which don't share PCIe lanes with any of the other slots on the board, but unfortunately, there are limitations on the SATA ports when the slots are populated. The limitations are as follows:
If M2_1 slot is in use, SATA3_0 and SATA3_1 are disabled and visa versa
If M2_3 slot is in use, SATA3_4 and SATA3_5 are disabled and visa versa
If M2_2 slot is populated with a SATA drive, SATA3_3 will be disabled and visa versa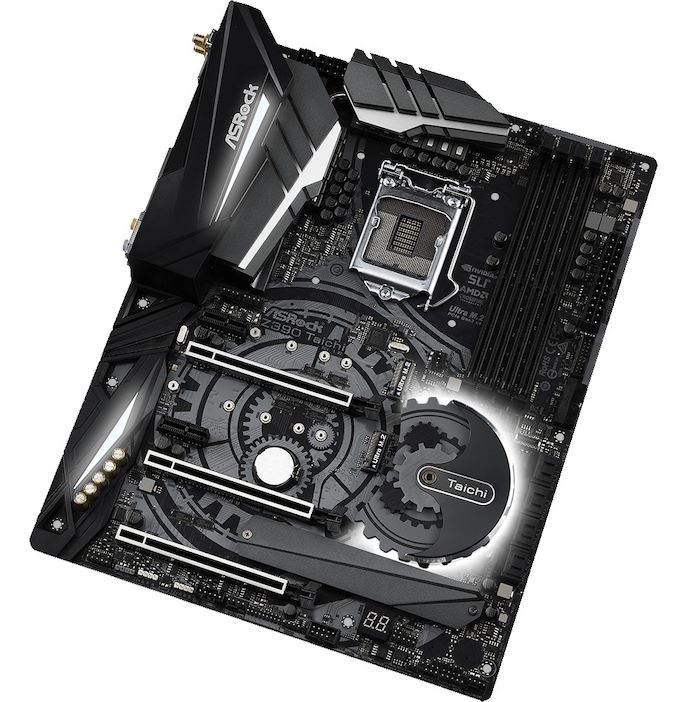 Found at the very bottom of the PCB is a handy debug LED which is useful for diagnosing booting issues. Also located at the bottom is one of the two available USB 2.0 front panel headers, a 5-pin Thunderbolt header (for an add-in card) and all three of the three available RGB headers; these are split into one addressable RGB header and two 5050 RGB headers. Cooling support has been upgraded over the previous Z370 Taichi with the newer Z390 Taichi featuring a total of eight 4-pin headers. The primary CPU 4-pin fan header supports up to 1A (12 W) while the rest of the headers including the secondary CPU/pump 4-pin header and six system 4-pin headers allow for up to 2A (24 W) to be installed.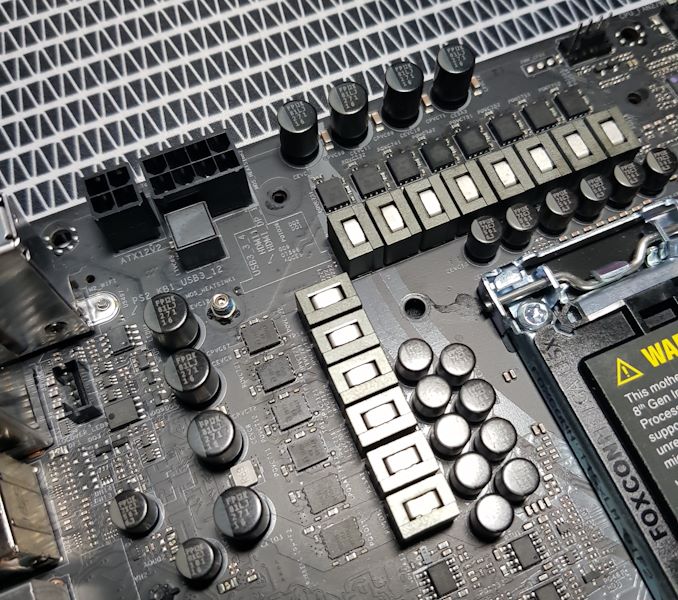 ASRock has advertised the Z390 Taichi as having a 12-phase power delivery and it would certainly appear that this is correct when the SoC section is taken into account. This means the VCore power delivery is technically a 5-phase with doublers. The power delivery is made up of a single Infineon IR35201 8-channel PWM controller which is accompanied by twelve Texas Instruments TI 87350D NexFET power blocks. Located on the rear of the PCB is six Infineon IR3598 doublers with five of those dedicated to the VCore with the remaining one most likely acting in dual driver mode with two PWM signals being fed into it. Each of the dual power blocks is equipped with an individual 60 A inductor and the power delivery is fed by an 8-pin and a 4-pin 12 V ATX CPU input.
Z390 Motherboard Power Delivery Comparison
Motherboard
Controller
H-Side
L-Side
Chokes
Doubler
ASRock Z390 Taichi
IR35201
(5+2)
TI 87350D (12)
ON FDPC5939SG (2)
14
IR3598
(6)
ASRock Z390 Taichi Ultimate
IR35201
(5+2)
TI 87350D (12)
ON FDPC5939SG (2)
14
IR3598
(6)
ASRock Z390 Phantom Gaming 9
IR35201
(5+2)
TI 87350D (12)
ON FDPC5939SG (2)
14
IR3598
(6)
GIGABYTE Z390 Aorus Master
IR35201
(6+2)
IR3553
(12)
14
IR3599
(6)
GIGABYTE Z390 Aorus Ultra
ISL69138
(6+1)
SiC634
(12)
13
ISL6617A
(6)
GIGABYTE Z390 Aorus Pro WiFi
ISL69138
(6+1)
SiC634
(12)
13
ISL6617A
(6)
GIGABYTE Z390 Aorus Pro
ISL69138
(6+1)
SiC634
(12)
13
ISL6617A
(6)
GIGABYTE Z390 Aorus Elite
ISL69138
(6+1)
SiC634
(12)
13
ISL6617A
(6)
GIGABYTE Z390 I Aorus Pro WiFi
IR35201
(6+2)
IR3553
(6)
8
-
GIGABYTE Z390 Gaming SLI
ISL69138
(5+2)
PPak
(10)
12
ISL6617A
(5)
GIGABYTE Z390 Gaming X
ISL69138
(5+2)
PPak
(10)
12
ISL6617A
(5)
GIGABYTE Z390 UD
ISL69138
(5+2)
PPak
(10)
12
ISL6617A
(5)

Supermicro C9Z390-CG

MP2949A (6)
MP2940A (2)
MP86945 (6)
MP86908 (2)
8
-
An additional two ON Semiconductor FDPC5030SG Dual-N channel MOSFETs make up the rest of the power delivery meaning the IR35201 is operating in a 5+2 configuration with the VCore in effect running a 5-phase with doublers. It should be noted that the ASRock Z390 Taichi shares the same power delivery as its higher spec siblings, the ASRock Z390 Taichi Ultimate and the ASRock Z390 Phantom Gaming 9. All in all the power delivery equipped on the ASRock Z390 Taichi is more than capable of powering the latest Intel Core i7-9900K eight-core processor along with the rest of the 9th generation and older 8th generation Intel SKUs.

The rear panel has a wide variety of connections available which includes three USB 3.1 Gen2 Type-A, a single USB 3.1 Gen2 Type-C and four USB 3.0 Type-A ports. Also present are DisplayPort 1.2 and HDMI video outputs. Featured on the rear panel are a handy clear CMOS button, a PS/2 combo keyboard and mouse port, while the onboard audio of the Z390 Taichi is handled by a Realtek ALC1220 audio codec and consists of five 3.5mm audio jacks and a single S/PDIF optical output. Included on the audio section of the PCB is Texas Instruments NE5532 headset amplifier which is designed to enhance the quality of the front panel audio. Back to the rear panel and focusing on the networking capability of the Z390 Taichi has two available Gigabit LAN ports with support for teaming; one is powered by an Intel I219V and the other by the Intel I211AT Gigabit NIC. Wireless networking is provided on the rear panel with a set of antenna connectors for the integrated 802.11ac Wi-Fi adapter which also has support for Bluetooth 4.2. There is no Thunderbolt connectivity on the rear panel, but ASRock has included a single 5-pin AIC connector onto the PCB.
What's in The Box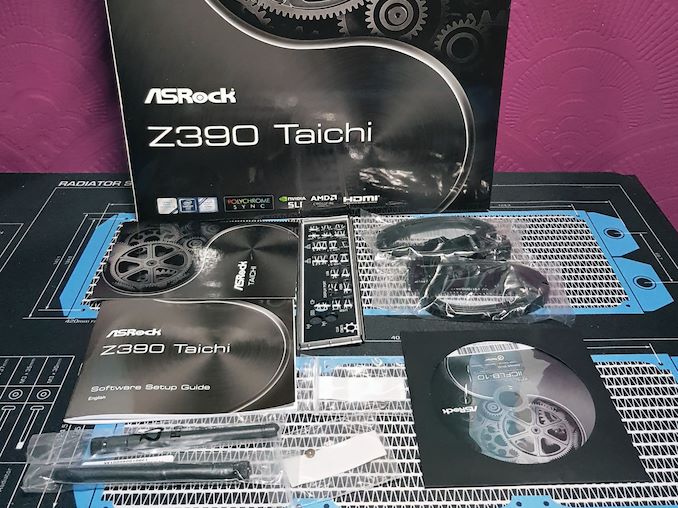 ASRock includes a basic set of accessories with its Z390 Taichi motherboard. The bulk of this is made of up four SATA cables with two featuring right-angled and two straight-angled connectors, a rear IO shield and a pair of antennae for use with the Intel 802.11ac Wi-Fi adapter. For its price and segment, not a lot of focus has been put on the bundle with the majority of its appeal coming through its feature set.
Four SATA cables (two right-angled and two-straight angled)
Rear IO shield
Two Wi-Fi Antennas (1x1)
SLI HB Bridge
M.2 Screws
ASRock Postcard
Case Badge
Instruction Manuals
Driver Installation CD