Meet The Cards: XFX & PowerColor
As there are no reference cards, for today's launch AMD sampled us the XFX Radeon RX 590 Fatboy. PowerColor also sampled us their RX 590 Red Devil. Both sport modest factory overclocks over the reference 1545MHz boost, and both feature dual BIOS with performance and quiet options. Broadly-speaking, if you're already familiar with PowerColor's Red Devil and XFX's GTS designs for Polaris, then you'll already know what these boards are like.
Radeon RX 590 Series Cards
XFX RX 590 Fatboy
PowerColor RX 590 Red Devil
Radeon RX 590 (Reference)
Radeon RX 580
(Reference)
Boost Clock
1580MHz
1576MHz
1545MHz
1340MHz
Memory Clock
8Gbps
8Gbps
8Gbps
8Gbps
VRAM
8GB
8GB
8GB
8GB
TBP
TBA
TBA
225W
185W
Length
10.63"
10"
N/A
N/A
Width
2.5 Slot
2.5 Slot
N/A
N/A
Cooler Type
Open Air
Open Air
N/A
N/A
Price
TBA
~$299?
$279
$229
Both of the cards are relatively typical for custom factory overclocked designs, featuring thick heatsinks, dual axial fans, 1x8pin + 1x6pin for power, and the extremely essential presence of LEDs. Right now we don't have a definitive answer on price, but expect them to be in the high $200s to low $300s range where heavily factory-overclocked GTX 1060 6GB cards reside. For the opening launch window, all the partner cards are marked at the $279 SEP.
XFX Radeon RX 590 Fatboy
From the outside, the XFX Radeon RX 590 Fatboy looks to be much of the same with its existing RX 500 and 400 series models. The card's amusing namesake comes from the new heatsink design that XFX is calling the 'Fatboy Unibody VRM Heatsink,' and the company claims the design brings 50% greater heatsink surface area over previous RX 400/500 series cards. So it would seem it's an iteration on the Unibody VRM Heatsink introduced by RX RS and GTR series cards.
As silly as the 'Fatboy' name may be, it seems to have done its marketing job by raising interest, critical or otherwise, and for a subdued Polaris refresh SKU, that extra differentiation can be helpful.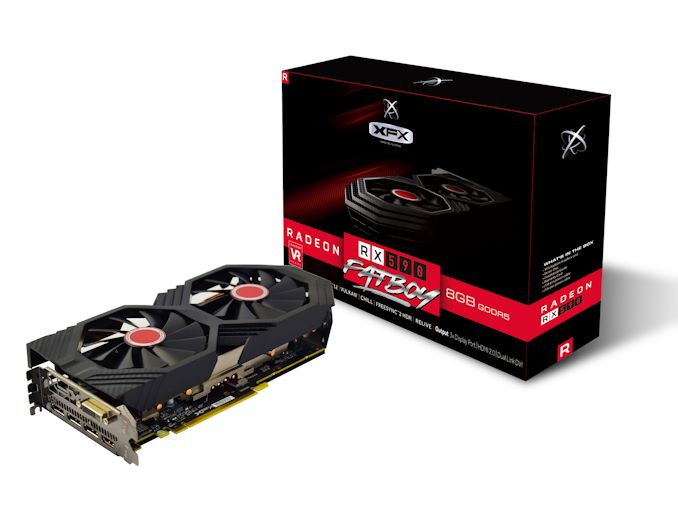 And in terms of 'fatness', the RX 590 Fatboy has the 2.5 slot Double Dissapation style cooler, leading up to a height of 2.09". Thick, but perhaps not as thick as the Red Devil, which stands at 2.24". In any case, the card is neatly clad in an aluminum backplate. Right next to the PCIe power connections is the BIOS dip switch, toggling between Performance and Quiet/Lower RPM.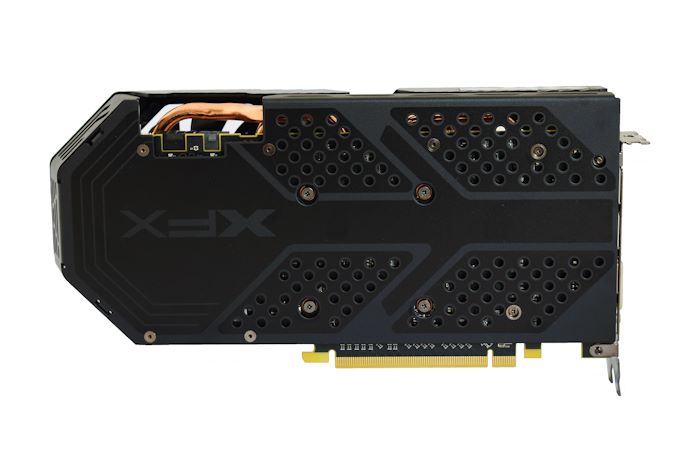 The display output situation is fairly standard for both cards, with 3 DisplayPorts, 1 HDMI, and 1 DL-DVI-D port.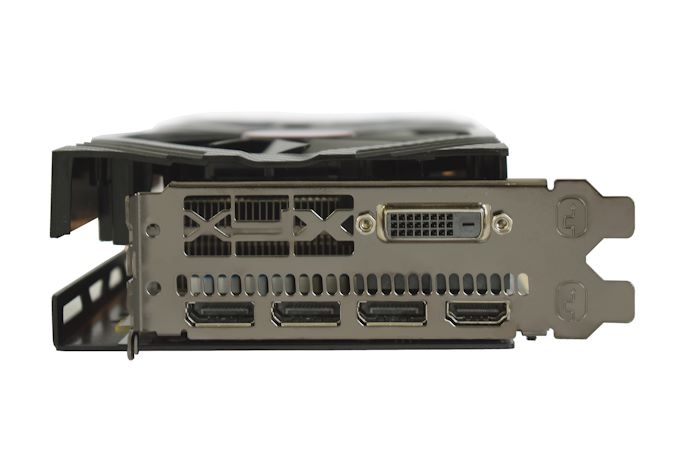 PowerColor Red Devil Radeon RX 590
For the Red Devil RX 590, the thermal solution doesn't appear unchanged from the RX 580 version, sharing the same dimensions, 4x8mm + 1x6mm heatpipes, 6+1 power phases, and DrMos. At 10" long but 2.24" (57mm) high, the Red Devil RX 590 is a particuarly squat but thick card - just 3mm away from the standard triple-slot width. So prospective buyers should keep that in mind for smaller form factors, occupied neighboring PCIe slots, or chassis airflow management.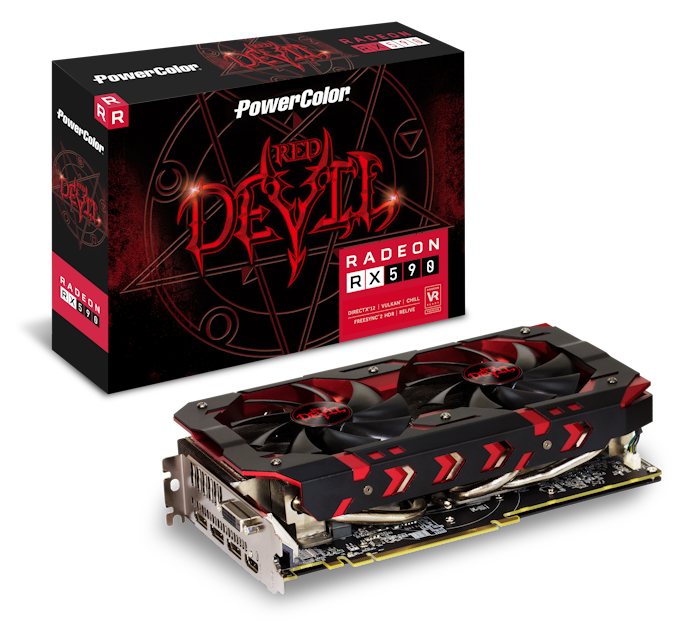 While the card has the red Red Devil LED, one of the more easily overlooked features is a small dip switch to disable LEDs. Both BIOS and LED switches are labelled so on the pentagram-emblazoned 1.5mm metal backplate.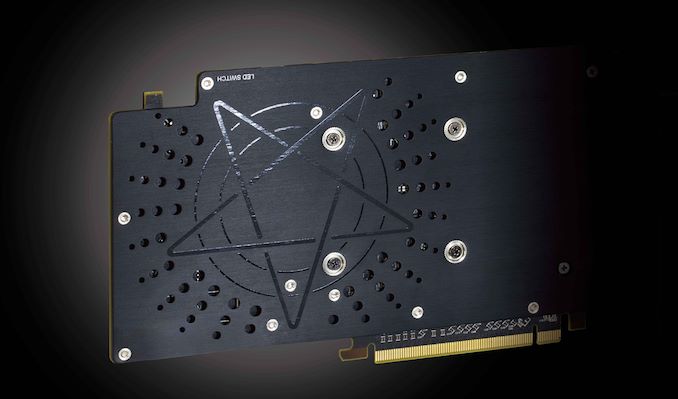 Both the XFX Fatboy and PowerColor Red Devil have zero dB fan functionality as well, turning off the fans under certain temperatures and lighter workloads.