Motherboard Tweaking Utilities
If we had to sum up the state of motherboard tweaking utilities in one word, that word would be dilapidated. Why that word? This is something that is easier to explain if we start with a screenshot.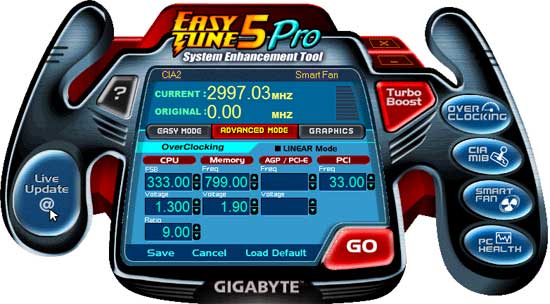 The above is a screenshot of Gigabyte's Easy Tune application running on a P35-DS3R motherboard. Because Intel does not provide a standardized method of motherboard tweaking, it falls to the motherboard manufacturers to try to shoehorn Intel's chipsets in to offering this kind of functionality anyhow, via a high level of careful BIOS manipulation combined with their own software package. Many of the tier-1 motherboard manufacturers offer some kind of utility in this vein, so this isn't us picking solely on Gigabyte; just about everyone is committing the same sins here.
Generally, the software provided by the motherboard manufacturers suffers from these problems:
The GUI does not adhere to any sort of standards or guidelines
The software works on only a fraction of the company's motherboards, and you'll never know quite which ones these are
The software does not consistently function correctly, or does not produce results as good as those done via CMOS tweaking
To be fair, elements #2 and #3 are not completely in their control since much of this goes beyond the scope of what the chipset was intended to do in the first place. But never the less it highlights the fact that these programs are clever hacks and not well designed tweaking systems as we're accustomed to seeing with video cards.
On the other hand, element #1 is completely in their control. A common theme in the utilities we're going through today is that they're all very Spartan in looks; functional yet simple. But for these motherboard tweaking applications clearly functionality was not the first consideration in their GUI design, and we're left to believe that the visual appeal was the first consideration. Unfortunately it makes for utilities that are very hard to use even when they are working correctly.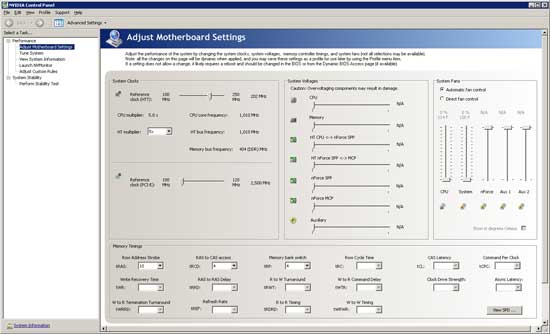 For the past couple of years NVIDIA has been the notable standout here, since as the chipset designer they can integrate the features necessary to properly such tweaking. However due in part to how they go about this – they still need the motherboard manufacturer to do certain things to support their software and feature set – their own situation often mirrors that of the motherboard manufacturers using any other chipset, resulting in the inconsistency we mentioned earlier. On the small number motherboards that offer the full feature set, NVIDIA offers a very impressive and compelling product, but for many more motherboards nTune is a tease of what can be (and with any luck, what will be with ESA). They at least have the right idea with the GUI however if you can ignore the dreadful NVIDIA Monitor.
It's because of dilapidated and half-complete nature of the current crop of motherboard tweaking utilities that causes us to more or less ignore them. With the current state of such software our motto is this: if something can be done, it's better to do it in the CMOS than via a software utility. Doing it in the CMOS is less prone to problems and/or odd behavior, if only because rebooting to make a change instead of doing it on-the-fly is itself less prone to complications. Today's motherboard tweaking utilities simply aren't worth the potential trouble they can bring, there are still many growing pains left. Things may be looking up as AMD's latest foray in to the matter represents an additional push to flesh such utilities out, but it's far too early to compare it to the established crowd.