Standards Compliance
That aside, virtually everything else works the way you'd expect it to. The few number of sites I visited all appeared to load (minus a few script errors) without any obvious visual problems. Among the most intense of examples I frequent is newspond.com, which uses purely CSS to deliver what I think is one of the most haptic and interactive news aggregation websites around. It's a qualitative test, but I've found that it's surprisingly real-world.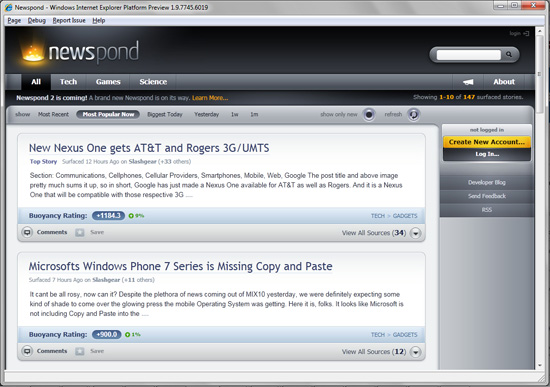 Microsoft took a quick jab at the ACID web compliance tests during the MIX10 day 2 keynote, most notably the ACID 3 test, which it currently doesn't pass: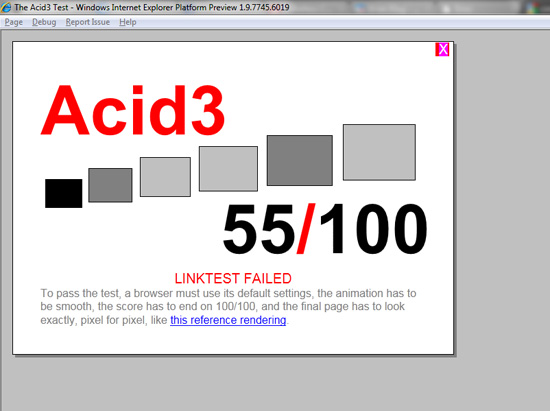 The IE team is busy working on making IE 9 Acid3 compliant, but noted that because the HTML5 spec is still evolving, they aren't focusing exclusively on just making IE 9 pass one test. During the keynote, Dean Hachamovitch noted, "some people use Acid3 as a shorthand for standard support. Acid3 is kind of interesting, it exercises about 100 tails of about a dozen different technologies. Some of them are under construction, others less so... we will continue to make progress on the Acid3 test. The score will continue to go up as we make more of the markup that developers actually use, work."
There's something to be said for real-world testing and taking synthetic benchmarks with a grain of salt; it's something the GPU-testing community has known and practiced for years. To that extent, IE went ahead and developed its own testing suite, which you can find at http://ie.microsoft.com/testdrive/.
Dean illustrated a compelling example showing the CSS edge pattern rendering differences between the latest builds of Chrome, Firefox, and IE 9. Note as well the browser-specific prefixing required to get near the same border patterns: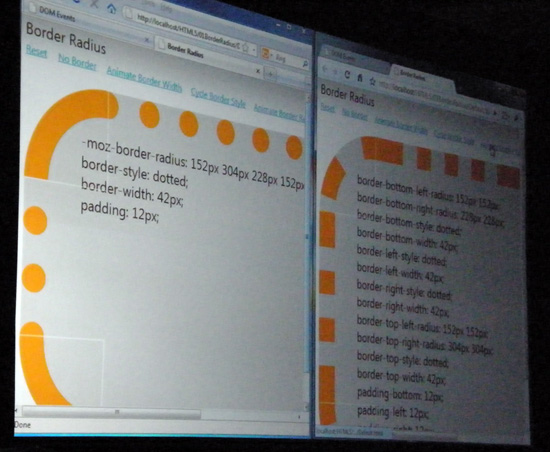 Firefox 3.6 at left. Chrome (stable) at right.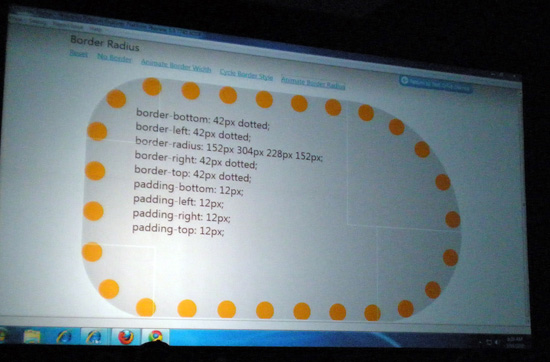 IE 9 Platform Preview
This is something you can easily replicate for yourself using the latest browsers and the test pages noted previously.