Inside the Boxee Heptahedron
I suspect a cube was too boring, so D-Link lopped off a portion of the common shape and made the box rest at an angle. Calling it the Boxee Heptahedron might scare away too many potential customers so the two companies settled on the name Box.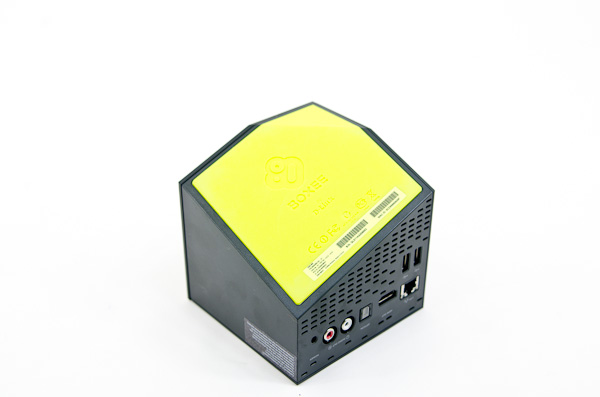 The base is made out of a soft rubber in bright NVIDIA green (perhaps homage to the Tegra 2 that originally powered the box). The remaining sides are black plastic. The Boxee logo on the front glows bright green when the box is powered up.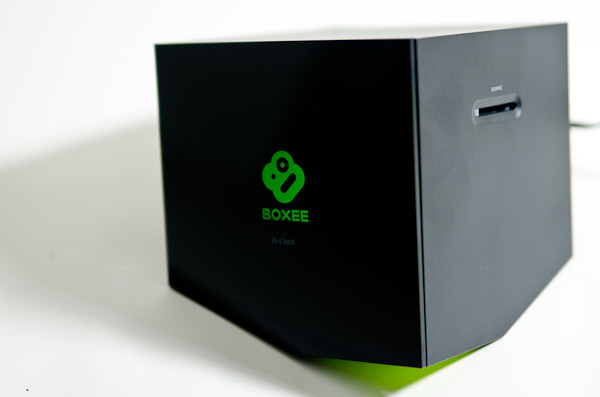 Around back there's a 10/100 ethernet port, HDMI output, optical and RCA stereo out options for audio, DC power input and two USB ports for attaching USB sticks or external hard drives. There's an SD/MMC card reader on the side and internally you've got 802.11n wireless support.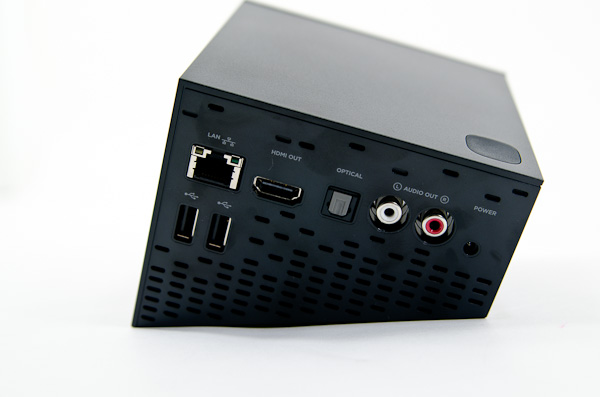 The Box is small, measuring 12.7cm x 11.43cm x 8.9cm - 12.7cm (5" x 4.5" x 3.5 - 5.0" - L x W x H). It doesn't really match any home theater gear but it's stylish enough to not matter.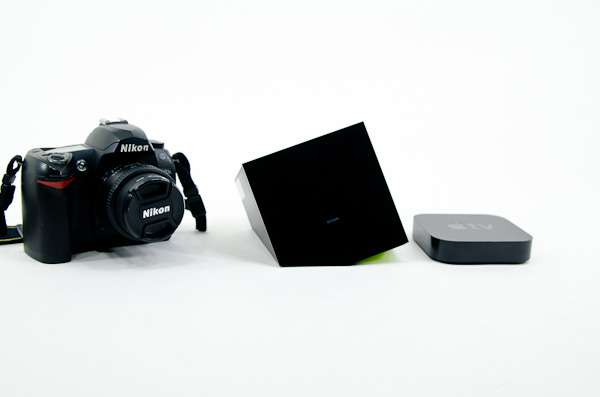 From left to right: Nikon D70, Boxee Box, Apple TV
Internally the Boxee Box is driven by an Intel CE4100 SoC and paired with 1GB of DDR3 memory.
The entire system is cooled by a single fan. The fan isn't loud but it is noticeable in an otherwise silent room thanks to its groaning sound. I couldn't hear it over any of the content I was watching however, even during quiet moments.
The Boxee Box is pretty easy to take apart, you just need a long Phillips head screwdriver with a small bit. Peel off the bright green rubber on the bottom to reveal the first six screws you'll need to remove.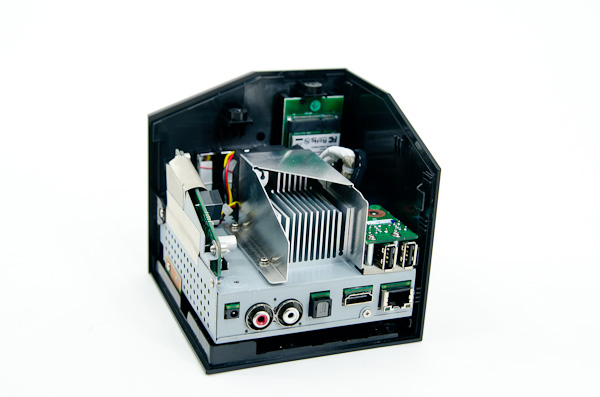 Once inside there are a dozen or so other screws you'll need to remove to gain access to the motherboard (the gallery above shows you most of the process). The power supply is external which keeps a lot of clutter out of the case itself. The heatsink uses a thermal pad to make contact with the SoC making removing/replacing it a breeze: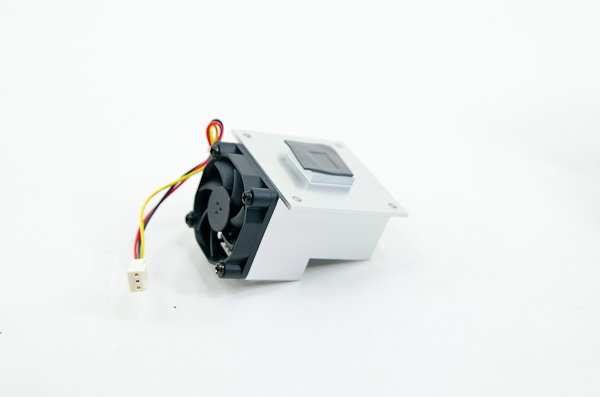 The motherboard itself is tiny, much smaller than a mini-ITX board. I'm sure a lot of folks would be very pleased if Intel or someone else made a reference design like this that you could just buy on your own: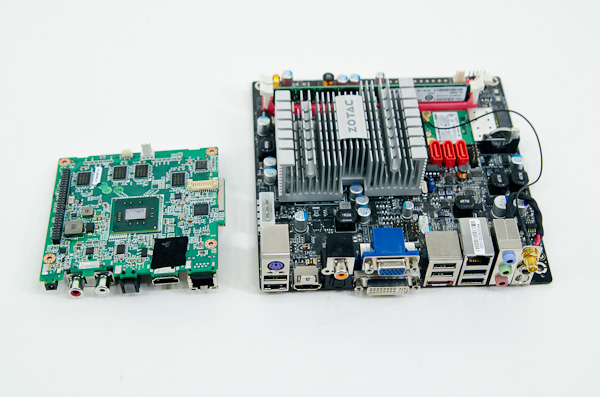 Boxee Box CE4100 motherboard (left) vs. Zotac ION mini-ITX motherboard (right)
See that little black tape covering a piece of the Boxee motherboard? Lift it up and you'll see a pretty significant rework on the board: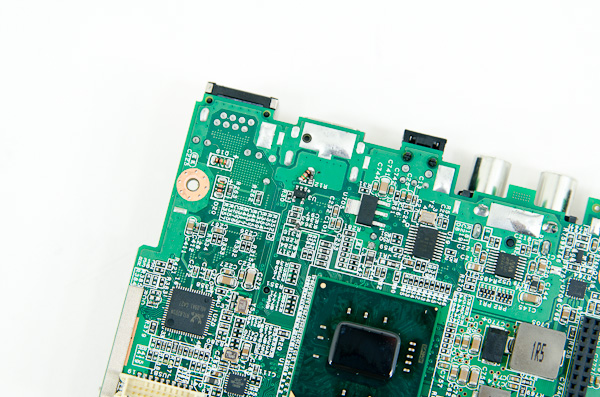 See the resistor mated over R12 (about half an inch from the top of the board in the above picture)? That's a rework. An error in the original PCB layout that had to be corrected after the fact. There's actually another one about half an inch lower. These two reworks appear to be on all Boxee motherboards. The black tape is used to keep them from being knocked loose. Future revs of the board will likely correct this problem and avoid the rework entirely. It's not a problem at all and won't impact reliability, just interesting to see on a final retail product.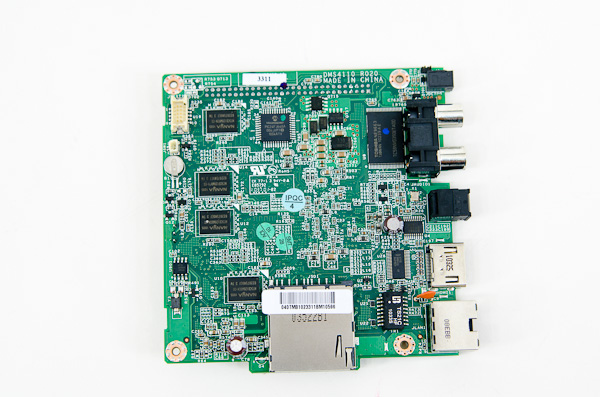 The CE4100 die measures approximately 8mm x 12mm, putting its total die area at 96mm2. That's roughly 3.6x the size of the Pineview Atom in current netbooks, but still a pretty small die. By manufacturing it at 45nm the CE4100 is cheap to make as it doesn't require any capacity from Intel's latest 32nm fabs.