The Marvell 88DE3010 is part of the ARMADA 1000 lineup, which we had covered briefly in an earlier piece.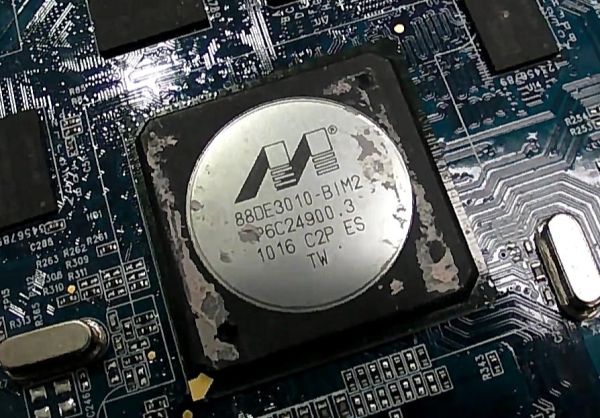 This chip is targeted towards Blu-Ray players, TVs and Set Top Boxes. The two PJ1 Sheeva cores (Marvell's custom ARMv5 architecture) can run upto 1.2 GHz, but they are clocked at 900 MHz in the 88DE3010. The TDP of the processor is 5W. A complete set of peripherals is also included.
The video decoder in the 88DE3010 supports simultaneous decoding of two HD streams in MPEG-2, H.264 (AVC), VC-1, MPEG4 (DivX), VP6 SD and WMV9 formats. Audio decoding in the 88DE3010 is carried out on a dedicated audio DSP core, and support is provided for decoding of the popular audio formats (including Dolby, DTS, MP3, AAC, eAAC+, etc) along with audio post processing.
All applications and the OS are run on one of the Sheeva processors. This application processor is dedicated to applications only and is not utilized for AV decoding or security functions. Elements like Digital Rights Management (DRM), networking stack, AV DMA,etc., are run on the second Sheeva processor, which is called the AV media processor. Both these processors are tightly coupled with a 64-bit 400 MHz (800 Mbps) DDR2 memory system with minimized cache-line refill latency.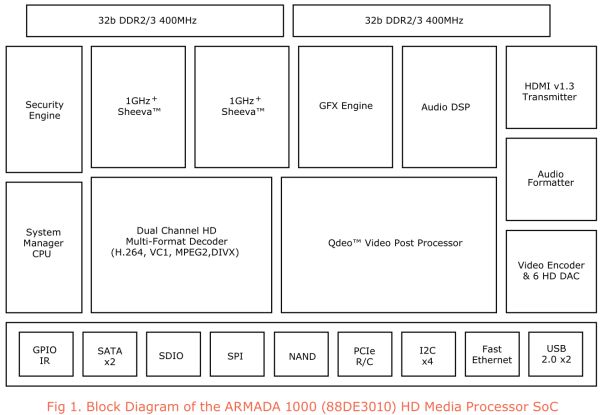 The 88DE3010 also integrates a high performance graphics accelerator for OSD and UI functionality. Unfortunately, this is just a 2D graphics core from Vivante, the GC300. The second generation SoC (88DE3100) uses a 3D graphics engine (Vivante GC1000), but that is a long time away from making its way into the hands of consumers. The combination of the graphics pipeline and the high performance CPU cores helps in enabling applications like Adobe Flash 10.1. Additionally, the 88DE3010 also integrates a video/image processing subsystem that implements Qdeo post processing.

Qdeo video post processing is a similar and comparable in quality to Gennum's VXP (now part of Sigma Designs and, in fact, part of the SMP 8910 which was announced recently). It enables the following post processing algorithms:
Per-pixel 3D noise reduction
3D deinterlacing
Scaling
Natural depth expansion
Intelligent color remapping and
Adaptive contrast enhancement.
The 88DE3010 also has a HDMI v1.3 transmitter with HDCP, and an NTSC/PAL/Component video encoder with six high frequency video DACs, supporting simultaneous output of CVBS, S-Video, Component and HDMI. System interfaces include single lane end-point/root complex PCIe, 10/100 Ethernet MAC with MII Interface, SATA controller with integrated PHY, USB 2.0 host with PHY, SDIO controller with a 4-bit SDIO interface, and common interfaces like UART, TWSI, etc.

In the DMA space, the Marvell 88DE3010 will be competing with the SMP8646 / SMP8656 SoCs from Sigma Designs. The TViX Xroid A1 also runs Android 2.2, but, on the SMP8656. SMP8656 has a MIPS 24Kf core quoted at 1.51 DMIPS/MHz, running at 500 MHz (with floating point engine) and MIPS 4Kec running at 333 MHz quoted at 1.62 DMIPS/MHz. The officially quoted performance of the PJ1 Sheeva core is 1.46 DMIPS/MHz. Similar to the splitting up of various functions between the two cores in the 88DE3010, the Sigma SDK also runs the networking stack and other interrupt driven activities on the MIPS 4Kec core.
The Dhrystone benchmarks are not the true indicator of performance, but it looks like the higher clock speeds in the 88DE3010 might just provide better CPU performance for Android on the Marvell SoC. However, the SMP8656 includes a 3D graphics engine (Imagination Technologies PowerVR SGX531) while the 88DE3010 has a 2D vector graphics engine (Vivante GC300). This potentially implies smoother graphics with 3D effects on the SMP8656, contributing to a better UI. XBMC is also officially being developed for the SMP8656.

How good will Android be on these media streamer SoCs? What will Android do to the DMA landscape? We are looking forward excitedly to get our hands on one of these units with the final firmware. Now, let us take a look at the Nixeus Fusion XS a little bit more in detail.