Gaming Performance
3DMark's fine to look at, but getting into gaming tests we'll see where the LAN Warrior II really shines. Remember that just because the NVIDIA GeForce GTX 590 didn't completely dominate the AMD Radeon HD 6990, that doesn't mean it's a slow card. Our test results will prove that much and then some: at 1080p and with our "High" preset, you're going to see this card being CPU-limited at settings that are otherwise reasonably stressful on modern cards.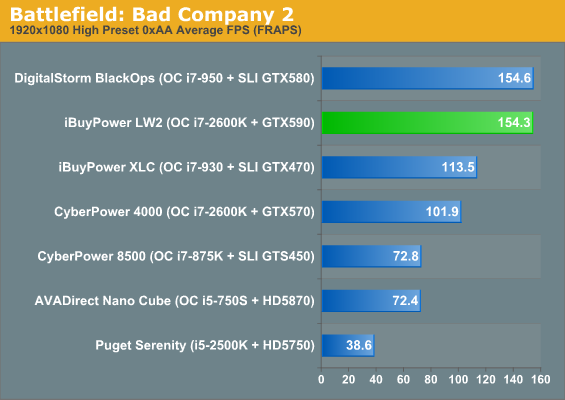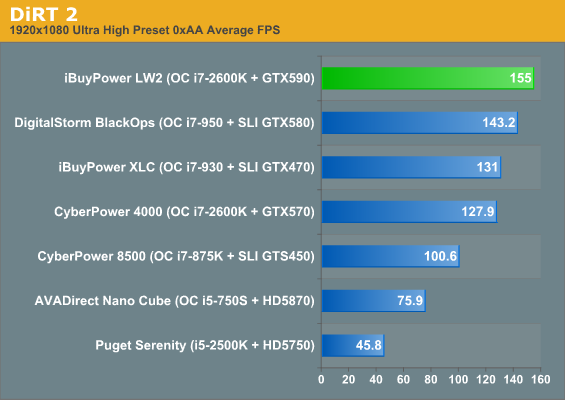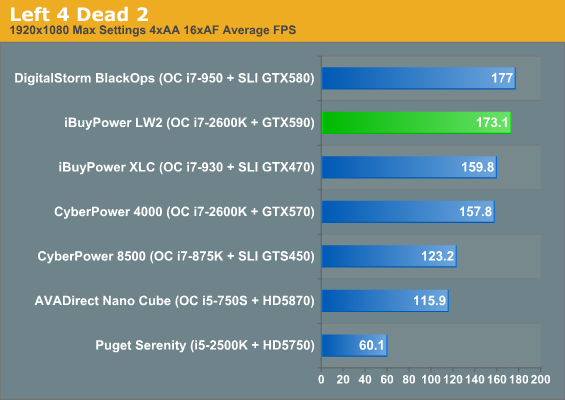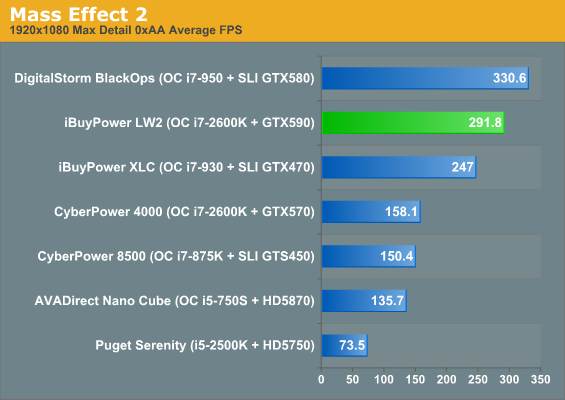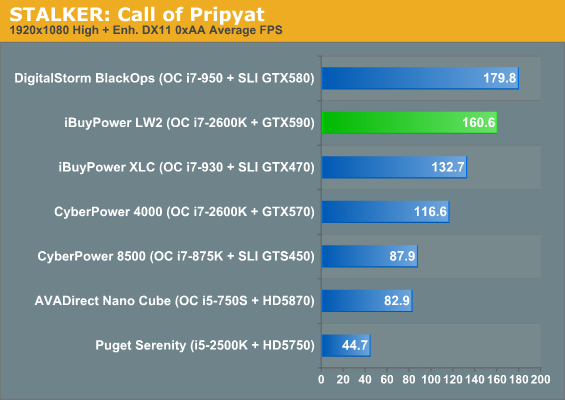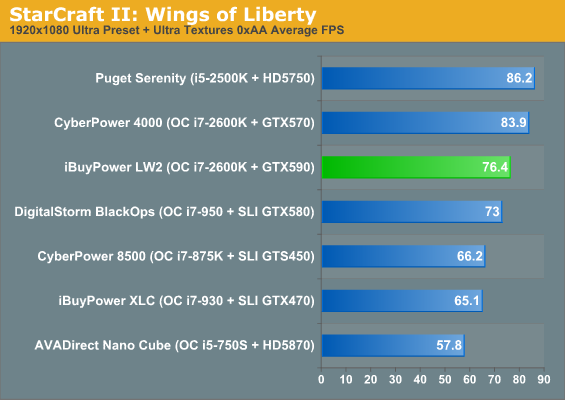 All of these results are basically academic and many of these monstrous gaming machines are largely CPU bound at these settings. Suffice to say, all of the machines we've tested provide "acceptable" performance, and the LAN Warrior II buckles under faster processors and the DigitalStorm BlackOps's ultra-powerful GeForce GTX 580 SLI solution. We also tested Mafia II and Metro 2033 at our "high" presets, producing results of 140fps and 97fps respectively. As we test more machines, expect these results to be framed in a greater context in future reviews. Again, though, they're largely academic: the GTX 590 simply chews through these games at our "High" defaults.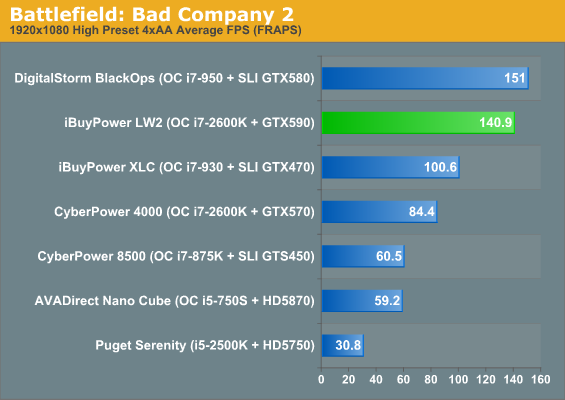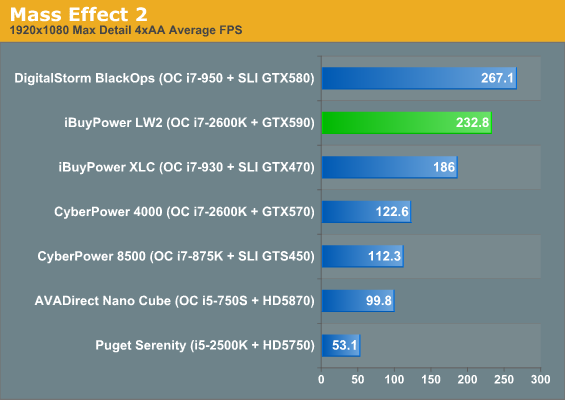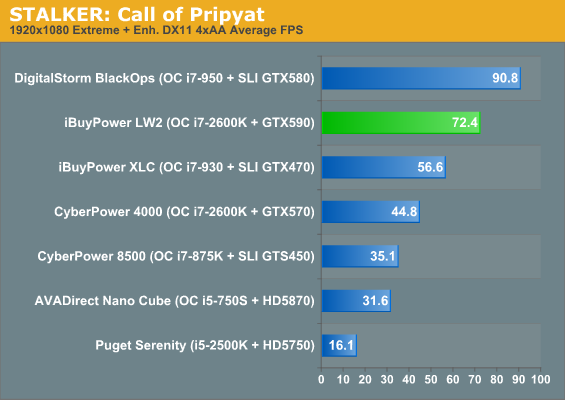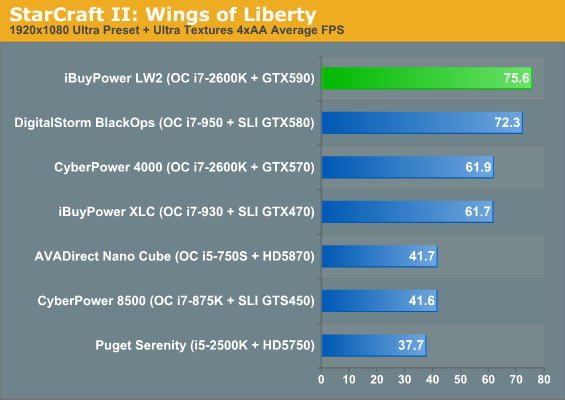 Add anti-aliasing to the mix and things start to square off, but again certain games (DiRT 2 and, of course, StarCraft II) remain processor bound. None of these tests present a real challenge to the LAN Warrior II, either. Mafia II and Metro 2033 were also tested at our "ultra" presets at 1080p (basically bumping up to 4xAA in each case), producing scores of 103.6fps and 54.7fps respectively.
Given how ridiculously powerful many of these desktops are and how fundamentally unchallenged they've been by our standard testing suite, it is with fairly mixed feelings that I announce we're adding surround gaming results to our desktop reviews moving forward. Why mixed?
My experience with AMD's Eyefinity has been positive. When I was running a Radeon HD 5870 in my personal machine, Eyefinity's only problems were related to games just not supporting the 5760x1200 resolution I was trying to run them at. That's not AMD's fault, nor is it NVIDIA's fault when the games don't run in surround well. When the surround monitor configurations don't come together or are fraught with issues, on the other hand...
It's not something I can pin on iBUYPOWER because I have two other NVIDIA multi-GPU systems undergoing testing and they've all had the same problems: surround configuration is fraught at best, nightmarish at worst. Updating to the latest drivers NVIDIA made it at least possible, but it still involved a lot of rebooting computers, disconnecting monitors, and reconnecting monitors. My surround system is a little unorthodox, but a 24" LG246WP (1920x1200), 27" Dell 2709W (1920x1200), and 24" HP ZR24w (1920x1200) all connected over DVI shouldn't be having these problems. Instead I found myself greeted with flickering, with screens that would register in NVIDIA's Control Panel but didn't actually have picture, and with the Control Panel stone cold locking up. Eventually I was able to commence testing with everything sorted out, but what was making configuration so finicky is basically unknowable. It reminded me of the early days of setting up a wireless network, when everything "should" work and is configured "correctly" but just doesn't because it's Monday or Netgear just hates Nickelback (and who can blame them?).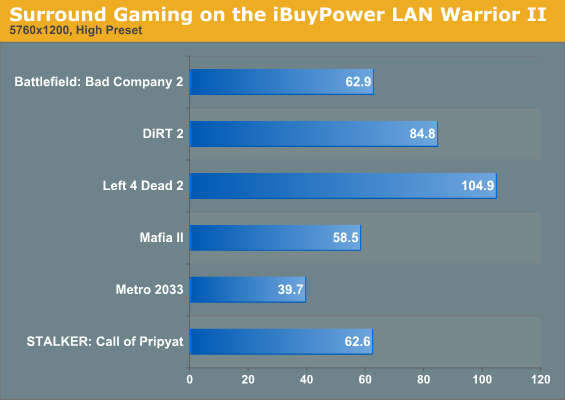 As you can see everything's still playable, but it bears mentioning STALKER's score is inflated by a very high result in the "Night" test; the stressful "Sunshafts" test actually hovered in the mid-to-high thirties. It should come as no surprise that a card deliberately equipped with three DVI outputs can handle surround gaming at high settings, but it's still hard to recommend going that route given how potentially difficult the configuration process can be.
It's telling when iBUYPOWER's engineers refuse to offer Eyefinity or NVIDIA Surround Gaming setups, especially when they could be so potentially profitable. A single large 2560x1600 or 2560x1440 LCD is a much easier solution for now, though still costly. Hopefully in a few more months the Surround Gaming problems will be sorted out.