Budget Intel SFF
The budget Intel SFF is capable of basic computing, but you aren't going to want to play games more demanding than, say, Farmville on this system. In a similar vein, the inexpensive case, power supply, and fan are not going to be particularly quiet. If the primary use will be online shopping, checking sports scores, emailing, working on basic documents and spreadsheets, and removing red eye from pictures taken with a point and shoot camera, this system will handle those tasks easily without breaking the bank.
While the LGA775 platform won't see any new budget CPUs—it's EOL, which makes sense considering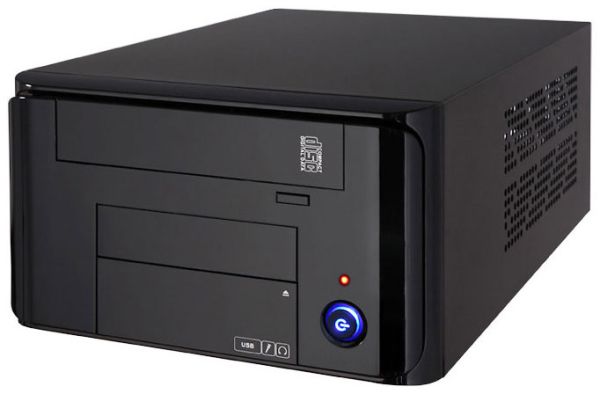 we're now two cycles away from when it was Intel's current platform—a more powerful (used) LGA775 chip could be a viable drop-in upgrade as prices on CPUs like the venerable E8400 continue to drop. If you'd rather go with a more up-to-date Intel setup, we've included a Sandy Bridge Core i3 CPU and an appropriate motherboard for reference. That combination will substantially increase the system's computing and graphics capabilities, as well as providing more potential longevity if you want to upgrade the CPU down the road, but it will also increase the price by about $100.
We're going with a single 2GB DIMM, since that makes it easy to upgrade to 4GB later should that be deemed necessary—you'd just drop in another 2GB DIMM. The APEX case measures 11.8" x 8.7" x 5.1" (Length x Width x Height).
Budget AMD SFF
In a rather bizarre twist, even though AMD is usually associated with budget computing, mini-ITX solutions featuring AMD platforms are not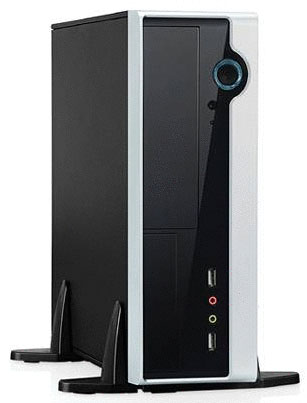 nearly so numerous as those featuring Intel CPUs. Of the mini-ITX AM3 boards that we can find, many sport very outdated chipsets (e.g. NVIDIA's now-defunct 6100/8200 chipset). The recommended motherboard manufacturer, Giada, is a relative newcomer to the North American market, but of the dozen or so Giada boards I've used in builds, they've all been acceptable and unremarkable for budget-oriented products. (Note: some of you will undoubtedly noticed there is a less expensive AMD-based mini-ITX board available at Newegg. I cannot recommend it because it uses an ancient (six years old!) chipset that will artificially limit the performance of AM3 CPUs, uses more expensive DDR2 instead of cheaper DDR3 memory, and lacks DVI and HDMI outputs.)
Like the budget Intel SFF system, this inexpensive AMD machine is capable of basic computing, and the cheap case and power supply are not going to be as efficient or quiet as higher quality components. I've built multiple systems with each of these budget cases, and they're really a wash—neither is notably superior to the other. While this AMD system's integrated graphics are superior to the Intel system's IGP, it's still not a gaming computer. The Foxconn case recommended with the AMD SFF build measures 14.2" x 11" x 3.8" (LxWxH).
We really don't have any recommend upgrades for the AMD budget SFF. If you want to reduce the price, there's a $55 Athlon II X2 245 clocked at 2.9GHz; however, that particular CPU is an OEM model so you'd need to buy a separate HSF, which would likely cost far more than the $6 you save by going with an OEM CPU. AMD also has the single-core Sempron CPUs, like the Sempron 145 for $36 (plus shipping), but we're not willing to go that far in pursuit of cost savings. A better way to reduce cost would be to skip mini-ITX altogether and go with a mATX case and motherboard instead; pricing on mATX boards with the AMD 880G chipset starts at a far more palatable $55.
Recommended Budget SFF
The Intel SFF has two primary advantages over the AMD SFF. First, the cheaper CPU and motherboard contribute to a less expensive system. Second, the E3400 CPU loads at much lower wattage than the Athlon II X2 250 CPU, which is especially important in a cramped SFF chassis. There are "E" suffix AMD Athlon II X2 and X3 CPUs with a 45W TDP, but while these energy efficient chips erase the E3400's thermal advantage, they are also more expensive than the regular 65W TDP Athlon II X2 250 CPU—and they're also becoming increasingly difficult to find in retail channels. Furthermore, the average user doesn't load their CPU very frequently, especially in budget systems like these, and the two CPUs idle at very similarly low wattage (i.e. most of the time, neither will be noticeably hotter or noisier than the other).
The two CPUs trade blows on benchmarks; regular desktop users will likely not be able to tell the difference between them in terms of performance. The total price difference is $30 in favor of Intel (looking at just the CPU and motherboard costs, as the cases are interchangeable), and while we don't have either of these CPUs in Bench, you can get a reasonable idea of how they stack up by looking at the Athlon II 255 vs. Pentium E5200. (The 255 is clocked at 3.1GHz vs. 3.0GHz, and the E5200 is clocked at 2.5GHz with 2MB cache, compared to 2.6GHz with 1MB cache on the E3400.) Intel generally gets better optimizations for multimedia work, but the AMD CPU is faster in many general-use tasks (which the gaming results help to show, though those are with a discrete GPU installed).
If you have to buy right now, we give a slight edge to Intel's old platform, but remember that the impending release of AMD's Llano platform could shake things up at the budget end. We'll have to wait for mini-ITX Llano boards to hit retail channels, and then we'll see how expensive they are. That could take several months, so waiting for a budget Llano-based system is an individual decision.