The Intel S2600GZ board
Our Intel R2208GZ4GSSPP had the Intel S2600GZ "Grizzly Pass" board inside. The board has been qualified for all major virtualization solutions: Citrix Xenserver, Hyper-V, SLES 11, Oracle's VM server, RHEL and VMware vSphere of course. It can also be used as basis for almost every independent storage software vendor: DataCore, Falconstore, Gluster, Microsoft's iSCSI target, Nexenta, Open-E and Stormagic.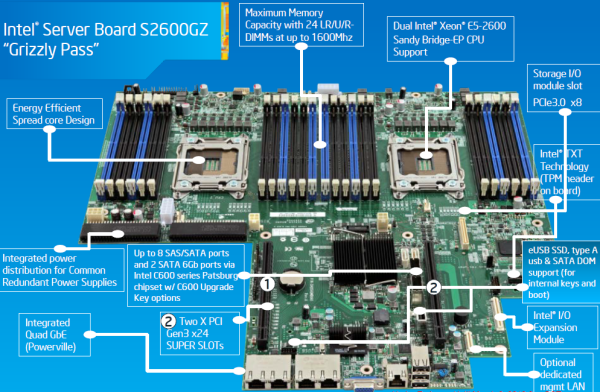 The board has a cooling and power-friendly spread core design: the airflow of one heatsink does not get used to cool another heatsink. The board features up to 24 DIMMs, which support Low Power, Unregistered and Registered DDR3 (up to 1600 MHz) and LR-DIMMs. Four GBe interfaces are on board and an optional I/O module can add dual 10 GBe (Base-T or optical) or QDR infiniband. Meanwhile the C600 chipset offers 8 SAS/SATA ports (2x 6G) and a PCIe 3.0 x8 module slot for stroage purposes. This slot can be used for setups such as the LSI 2208 dual core ROC controller based RAID card with two 8087 SAS connectors and 1 GB of 1033 MHz DDR3 cache.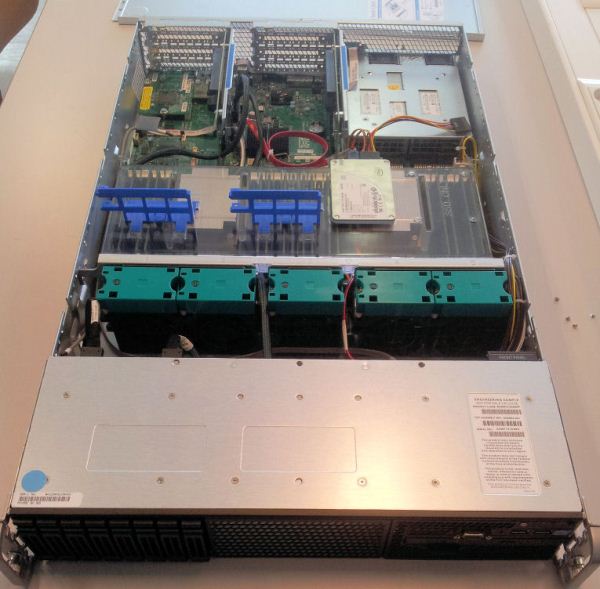 Last but not least: the board has two PCIe x24 "super slots" which allows for the use of two risers. Each riser contains 3 PCIe 3.0 x8 slots: two half height slots and a full height slot. Finally, powering the system is a small 750 Watt PSU rated for 80 PLUS Platinum.