ASUS
The big motherboard vendors will have at release their usual gamut of motherboards to fit a variety of price points, and ASUS is no exception. The usual lineup from ASUS should consist of several channel board models (LE, -V, Pro, Deluxe, WS, Sabertooth), to then be followed by a variety of Republic of Gamers motherboards (Gene, Maximus, Formula) over the next few months. Today we have images detailing several of these products.
ASUS Sabertooth Z77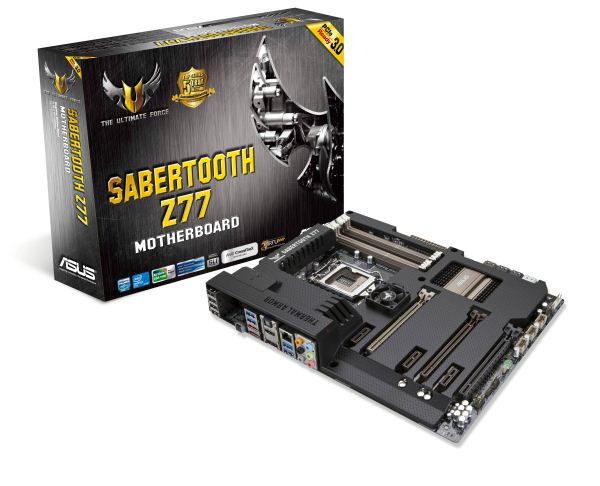 The Sabertooth Z77 is part of ASUS' range of TUF motherboards, supporting an unparalleled level of motherboard cooling control all wrapped up in a five-year warranty. I have been lucky enough to see this board in action, and there are some fun new features to get to grips with: Fan Xpert 2 allows complete fan control, with onboard optimization of fan levels. There is even a feature that allows the fans to keep spinning for a short while after the PC is turned off to remove that stagnant warm air from components.
ASUS P8Z77-V Deluxe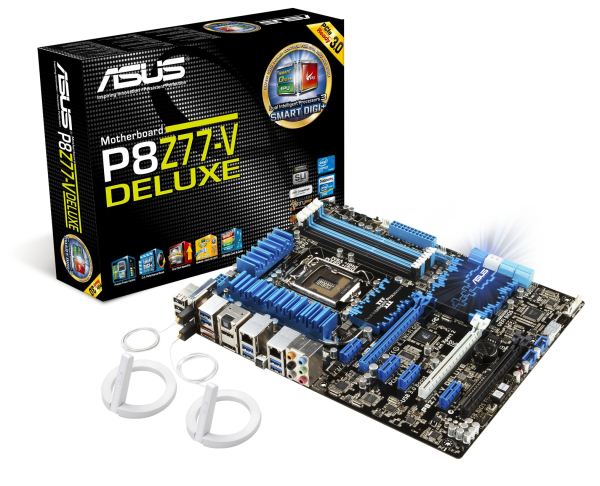 The P8Z77-V Deluxe represents the top end of the ASUS channel board range, and immediately we can see that ASUS is now starting to put on-board Wifi onto these boards. I had a good chat with one of ASUS' PR, and in their view if at least 25% of their users require a feature, it will be added. Well it turns out that at least a quarter of people according to ASUS use a wireless connection for their PC to get to the internet, and as such this feature should be added across the range. In my eyes, this is a welcome addition which can only add value. The Deluxe also sports Intel network controllers, a feature that works its way down to the other channel boards.
ASUS P8Z77 WS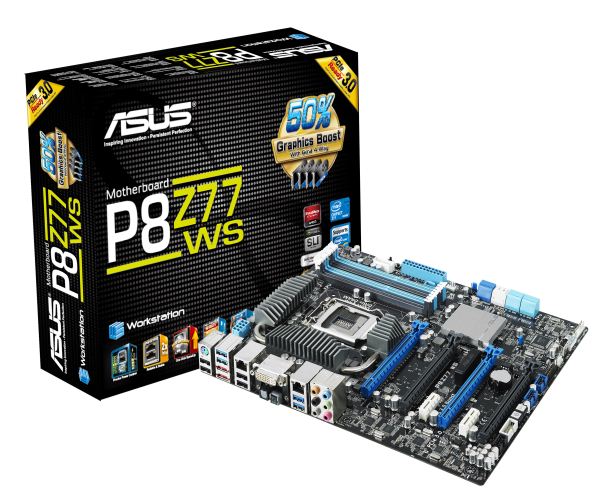 The WS (workstation) motherboard from ASUS is becoming a staple of their range. This Z77 model, aside from featuring DVI output (rather than HDMI/DisplayPort which the models above do) and dual Intel network controllers, contains a special PCIe 3.0 PLX chip to increase the number of PCIe 3.0 lanes on the motherboard. This gives the PCIe layout to reach x8/x8/x8/x8 all in 3.0 mode, which becomes useful for multi-GPU simulators in increasing GPU-to-GPU throughput. It will be interesting to see if this PLX chip has any performance decrease associated with it like the NF200 did. This WS board supports Intel's 3rd Generation Intel Core Xeon processors and ECC memory to fit into the workstation category, albeit with more overclock options than a standard workstation board.
ASUS ROG Maximus V Gene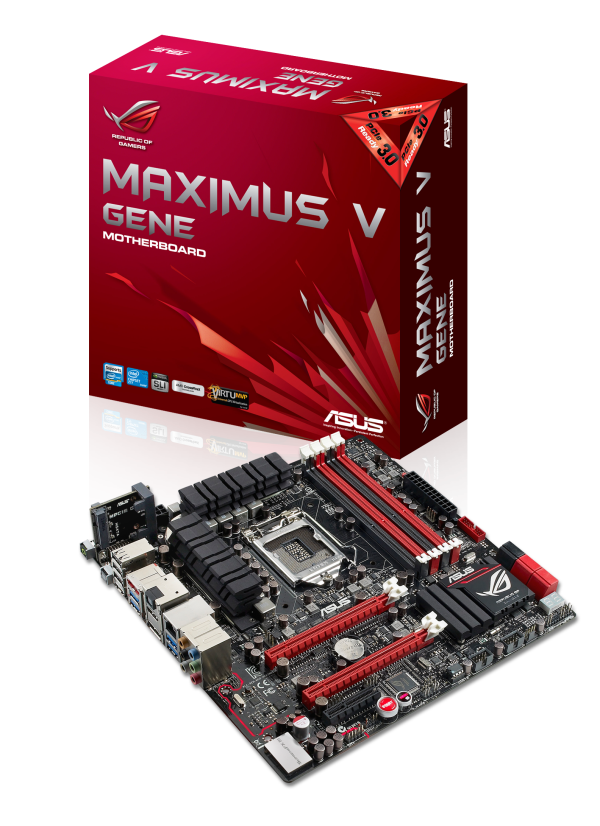 The Gene range of ASUS' Republic of Gamers boards caters to the crowd wanting small yet powerful systems, with all the functionality of the main size boards (albeit missing a few PCIe ports). The Maximus V Gene doesn't fail to disappoint – as it has the ROG treatment, we still get access to the ROG forums with dedicated ASUS employees to help optimize any configuration. The port on the IO panel is of interest – this is what ASUS calls an 'augmentation port', which provides space for both a mini-PCIe slot and an mSATA port. This would allow users to supply their own wifi module and mini-SSD as required, without taking up valuable space around the rest of the board. Other ROG features include PCB isolation for the audio to reduce electromagnetic interference, and ROG exchange – the ability for users to share overclocking results for similar systems and setups and see exactly all the settings required to make those overclocks.