Enthusiast/Ultra 1920x1080 Gaming Performance
Last up on our gaming tests is our punishing "Enthusiast" setting (typically maximum detail, 4xAA or SSAA, 1920x1080 resolution). So far all of the high-end mobile GPUs have proven capable of running our gaming suite at more than playable frame rates, but here we're likely to see a few cases where you'll need to turn down the settings to stay about 30FPS. Super-Sampling AA (used in Metro and Sleeping Dogs—but not Tomb Raider as we enable TressFX instead) would be the first option I'd turn off, or 4xAA in the other games; you can try FXAA in a pinch if the jaggies bother you too much. The jump between "High" and "Very High/Ultra/Ultimate/Extreme" is also relatively small in terms of image quality, so that would be the other option for improving performance to hit playable frame rates. With that out of the way, here are our final benchmarks.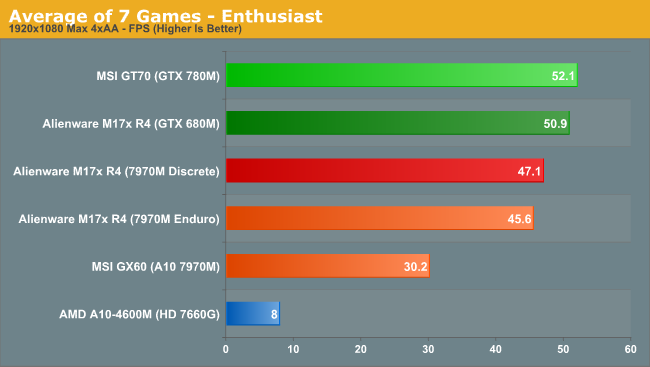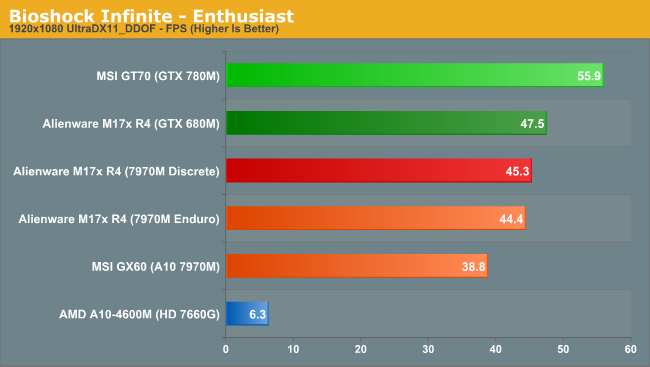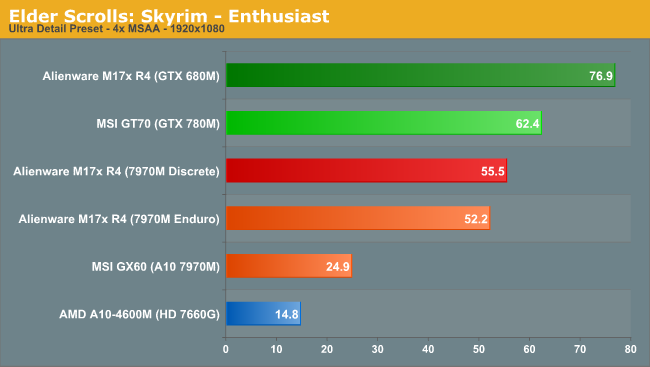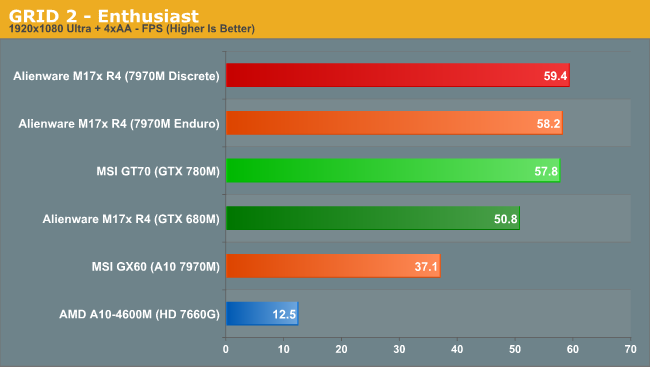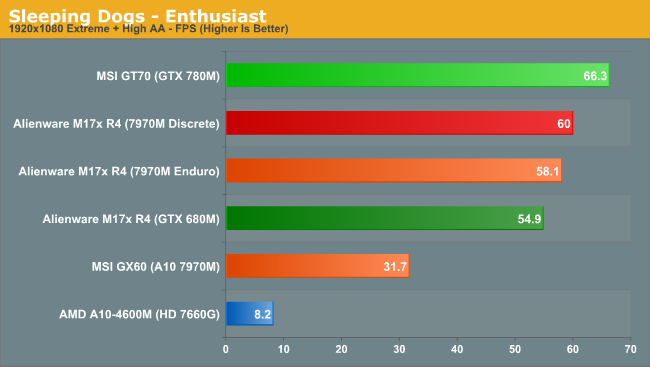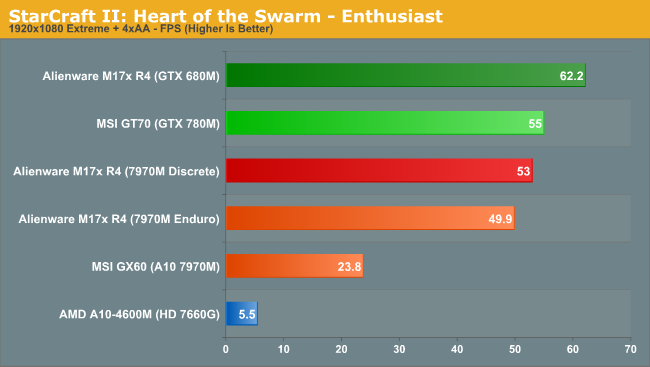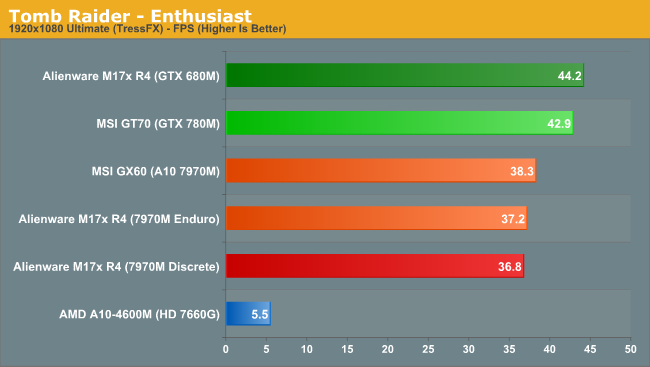 Finally at the Enthusiast level, Enduro on the M17x no longer seems to cause much of a performance penalty. Using discrete mode is still 3% faster on average, but the largest margin of victory is only 6% (in Skyrim and StarCraft II, interestingly, which are the only DX9 games in our current list). Considering most people forking over $2000+ for a high-end gaming notebook are going to be using the GPU more rather than less, it's good to see that where it matters most in terms of performance is where the Enduro question actually matters least. If you're not planning on running on battery power much, I'd probably leave the M17x R4 in discrete-only mode and plan on a reboot if you need to go mobile, as in general I've found the drivers to be less finicky that way, but your mileage may vary.
Intel Enduro vs. AMD Enduro results get closer one again, with the lead now down to 51% on average. As you can probably guess, the real average lead isn't nearly so great with the exception of a few games that tend to hit the CPU harder. StarCraft II and Skyrim continue to run over twice as fast on Intel's CPU with the 7970M, and GRID 2 and Sleeping Dogs are 57% and 83% faster, respectively. Bioshock is only 14% faster this round, which is close enough that you probably don't need to lose any sleep over the numbers, and Metro likewise is only 11% faster on Intel. Tomb Raider even goes one step further and runs 3% faster on the GX60. That said, out of the seven titles, the AMD platform doesn't provide smooth frame rates in Skyrim or StarCraft II and barely gets by in Sleeping Dogs; Metro: Last Light ends up being so punishing that none of the notebooks we've tested actually break 30FPS average on our Enthusiast settings.
And for those keeping score, the 7970M in the GX60 now outpaces the HD 7660G by nearly 300%. We noted in the introduction that on paper, the 7970M has over four times the performance potential of the 7660G: it has 4.13X the compute performance (1280 shaders at 850MHz compared to 384 shaders at 686MHz) with a dedicated 153.6GB/s of memory bandwidth compared to a shared 25.6GB/s (so at least six times as much bandwidth). On Trinity, we only realize a 3.8x performance increase, but if we compare the discrete M17x 7970M result to 7660G it ends up 5.9X faster, which is just what we'd expect. iGPUs have improved substantially in the last couple of years, but we're still a long ways away from completely replacing the need for discrete GPUs.
Wrapping up, the NVIDIA vs. 7970M matchup shows that even more than a year after launch, the top mobile GPUs remain evenly matched. The GTX 680M leads by 8% overall, with a large win in Skyrim (39%) and smaller leads in StarCraft II (17%) and Tomb Raider (15%), while the 7970M leads by 14% in GRID 2 and 9% in Sleeping Dogs. The 780M enjoys its largest margin of victory as well, to the tune of 11% faster than 7970M on average. GRID 2 continues to favor AMD just slightly, but everywhere else the 780M beats the 7970M. Thermal throttling is still clearly a problem on the GT70 notebook, and we'll have to wait for an updated system before we can really say how 780M performs.