Endurance
Samsung isn't quoting any specific TB written values for how long it expects the EVO to last, although the drive comes with a 3 year warranty. Samsung doesn't explicitly expose total NAND writes in its SMART details but we do get a wear level indicator (SMART attribute 177). The wear level indicator starts at 100 and decreases linearly down to 1 from what I can tell. At 1 the drive will have exceeded all of its rated p/e cycles, but in reality the drive's total endurance can significantly exceed that value.
Kristian calculated around 1000 p/e cycles using the wear level indicator on his 840 sample last year or roughly 242TB of writes, but we've seen reports of much more than that (e.g. this XtremeSystems user who saw around 432TB of writes to a 120GB SSD 840 before it died). I used Kristian's method of mapping sequential writes to the wear level indicator to determine the rated number of p/e cycles on my 120GB EVO sample: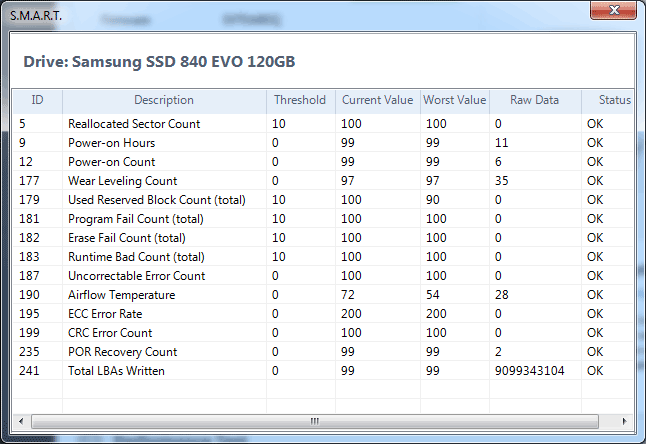 Samsung SSD 840 EVO Endurance Estimation
Samsung SSD EVO 120GB
Total Sequential Writes
4338.98 GiB
Wear Level Counter Decrease
-3 (raw value = 35)
Estimated Total Writes
144632.81 GiB
Estimated Rated P/E Cycles
1129 cycles
Using the 1129 cycle estimate (which is an improvement compared to last year's 840 sample), I put together the table below to put any fears of endurance to rest. I even upped the total NAND writes per day to 50 GiB just to be a bit more aggressive than the typically quoted 10 - 30 GiB for consumer workloads:
Samsung SSD 840 EVO TurboWrite Buffer Size vs. Capacity
120GB
250GB
500GB
750GB
1TB
NAND Capacity
128 GiB
256 GiB
512 GiB
768 GiB
1024 GiB
NAND Writes per Day
50 GiB
50 GiB
50 GiB
50 GiB
50 GiB
Days per P/E Cycle
2.56
5.12
10.24
15.36
20.48
Estimated P/E Cycles
1129
1129
1129
1129
1129
Estimated Lifespan in Days
2890
5780
11560
17341
23121
Estimated Lifespan in Years
7.91
15.83
31.67
47.51
63.34
Estimated Lifespan @ 100 GiB of Writes per Day
3.95
7.91
15.83
23.75
31.67
Endurance scales linearly with NAND capacity, and the worst case scenario at 50 GiB of writes per day is just under 8 years of constant write endurance. Keep in mind that this is assuming a write amplification of 1, if you're doing 50 GiB of 4KB random writes you'll blow through this a lot sooner. For a client system however you're probably looking at something much lower than 50 GiB per day of total writes to NAND, random IO included.
I also threw in a line of lifespan estimates at 100 GiB of writes per day. It's only in this configuration that we see the 120GB drive drop below 4 years of endurance, again based on a conservative p/e estimate. Even with 100 GiB of NAND writes per day, once you get beyond the 250GB EVO we're back into absolutely ridiculous endurance estimates.
Keep in mind that all of this is based on 1129 p/e cycles, which is likely less than half of what the practical p/e cycle limit on Samsung's 19nm TLC NAND. To go ahead and double those numbers and then you're probably looking at reality. Endurance isn't a concern for client systems using the 840 EVO.