The iBuyPower Battalion M1771 isn't going to have the absolute best performance, but given its relative form factor, the fast Intel i7 quad core processor and solid GeForce GTX 765M should allow it to at least throw some of its modest weight around.
Before we get into gaming testing, though, it's worth at least seeing how it stacks up in relation to other current generation (and a couple of older generation) gaming machines in most basic disciplines. The Razer Blade 14 can exist as a reality check in games excepting the CPU which is the slightly slower i7-4702HQ; the Blade 14 has basically the same hardware as the Blade Pro, which is in turn almost identical to the M1771 (MSI GS70) internally.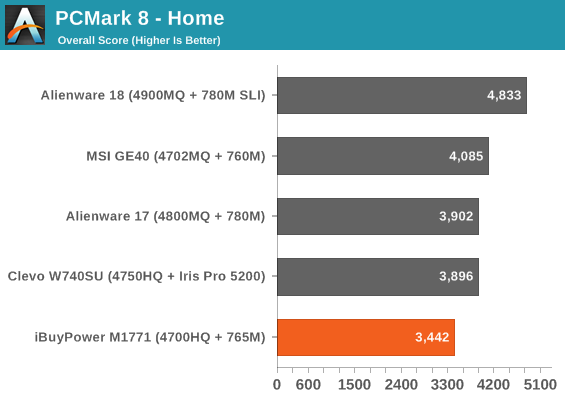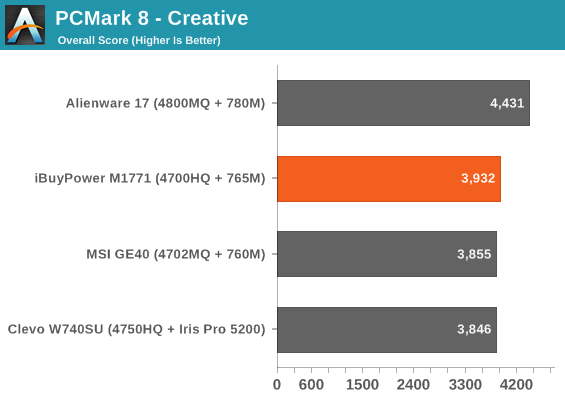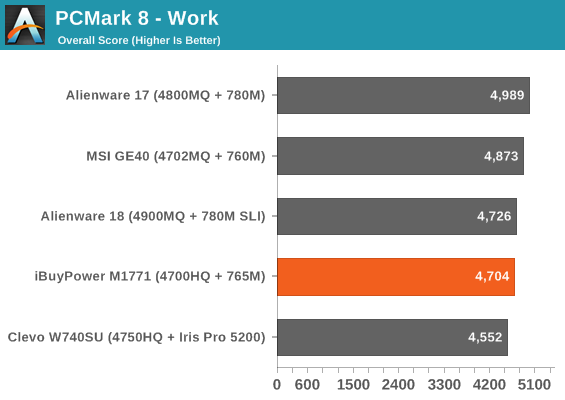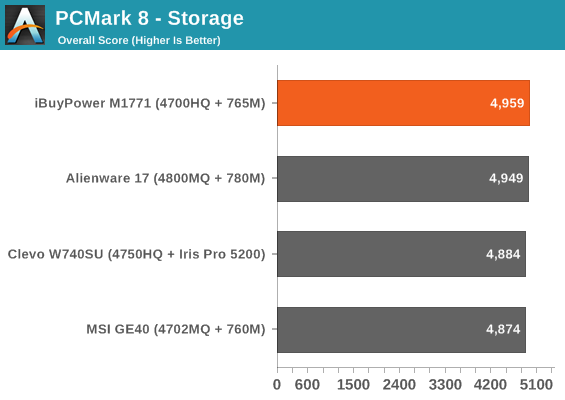 The M1771 has the fastest storage subsystem of the lot but only just barely; despite the two SSDs in RAID 0, its theoretical performance advantage proves to be academic in practice. Meanwhile it bounces a bit over the map in PCMark 8, posting a slightly anemic performance in the Home test. It's not horrible and exists essentially as an oddball outlier.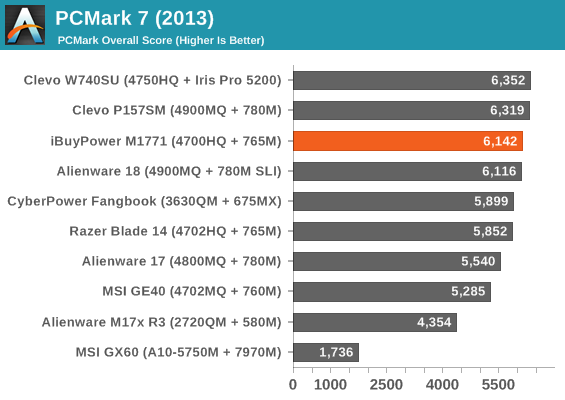 PCMark 7 is kinder, and the M1771 posts a strong performance bolstered by its CPU and fast SSD storage subsystem.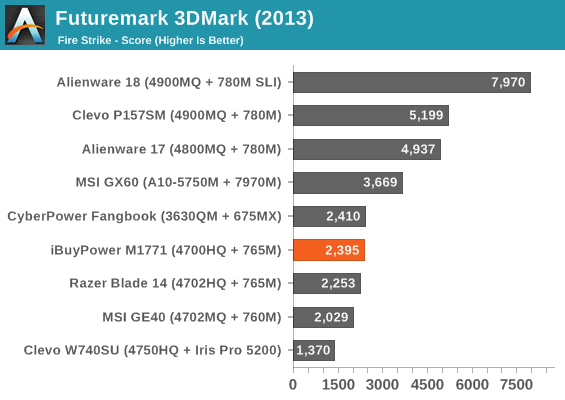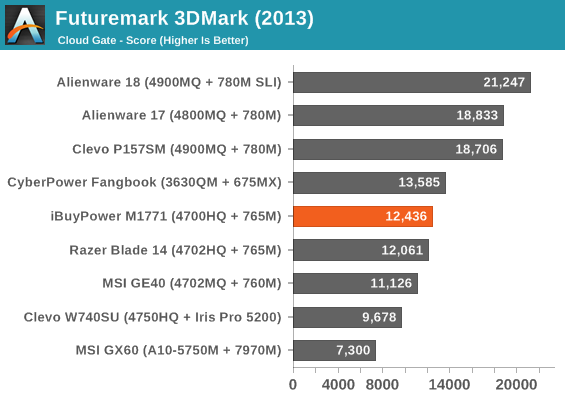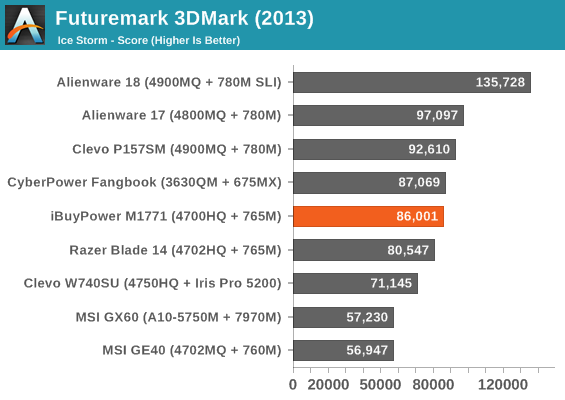 Meanwhile, performance in the 3DMarks is excellent. The 765M is a strong piece of kit, able to use raw clockspeed to essentially make up most of the difference in CUDA core count between it and the powerful GTX 675MX. The Blade 14 trails it slightly, probably owing to the 200MHz difference in base clocks and reduced turbo bins of the i7-4702HQ. Meanwhile, check out the lead in 3DMark 11 over the former heavyweight GTX 580M.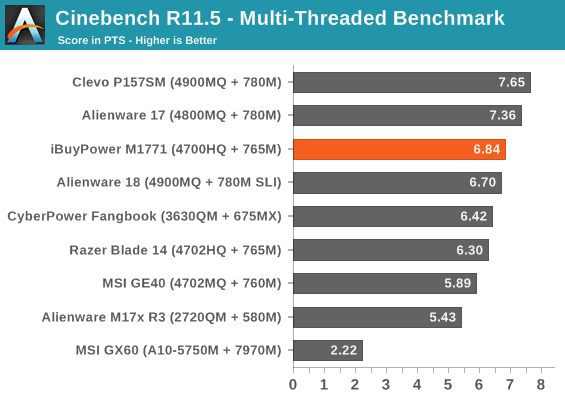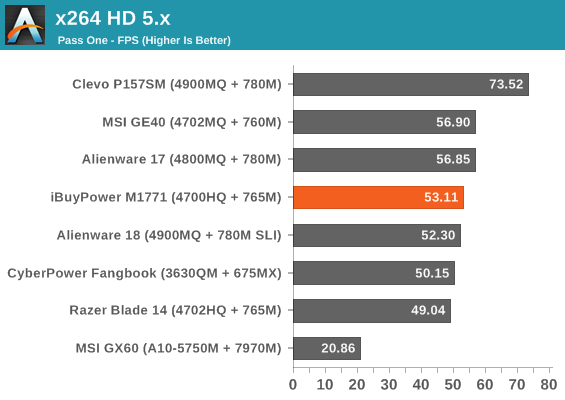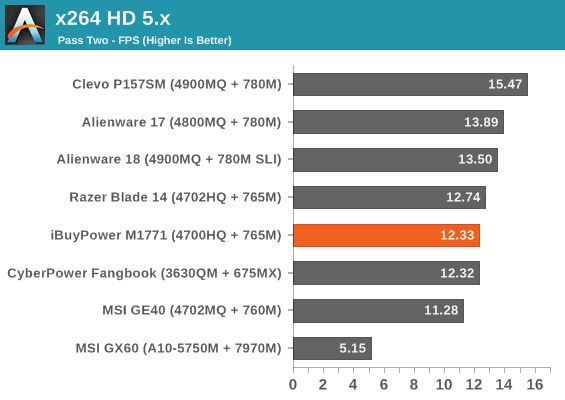 The 4700HQ is modestly generationally faster than the 3630QM, in line with the difference in IPC as the two have identical clocks and turbo bins. It's also notably faster than the 2720QM, but Ivy proved to be a much bigger boost to mobile performance over Sandy than Haswell is over Ivy. The M1771 is essentially where it needs to be, performance-wise.