Alchemist
Ahead of Intel's Vision event this morning, the company has published a short update on the status of the ongoing launch of their Arc family of GPUs. Penned by VP and GM of Intel's Visual Compute Group, Lisa Pearce, the blog post addresses a few questions around the Arc launch, and particularly when we should expect to see the launch of Intel's first desktop cards. Starting there first, Pearce has announced that the desktop Arc launch has for all practical purposes slipped, with Intel now outlining a more staggered approach to their desktop launch. The first Arc desktop products were previously slated to launch later in Q2, and while this technically remains true, Intel's Q2 launch plans are now limited to the Chinese market. The...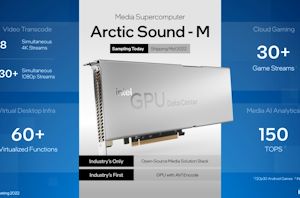 Rounding out Intel's direct GPU-related announcements from this morning as part of the company's annual investor meeting, Intel has confirmed that the company is also getting ready to deliver...
18
by Ryan Smith on 2/17/2022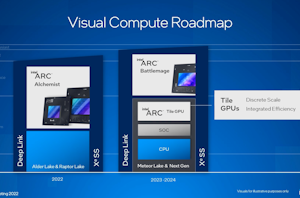 Continuing with this morning's spate of Intel news coming from Intel's annual Investor meeting, we also have some new information on Intel's forthcoming Meteor Lake processors, courtesy of this...
20
by Ryan Smith on 2/17/2022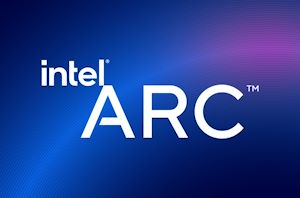 As part of Intel's annual investor meeting taking place today, Raja Koduri, Intel's SVP and GM of the Accelerated Computing Systems and Graphics (AXG) Group delivered an update to...
13
by Ryan Smith on 2/17/2022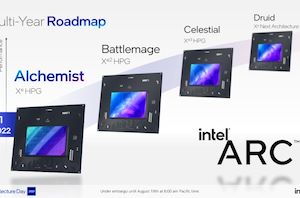 Today is when Intel does its third-quarter 2021 financial disclosures, and there's one little tidbit in the earnings presentation about its upcoming new discrete GPU offerings. The earnings are...
75
by Dr. Ian Cutress on 10/21/2021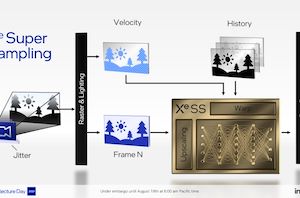 Alongside a sneak peek at their forthcoming Xe-HPG architecture, the other big reveal today from Intel's consumer graphics group comes from the software side of the business. Along with...
45
by Ryan Smith on 8/19/2021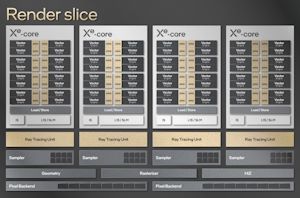 For Intel's 2021 Architecture Day presentations, the yin to the CPU company's traditional yang is GPUs. Intel has spent the last few years preparing to enter the market for...
72
by Ryan Smith on 8/19/2021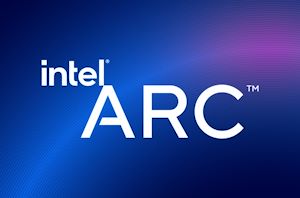 After several months of various teasers, Intel is finally starting to put the band together for their first high-performance discrete GPUs and video cards. This morning the company is...
56
by Ryan Smith on 8/16/2021