DOCSIS 3.1
Cable service providers in the US market have been aggressively deploying DOCSIS 3.1 over the last couple of years. Netgear has been selling DOCSIS 3.1-compatible modems and gateways into the service-provider as well as the retail market. At CES 2020, Netgear is launching a new product to augment their product stack in this segment. The Nighthawk Wi-Fi 6 DOCSIS 3.1 Cable Modem Router (CAX80) is an integrated device fulfilling modem, router, switch, and wireless access point functions. Priced at $430 and slated for availability in early Q2 20202, this device has a 8-stream Wi-Fi 6 configuration (AX6000-class). It also comes with a 2.5 Gbps LAN port. The CAX80 has four additional gigabit ports, and two of those are capable of getting link-aggregated too. As Comcast starts...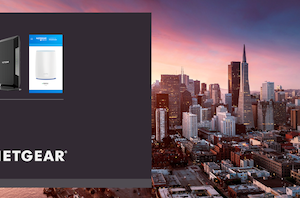 Netgear has a couple of interesting consumer products-related announcements at CES 2019 - one related to their cable modem lineup, and the other related to the Armor cybersecurity service...
4
by Ganesh T S on 1/7/2019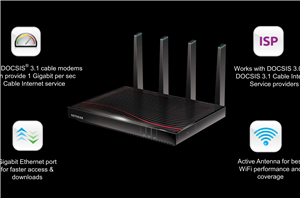 ​The 2017 CES saw various vendors introduce their first cable modem based on Broadcom's DOCSIS 3.1 BCM3390 chipset. Netgear's CM1000 was one of the first out of the gate...
27
by Ganesh T S on 7/11/2017