Xeon-D
Intel launched the Xeon D-2100 SoCs in early 2018, with a feature set making them a fit for several verticals including edge servers, networking, and storage. One of the key advancements made in the Xeon D-2100 compared to the first-generation Xeon D-1500 series was the inbuilt support for two additional 10G network interfaces. With TDPs starting at 60W, the Xeon D-2100 SoCs lends itself to some interesting and unique server and edge procesing products. Today's review deals with one such system - Supermicro's passively-cooled SuperServer E302-9D.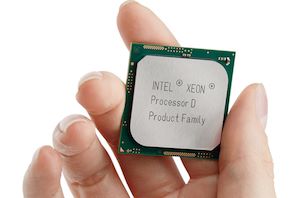 Even if you've been keeping track of Intel's Xeon family lines, the Xeon D family could probably give you cause for confusion. The same 'generation' of products spans a...
11
by Ian Cutress on 4/2/2019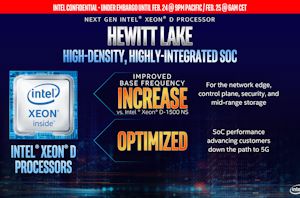 The Xeon D processor line for Intel has been a combination networking/microserver processor that increased significantly in core count, power, and capability in the previous generation. We now have...
11
by Ian Cutress on 2/25/2019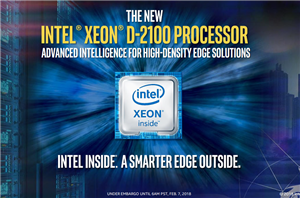 For certain groups of users, Intel's Xeon D product line has been a boon in performance per watt metrics. The goal of offering a fully integrated enterprise-class chip, with...
23
by Ian Cutress on 2/7/2018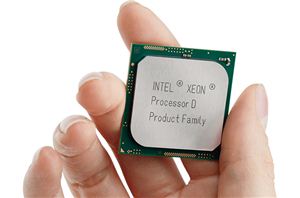 News about the next update on Intel's Xeon-D line has been thin. For over a year now, we were expecting to hear what plans were in store for one...
28
by Ian Cutress on 2/1/2018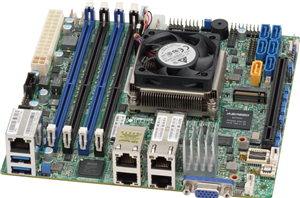 One of the interesting sub-announcements to come out of Intel's EPYC benchmark numbers was a slide on the 'momentum' of Intel's new Xeon Scalable Platform using Skylake-SP cores. Alongside...
8
by Ian Cutress on 11/29/2017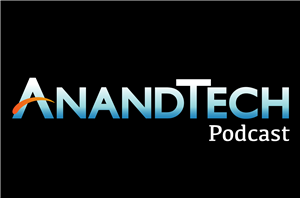 While in San Francisco for AMD's Ryzen Tech Day, I had a chance to catch up with a good friend by the name of Patrick Kennedy, who runs the...
8
by Ian Cutress on 2/28/2017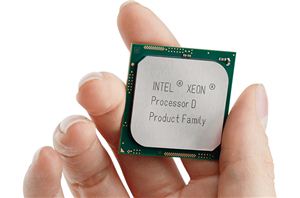 Intel's Xeon D SoCs and supporting platforms for storage, web hosting and networking applications seem to be getting traction with actual hardware manufacturers as well as end users. This...
12
by Anton Shilov on 2/26/2017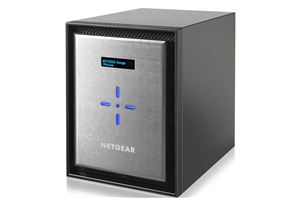 Netgear's ReadyNAS lineup was updated towards the end of last year with some units based on the Annapurna Labs ARM-based SoCs. This year, Netgear is targeting SMBs, creative professionals...
17
by Ganesh T S on 9/1/2016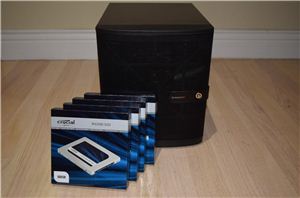 Standardized benchmarks with industry-wide acceptance are a must for evaluating computing systems. These benchmarks may evaluate the system as a whole, or target specific aspects. Vendors such as Futuremark...
18
by Ganesh T S on 9/1/2016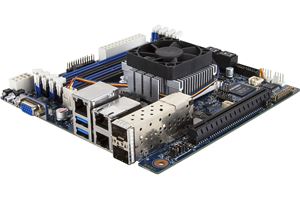 The Xeon D platform, as reviewed by Johan back in June, put together eight Broadwell cores, 24 PCIe 3.0 lanes, dual 10 Gbit Ethernet and USB/SATA control all into...
23
by Ian Cutress on 1/18/2016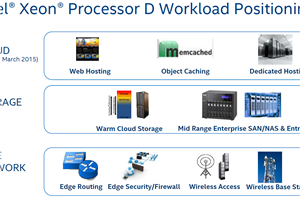 Intel's Xeon D has been one of the most exciting platforms to come out of Intel this year. Xeon D has created more excitement in the micro-server / edge...
17
by Ganesh T S on 11/9/2015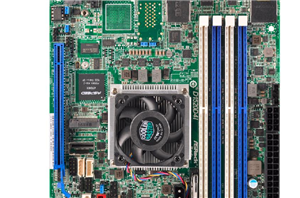 Intel's Xeon D SiP (System-in-package) has turned out to be one of the exciting launches this year in the server CPU space. We have already analyzed Xeon D in...
37
by Ganesh T S on 10/30/2015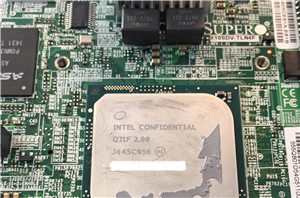 Eight 14nm Broadwell cores, a shared L3-cache, dual 10 gigabit MAC, a PCIe 3.0 root with 24 lanes and a lot more find a home in Intel's most powerful...
90
by Johan De Gelas on 6/23/2015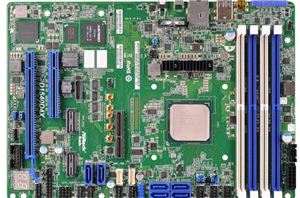 It is very rare for Intel to come out and announce a new integrated platform. Today this comes in the form of Xeon D, best described as the meeting...
38
by Ian Cutress on 3/9/2015