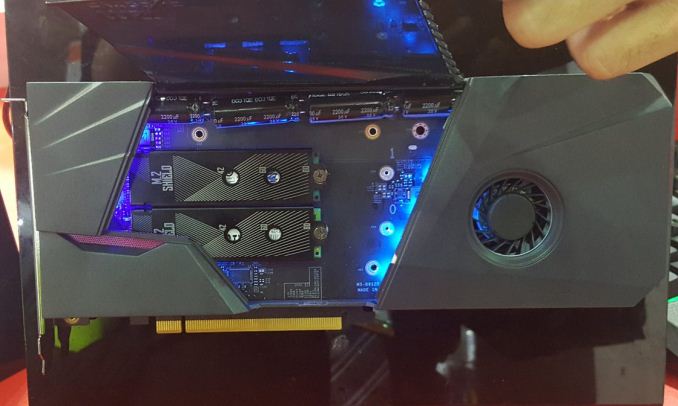 Going a bit off the beaten path for this year's Computex, MSI surprised us at the show with the prototype of a new hybrid storage array. The MSI Gaming Storage Card is all-in-one PCIe storage card that holds two M.2 NVMe SSDs and a 2.5" HDD. Like existing motherboard drive caching implementations, the idea here is to offer a SSD-cache in front of a HDD, allowing for SSD-like performance of critical data without manually allocating files/programs between the SSDs and the HDD. Except now the entire storage array is on a stand-alone PCIe x8 card.
MSI tells us to expect up to 7,200 MBps from the dual NVMe SSD array, which runs in RAID 0. Using large capacity NVMe SSDs will cache a lot of data, so only very cold data will come to the host system directly from the HDD. To ensure data protection, the card features an array of super capacitors that preserve data in flight in the event of a host power fail condition. Meanwhile the NVMe SSDs should benefit from increased airflow from the custom blower style fan used to tame thermal throttling.
MSI tells us the card will ship in MSI branded desktop systems. The company doesn't have plans to release the card as a standalone product, though it sounds like with enough consumer interest, that policy may not be set in stone. That said, we were told not to expect this anytime soon, as the card on display is only a prototype. The lead time could be as long as one year away, according to the product manager with whom we spoke.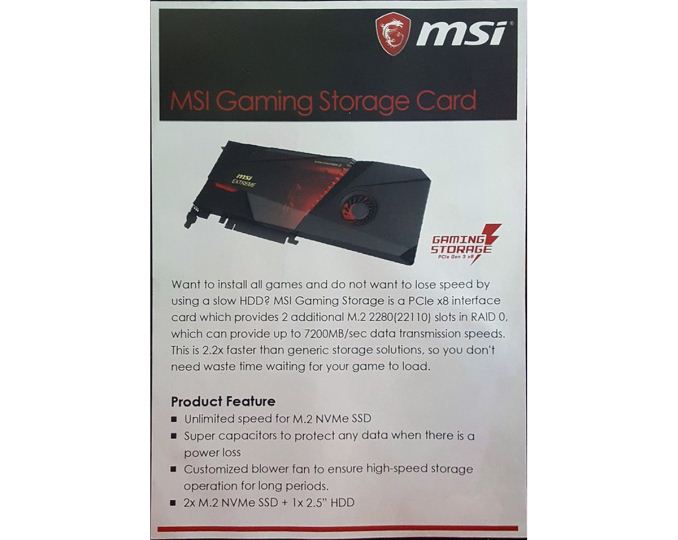 Chris Ramseyer contributed to this report