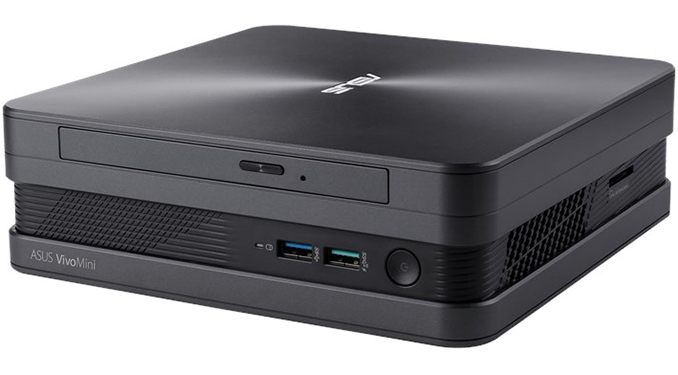 ASUS has quietly introduced a new lineup of ultra-compact form-factor (UCFF) PCs, with an interesting balance between media playback and display capabilities. The VivoMini VC65-C1 systems are based around Intel's 8th Gen Core processors, with high-end models also sporting Ultra HD Blu-Ray drives for local media playback.
Coming in an iron grey aluminum chassis and measuring 197.5×196.3×49.3/61.9 mm, the ASUS VivoMini VC65-C1 is significantly bigger than Intel's typical NUCs. But it also offers more features and expandability – and not to mention an integrated power adapter. The VivoMini VC65-C1 is based on the Intel B360 chipset and supports a variety of socketed Coffee Lake processors with TDPs up to 35 W. The high-end SKUs are outfitted with Intel's six-core Core i7-8700T or Core i5-8400T, whereas lower-end SKUs use Intel's quad-core Core i3-8400T or dual-core Celeron G4900T/Pentium Gold G5400T (see exact specs in the table below).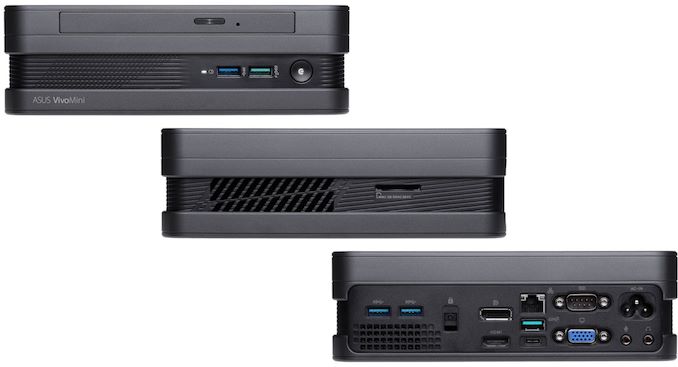 The VivoMini VC65-C1 has two DDR4 SO-DIMM slots supporting from 4 GB to 32 GB of memory. The system also has an M.2 slot supporting PCIe or SATA SSDs, as well as two or four 2.5-inch bays for SATA SSDs and HDDs. Select versions of the VC65-C1 come with a Blu-ray, DVD-RW or Ultra HD Blu-ray optical drives (the latter are available in Japan).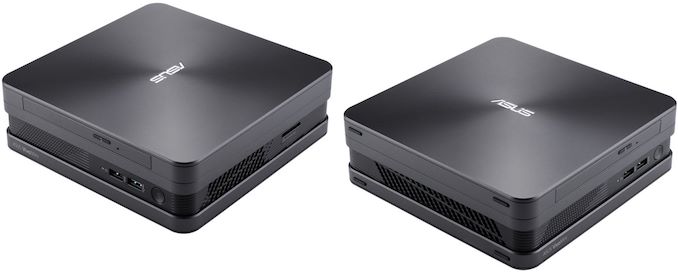 The I/O capabilities of the ASUS VivoMini VC65-C1 are rather vast. The UCFF PC has a 802.11ac Wi-Fi + Bluetooth 5.0 module, a GbE jack, one USB Type-C 3.1 Gen 2 port, five USB 3.1 Gen 1 & Gen 2 Type-A ports, three display outputs (DisplayPort, D-Sub, HDMI), an SD card reader, 3.5-mm audio connectors, and even a COM port (presumably for the embedded systems and/or digital signage markets).
The ASUS VivoMini VC65-C1 UCFF PCs
Model
VC65-C1G7010ZN
VC65-C1G5011ZN
VC65-C1G3066ZN
Cheap SKUs
CPU
Core i7-8700T
Core i5-8400T
Core i3-8100T
Pentium Gold G5400T

Celeron G4900T
Chipset
Intel B360
GPU
Intel UHD Graphics 630
DRAM
Capacity
16 GB
8 GB
8 GB
?
General
Two DDR4 SO-DIMM slots
4 - 32 GB of DDR4-2400 in dual-channel mode
Storage
M.2
128 GB
128 GB
-
?

M.2-2280 (PCIe x4 or SATA) with Intel Optane support
DFF
500 GB HDD
500 GB HDD
1 TB HDD
?
2 × 2.5-inch/9.5-mm SATA 6 Gbps with ODD
up to 4 × 2.5-inch/9.5-mm SATA 6 Gbps without ODD
ODD
UHD Blu-ray
DVD-RW
UHD Blu-ray
?
SD
SDXC card reader
Wireless
Optional 802.11ac Wi-Fi + Bluetooth 5 module
Ethernet
1 × GbE port
USB
Front
1 × USB 3.1 Gen 1 Type-A
1 × USB 3.1 Gen 2 Type-A
Back
1 × USB Gen 2 Type-A
1 × USB Gen 2 Type-C
2 × USB Gen 1 Type-A
Display Outputs
1 × DisplayPort 1.2
1 × D-Sub
1 × HDMI 2.0
Audio
2 × 3.5mm audio jacks
Other I/O
1 × COM port
PSU
Internal 90 W PSU
Warranty
Typical, varies by country
Dimensions
Width: 196.3 mm
Depth: 197.5 mm
Height:

49.3 ~ 61.9 mm (w/o ODD ~ w/ ODD)

MSRP
?
?
?
?
The VivoMini VC65-C1 from ASUS is a rather unique PC that can be used equally well both in the living room and in the office. On the one hand, systems with a Blu-ray/Ultra HD Blu-ray drives can be used as HTPCs to playback 2K or 4K movies in premium quality. On the other hand, multiple display outputs allow usage of two 4K monitors as well as compatibility with legacy LCDs with a D-Sub input.
ASUS plans to start sales of various VC65-C1 systems shortly. Prices remain to be seen.
Related Reading:
Source: ASUS, ASUS Japan (via PC Watch)