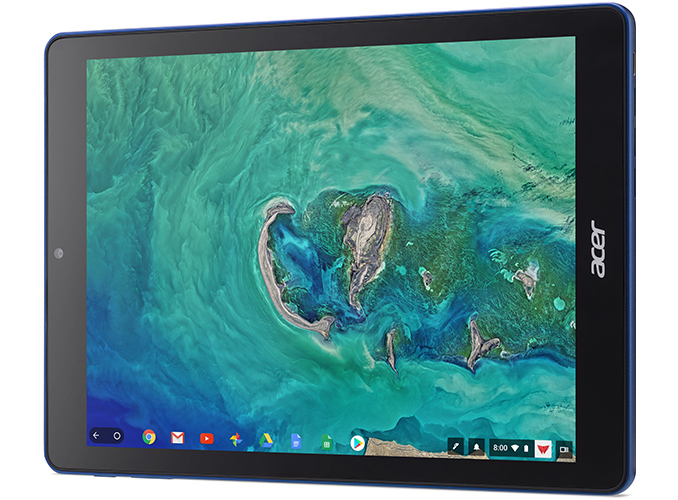 This week Acer introduced its first tablet running Chrome OS, a tablet positioned primarily for the education market. Chrome OS runs Android applications from Google Play store and is growing in popularity with convertible PCs, but nothing stops hardware makers form using the OS for tablets.
The Acer Chromebook Tab 10 (D651N) is based on the Rockchip OP1 processor which incorporates two high-performance ARM Cortex-A72 cores, four energy-efficient Cortex-A53 cores, supports hardware decode/encoder for UHD 4K video, and has a number of Chrome OS-specific optimizations designed to improve user experience (and brought in by Google). The tablet is equipped with 4 GB of RAM and 32 GB of onboard storage (which can be enhanced with a microSD card), which is in line with other education-oriented Chrome OS-powered devices. When it comes to display, the Chromebook Tab 10 has a fairly standard 9.7-inch touch-enabled LCD with a 2048×1536 resolution at 264 pixels per inch. As for connectivity, the tablet is outfitted with 2×2 802.11ac Wi-Fi as well as Bluetooth 4.1 technologies. In addition, it has a TRRS audio jack as well as USB 3.0 Type-C connector for data, charging, and display connectivity.
Since the Chromebook Tab 10 is designed primarily for educational applications, it comes with a Wacom EMR stylus to take notes and to sketch on. Another interesting capability that will be supported by the device (but not out-of-the-box) is support for Google's Expeditions AR software that can map classrooms and place 3D objects in it.
The Chromebook Tab 10 is 9.98 mm (0.39") thick and weighs 550 grams (1.21 lbs), which is too thick and too heavy by consumer standards, but which is okay for devices that will be stored in classrooms or carried in backpacks. In addition, the tablets will come in cobalt blue plastic enclosures - not necessarily a standard color for a business environment, but easy to find in a classroom.
The Acer Chromebook Tab 10
D651N
Display
Diagonal
9.7"
Resolution
2048×1536
PD
264 PPI
SoC
Rockchip OP1
2 × ARM Cortex-A72
4 × ARM Cortex-A53
RAM
4 GB
Storage
32 GB
Wi-Fi
2×2 802.11ac Wi-Fi module
Bluetooth
BT 4.1
USB
1 × USB Type-C (5 Gbps) for data, charging, display output
Other I/O
2 MP webcam, 5MP rear camera,
TRRS connector for audio, speakers, microphone
Dimensions (H × W × D)
238.2 mm × 172.2 mm × 9.98 mm
9.38" × 6.78" × 0.39"
Weight
550 grams / 1.21 pounds
Battery Life
9 hours (34 Wh)
Price
North America: $329
EMEA: €329
Adopters of Chrome OS position appropriate devices primarily for education market, so it is not surprising that Acer decided to start roll-out of Chrome OS-based tablets with a model for schools. This platform is good enough for education, but it yet has to gain traction among consumers. Meanwhile, no matter how strong Google's Android is on smartphones, tablet software for this platform is often mediocre at best. In a bid not to leave tablet and convertible form-factors almost entirely to Apple and Microsoft, Google has been working to bring its Chrome OS and Android platforms together for several years now. While it is unlikely that Google will cease to offer Android for tablets, Chrome OS-powered higher-end tablets make a lot of sense since they support productivity enabled by Chrome OS, but can also run educational and entertainment apps for Android. That said, it makes a lot of sense for companies like Acer to start rolling out such devices now starting from SKUs for schools and expanding offerings to general consumers later.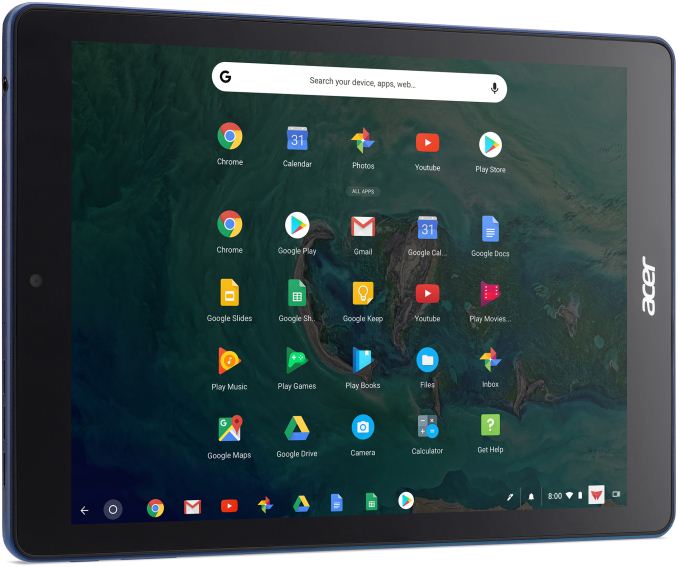 Acer plans to start sales of the Chrombook Tab 10 in North America next month at $329. The device will land in EMEA sometimes in May at €329 (including VAT). The tablet will be initially available to education and commercial customers, who will have plenty of time to test drive the device before deploying it later this year.
Related Reading
Source: Acer