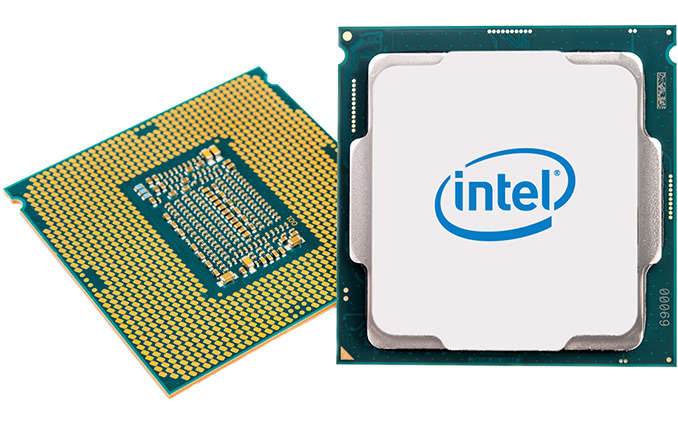 As an homage to both Intel's 50 year company anniversary and the 40 year anniversary of the eponymous 8086 processor, today Intel surprised us all in announcing the Core i7-8086K: a limited edition processor that becomes its fastest ever.
For what was a funny request from David Schor from WikiChip over six months ago, with some faked screenshots appearing out of China in March, Intel has jumped us all and announced a new hyper-frequency version of its best performing mainstream Coffee Lake processor in the Core i7-8086K. This new processor, of which only 50,000 will be made, is a boost over its current Core i7-8700K offering.
Details are sparse at this time, however Intel has said that the processor has a base frequency of 4.0 GHz and a single core turbo of 5.0 GHz. Along those lines, we suspect a 4.6 GHz all-core turbo. This would mark a +300 MHz gain on the base and all-core frequencies, and +300 MHz on the single core turbo. We believe that this is still at the rated 95W TDP, the same as the i7-8700K. If/when we can confirm this information, we will update the news.
AnandTech
Cores
TDP
Freq
L3
vPro
DRAM
DDR4
iGPU
iGPU
Turbo
Core i7-8086K
$425
6 / 12
95 W?
4.0 / 5.0
12 MB
No
2666 ?
24 EUs
1200
Core i7-8700K
$359
6 / 12
95 W
3.7 / 4.7
12 MB
No
2666
24 EUs
1200
Core i7-8700
$303
6 / 12
65 W
3.2 / 4.6
12 MB
Yes
2666
24 EUs
1200
Core i7-8700T
$303
6 / 12
35 W
2.4 / 4.0
12 MB
Yes
2666
24 EUs
1200
Despite the limited edition nature of the product, we suspect that this was not that difficult for Intel to manufacture – it is/was just a case of binning the silicon from the production line. This is a minor bump in frequencies, however the top-end bin usually requires a good chip. For anyone wanting a reasonable Core i7-8700K, then the Core i7-8086K now becomes an option.
Intel has not mentioned official pricing or availability, however their sweepstakes (more in a sec) lists the average retail value of the processor at $425. Meanwhile as far as availability goes, we have noticed from one UK retailer that they have 1000 units inbound and will be offering pre-binned parts that are delidded with custom heatspreaders. So this means that these parts will be using Intel's usual base thermal paste for these parts. What Intel has mentioned is that they will be giving away 8086 of the processors for free in a sweepstakes at http://www.intel.com/8086sweepstakes
We have not been offered a sample for review yet from Intel, however other sources have stated that reviews might be going live later this week on pre-built systems from the usual system integrators.
More specifications and information as we get it.
Want to keep up to date with all of our Computex 2018 Coverage?

Laptops

Hardware

Chips
Follow AnandTech's breaking news here!