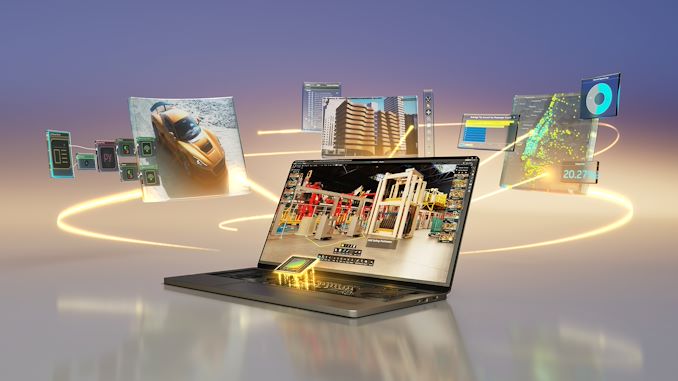 Along with their server part announcements today, NVIDIA is also using the backdrop of GTC to do a wholesale update of their professional visualization product stack. NVIDIA's laptop lineup, which to date has not received any parts based on NVIDIA's new Ada Lovelace architecture is finally getting its due, with a nearly top-to-bottom update of their whole product lineup. Altogether NVIDIA is introducing 5 new SKUs for professional laptops, from the RTX 5000 down to the RTX 2000. Meanwhile, desktop users aren't being left out in the cold either, as NVIDIA is preparing to launch a low-profile, small form factor optimized desktop RTX 4000 Ada Generation card.
First and foremost, let's start with the laptops. While NVIDIA announced a top-to-bottom lineup of laptop parts for consumer GPUs back at CES 2023 at the start of the year, up until now they haven't had anything ready for the professional laptop market – parts under what used to be the Quadro brand. But with NVIDIA now shipping a slew of Ada Lovelace silicon from the high end to the low end, they are rolling out those professional laptop parts.
NVIDIA Laptop Professional Visualization
Specification Comparison
RTX 5000
Ada Laptop
RTX 4000
Ada Laptop
RTX 3500
Ada Laptop
RTX 3000
Ada Laptop
RTX 2000
Ada Laptop
CUDA Cores
9728
7424
5120
4608
3072
Tensor Cores
304
232
160
144
96
Boost Clock
~2.19GHz
~2.26GHz
~2.25GHz
~2.16GHz
~2.36GHz
Memory Clock
18Gbps GDDR6
18Gbps GDDR6
18Gbps GDDR6
16Gbps GDDR6
16Gbps GDDR6
Memory Bus Width
256-bit
192-bit
192-bit
128-bit
128-bit
VRAM
16GB
12GB
12GB
8GB
8GB
ECC
Partial
(DRAM)
Partial
(DRAM)
Partial
(DRAM)
Partial
(DRAM)
No
Single Precision
42.6 TFLOPS
33.6 TFLOPS
23 TFLOPS
19.9 TFLOPS
14.5 TFLOPS
Tensor Performance
(FP8, Sparse)
681.8 TFLOPS
538.0 TFLOPS
368.6 TFLOPS
318.6 TFLOPS
231.6 TFLOPS
NVENC/NVDEC
2 / 2
2 / 2
2 / 1
1 / 1
1 / 1
Max TGP
80-175W
80-175W
60-140W
35-140W
35-140W
GPU
AD103
AD104
AD104
AD106
AD107
Architecture
Ada Lovelace
Ada Lovelace
Ada Lovelace
Ada Lovelace
Ada Lovelace
Manufacturing Process
TSMC 4N
TSMC 4N
TSMC 4N
TSMC 4N
TSMC 4N
Launch Date
03/2023
03/2023
03/2023
03/2023
03/2023
At the top of the new stack and replacing the RTX A5500 for Laptops and RTX A5000 for Laptops is the very specifically named RTX 5000 Ada Generation Laptop GPU. The longwinded name comes as NVIDIA is retaining the same naming scheme that they introduced for desktop proviz parts recently with the RTX 6000 Ada Generation part, so all of these new laptop parts are RTX parts with their generation and laptop designation tacked on to the final name.
In any case, at 9728 CUDA cores, the RTX 5000 Ada Generation Laptop GPU is analogous to the consumer RTX 4090 for Laptops. This means a nearly fully enabled part based on the AD103 GPU, employing all of the new features and tricks that come with the Ada Lovelace architecture, such as DLSS 3 support and NVIDIA's latest ray tracing and video encoding hardware. As well, all of these parts promise significant energy efficiency gains over prior generation parts, thanks in big part to the use of TSMC's "4N" 4nm-class fab process that all of NVIDIA's Ada Lovelace GPUs use.
On the proviz side of matters, along with coming with access to NVIDIA's proviz software stack and all of the official support that a proviz part entails, the RTX 5000 also offers better video decoding support than its retail counterpart. While a consumer RTX 4090 offers the same two NVENC engines as the RTX 5000, the proviz part gets access to a second NVDEC engine that the consumer parts do not. Meanwhile the RTX 5000 also stands apart with its soft ECC support, which reserves some GPU memory to store additional ECC data to catch and repair any memory errors in the DRAM.
Altogether, this part is paired with 16GB of GDDR6 memory, clocked at 18Gbps. The max power consumption (TGP) is rated at 175 Watts, and while OEMs can configure the precise value to their liking for their specific laptop models, it goes without saying that this is a part for true desktop/workstation replacement laptops.
Taking a step down is the RTX 4000 Ada Generation Laptop GPU. The specifications indicate that this is almost certainly based on NVIDIA's AD104 GPU, making it analogous to the consumer RTX 4080 for Laptops. In terms of performance, it gives up about 21% of RTX 5000's compute throughput and 25% of its memory, leaving us with a 7424 CUDA core part with 12GB of GDDR6.
Notably, this part offers the same 2 & 2 NVENC/NVDEC configuration as the RTX 5000, as well as the optional soft ECC support. The max TGP for this part is unchanged, however, at 175 Watts, so it's similarly aimed at larger DTR-style laptops.
A step below that, in turn, is the RTX 3500 Ada Generation Laptop GPU. With 5120 CUDA cores, this seems to be another AD104-based part. Dropping down another tier further brings down the compute/render performance by around 31% from the RTX 4000. However memory capacity and memory bandwidth is unchanged, at 12GB of GDDR6. Optional soft ECC is also available on this part.
Besides compute performance, this is also the tier where NVIDIA starts trimming video performance. RTX 3500 offers 2 NVENC blocks, but only a single NVDEC block. On the plus side, besides being a lower cost part, the highest TGP OEMs can set the GPU to has also declined to 140 Watts.
Its sibling at the RTX 3x00 tier is the RTX 3000. This part, which we suspect is based on the AD106 GPU, is largely similar to the consumer RTX 4070 for Laptops, packing 4608 CUDA cores and 8GB of GDDR6 memory clocked at 16Gbps. The big change from the RTX 3500, besides a roughly 14% drop in peak compute performance, is that VRAM capacity and bandwidth has been cut by 41%. None the less, soft ECC support is also available here, making this the lowest tier RTX part to offer the feature.
The RTX 3000 also offers the most basic video hardware configuration for this generation of parts. Just a single NVENC block and a single NVDEC block are present. Otherwise the max TGP is 140 Watts.
Last, but not least among the new Ada Lovelace architecture-based laptop parts is the RTX 2000 Ada Generation for laptops. This part, analogous to the consumer RTX 4060 for Laptops, offers 3072 CUDA cores and 8GB of GDDR6 memory clocked at 16Gbps. Compared to its faster RTX 3000 sibling, on paper the only notable change here is a further reduction in compute/graphics throughput, with peak throughput declining a further 27%. The peak TGP, meanwhile, remains at 140 Watts, though of all the products in NVIDIA's new workstation laptop stack, this is the part that OEMs are most likely to dial down to fit into thinner and lighter laptops.
Finally, while not new parts in and of themselves, for the moment at least, NVIDIA will be retaining the RTX A1000 and RTX A500 as part of their workstation GPU stack. These are older Ampere-architecture parts that were introduced in 2022, and round out the stack with even lower performance, lower cost, and lower power configurations.
Laptops based on these GPUs, in turn, are slated to become available this month from NVIDIA's usual partners. With NVIDIA already shipping their Ada Lovelace GPUs in volume for the consumer laptop market, it's a relatively quick extension to bring them to mobile workstations as well. Though, as these are OEM parts, NVIDIA is not offering any pricing guidance for RTX Ada Generation laptops.
RTX 4000 SFF Ada Generation: Half Height Half Pint Hardware for SFF Workstations & Signage
On the desktop side of matters, NVIDIA is launching a single new proviz product for desktops: the RTX 4000 SFF Ada Generation. This part is aimed at the small form factor market, supplanting NVIDIA's previous flagship low-profile video card, the Ampere-based RTX A2000.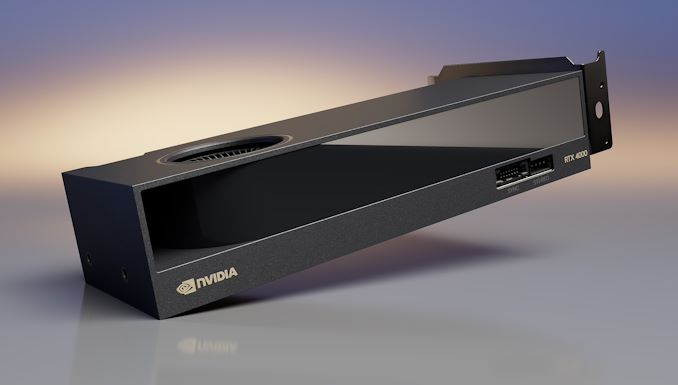 The RTX 4000 SFF Ada Generation comes as NVIDIA's desktop proviz parts are in the middle of a transition of their own. For the desktop market NVIDIA has only launched an RTX 6000 based on their Ada Lovelace architecture, so it's a bit of a surprise to see them launch a SFF-focused part (and only a SFF-focused part) as their second desktop card. None the less, given the very limited number of half-height cards in the market and the form factor's hard limits on power consumption and cooling, NVIDIA is betting that cards based on a newer architecture (and smaller process node) will be a welcome sight for the SFF market.
NVIDIA Professional Visualization Video Card
Specification Comparison
RTX 4000 SFF
Ada Generation
RTX A2000
RTX 6000
Ada Generation
CUDA Cores
6144
3328
18176
Tensor Cores
192
104
568
Boost Clock
~1.56GHz
1.2GHz
1200MHz
Memory Clock
16Gbps GDDR6
12Gbps GDDR6
20Gbps GDDR6
Memory Bus Width
160-bit
192-bit
384-bit
VRAM
20GB
6GB / 12GB
48GB
ECC
Partial
(DRAM)
Partial
(DRAM)
Partial
(DRAM)
Single Precision
19.2 TFLOPS
8 TFLOPS
91.1 TFLOPS
Tensor Performance
(FP16, Sparse)
153.4 TFLOPS
63.9 TFLOPS
728.5 TFLOPS
NVENC/NVDEC
2 / 2
1 / 1
3 / 3
TDP
70W
70W
300W
Form Factor
Half Height
Dual Slot
(2.7in x 6.6in)
Half Height
Dual Slot
(2.7in x 6.6in)
Full Height
Dual Slot
(4.4in x 10.5in)
Cooling
Active
Active
Active
GPU
AD104
GA106
AD102
Architecture
Ada Lovelace
Ampere
Ada Lovelace
Manufacturing Process
TSMC 4N
Samsung 8nm
TSMC 4N
Launch Price
$1250
$450
$6800
Launch Date
03/2023
10/2021
01/2023
Under the hood, the RTX 4000 SFF is based on NVIDIA's AD104 GPU, which has been significantly downclocked to make it suitable for use in a half-height dual slot card. With 6144 CUDA cores and a peak GPU clockspeed of around 1.56GHz, it isn't going to set any performance records. But with a TDP of 70W – thus allowing it to be powered solely by a PCIe slot – it's going to set some high marks for energy efficiency, not to mention being able to fit in a lot of systems and locations a larger video card would not.
Given that this is a proviz card, it comes with all of the proviz features that you'd expect to find on a modern NVIDIA workstation card. That includes driver and product support, and even frame lock/synchronization support. As well, it comes with a supersized 20GB of VRAM, clocked at 16Gbps. And like most of the other RTX workstation parts, soft ECC support is available here.
As one of the target markets for this card is digital signage, it's not surprising to see that NVIDIA has gone all-out on display and video encode/decode support. The pint-sized card offers 4 Mini DisplayPorts, supporting the DP 1.4a specification. Meanwhile AD104's full video processing hardware is available, meaning there are both two NVENC and two NVDEC blocks available for software usage.
The half-height card measures 2.7 inches tall, while the length is also fairly truncated at just 6.6 inches. At 70 Watts it's also a dual slot card like its predecessor, to allow for effective cooling of a 70W GPU using a blower-style fan. And while it's meant to be compatible with SFF systems, the card comes with both low-profile and full-profile (ATX) brackets, so that it can be used in full-sized systems.
On which note, it's interesting to see that for this generation NVIDIA is explicitly calling out the card's small form factor credentials. The RTX A2000 was a similarly small card aimed at the same market segment, but despite only ever being offered in a low-profile configuration, NVIDIA never bothered to denote that in its title in any way, or go out of their way to advertise it as such. So it's notable to see that NVIDIA is being much more explicit about their SFF card for the proviz market for this generation.
SFF size aside, the RTX 4000 will be filling the same dual use role as the A2000 it replaces. For workstation customers that don't need the top-end RTX 6000, RTX 4000 SFF will be the cheaper and lower power video card option for equipping systems with a workstation-grade NVIDIA card. So expect to see this card show up in plenty of full-size OEM workstations over time.
Ahead of this morning's GTC keynote, NVIDIA isn't saying much about the expected performance of the card beyond quoting an 80% performance improvement in Gentec imaging systems. The Ada Lovelace architecture's focus on adding features and performance to features such as ray tracing and tensor throughput means that the architecture as a whole isn't as big of a step up in more traditional rendering and rasterization workloads – something we've already seen on the consumer desktop cards – but the use of an AD104 GPU well down the voltage/frequency curve means that we should still see some substantial energy efficiency gains over the RTX A2000.
The RTX 4000 SFF Ada Generation is slated to be available later this month from channel partners, with an MSRP of $1,250. Meanwhile, NVIDIA tells us that systems with the card pre-installed will become available shortly after that.
Source: NVIDIA