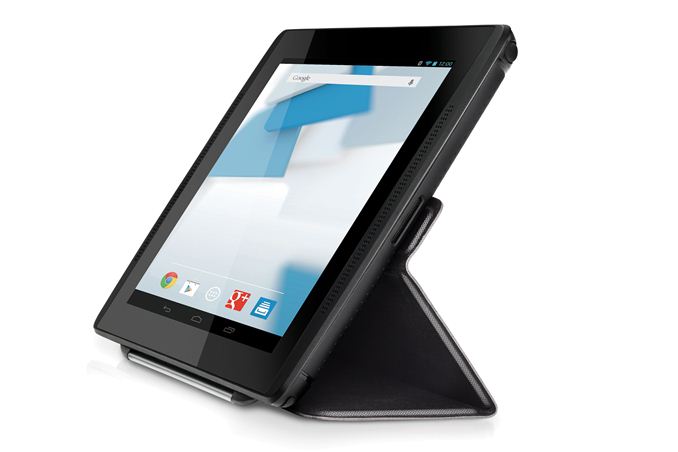 Several weeks ago, HP announced their second Tegra 4 powered device, the HP Slatebook x2 10.1" hybrid with a 1080p display. Their first Tegra 4 device was announced back in June: the gigantic Slate21 All-In-One, also with a 1080p display. Obviously the latter targets a very different use case, but there are many users that want something smaller and more portable than even a 10.1" tablet. For those, HP is now adding two more Tegra 4 tablets to their lineup, the Slate7 Extreme (not to be mistaken with the Slate7 HD, which is not a Tegra 4 tablet) and the Slate8 Pro.
We don't have full specs for either tablet, but the Slate8 will feature a 4:3 aspect ratio display, and HP claims that it has the "highest resolution available on a tablet of its size", apparently a 1600x1200 panel (and we'd assume that's an IPS display, though HP doesn't say). HP isn't talking battery life yet, or any of the other specs really, so all we have to go on is Tegra 4 and its Cortex-A15 core with 72-core GeForce GPU. We know there's a camera as well, but we don't have any information on resolution.
The Slate7 Extreme has the same SoC, but this time with a smaller 7" 1280x800 display. The Slate7 also includes a stylus using NVIDIA's DirectStylus technology, which opens up some additional use cases. HP lists the Slate7 as coming with 16GB, and there's an HDMI port that allows you to connect it to a TV (and the same should be true of the Slate8).
Getting back to Tegra 4, NVIDIA's SHIELD clocks the SoC at up to 1.9GHz, but HP could be using lower clocks for their tablets. As far as performance goes, Tegra 4 is quite fast but it looks like it will be slower than the new A7 at the heart of the iPhone 5s. GPU performance is a bit murkier, with Tegra 4 sometimes doing well (GFXBench 2.7.0 T-Rex HD and Egypt HD for instance have it on par with the A7 and Qualcomm MSM8974), but other times it falls behind (fill rate in particular looks to be a weak point – or a strong point of the A7 GPU). Given the variety of Android tablets along with NVIDIA's willingness to help optimize gaming performance, however, we expect Tegra 4 will remain competitive.
Availability of both the Slate7 Extreme and Slate8 Pro is scheduled for November, with pricing to be announced at a later date.
Source: HP PR