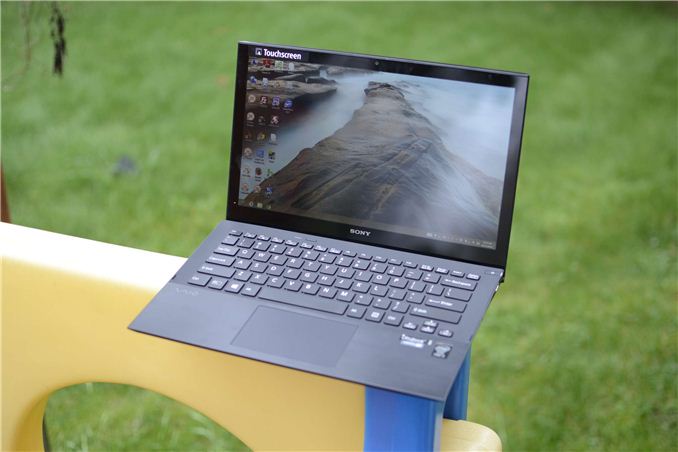 A couple weeks back, I posted a short article on battery life with Windows 8.1 looking at whether or not it had changed compared to Windows 8. The short summary is that no, it did not change appreciably, though at least one of the tests I ran showed worse battery life with Windows 8.1 compared to Windows 8. There are quite a few variables, and we try to minimize the impact of other elements on battery life, but since I can't easily go back and retest the original Windows 8 results it's difficult to say for certain if the drop is consistent among laptops or something specific to the Sony VAIO Pro 13.
One interesting subject did come up with that article, however, and it was something I wanted to investigate further. One of the readers asked about what program we were using for video playback in our "Heavy" test, and I responded we use Media Player Classic Home Cinema (MPCHC). One of the main reasons we use MPCHC is that our test video is a 1080p MKV file with a high bitrate video, specifically it's a 10.4Mbps video stream using the AVC High L4.1 profile. The file also has a 510Kbps 6-channel DTS audio stream, and that's where we start to run into trouble with our choice of video playback software. MPCHC supports the file natively, as does VLC, but Windows Media Player and the Windows 8 Video app would require additional codecs (they show the video but don't handle the audio). Rather than deal with those issues, I chose (back in the Windows 7 era) to simply use MPCHC 64-bit and call it a day.
Keep in mind that we're dealing with something of a worst-case scenario in terms of battery life, so as long as the workload is consistent among tested laptops we're don't have a problem. However, I wanted to look at a variety of programs and decoding video on Windows 8.1, and as Windows Media Player and Video couldn't handle our original file natively I had to resort to using a different video file.
For this testing, I grabbed a 1080p MP4 video that worked with all four video playback options. The file is a 2.03 Mbps MP4 with an AVC High L4.1 profile video stream and a 93.8 Kbps 2-channel AAC audio stream. (Update: I also used the 720p MP4 file we use for tablet battery life testing, which I only tested with the Modern Video app. It's a 4Mbps video stream using the AVC High L3.1 profile, with a 2-channel 164Kbps AAC audio stream.) I tested with MPCHC, VLC, Windows Media Player, and the Modern UI Video app – and the last I tested with and without activating desktop mode to see if that made a difference. I also tested the original MKV file with both MPCHC and VLC as a reference point.
In all cases the software is set to loop and a local file logs the time until the laptop shuts off (at 1% battery life remaining). All of the video players were using the default GPU decoding (DXVA) for the initial testing; I am in the process of running additional tests (e.g. MPCHC will be retested with EVR mode enabled). Here are the current results.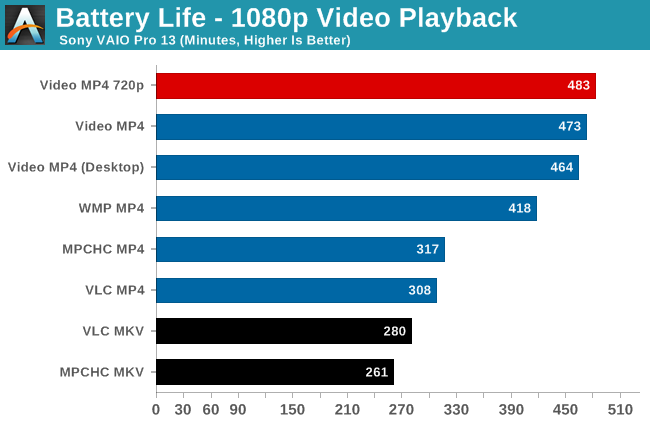 The results are interesting to say the least. If we start with the MKV file compared to the MP4 file, VLC actually ends up doing a bit better than MPCHC by 7%. Switch to the lower bitrate MP4 file and MPCHC comes out ahead by 3%. There are differences, but it's not so much that one would worry much about it. It's when we start to look at the two Microsoft applications that we get some startling results.
Windows Media Player manages 418 minutes of playback time with the MP4 file – or 32% better than MPCHC and 36% better than VLC. That's a huge difference and suggests that Microsoft still knows a thing or two about optimizing better than the third part video applications. If that's not enough, the Windows 8 Video app ends up surpassing Windows Media Player by an additional 13% in Modern mode – or nearly 50% more than MPCHC and 54% more than VLC.
As for launching from the desktop vs. staying in the Modern UI, we see a 2% difference by staying within the Modern UI, so it's measurable but not massive. Personally, I use so many desktop mode applications that I'm not sure it's realistic to even stay exclusively in the Modern UI, but it does make a slight difference in battery life.
Of course there's more to the story than simply which media player gets the best battery life. Are they all showing the same quality and doing the same work? That's difficult to say without further analysis. It could be that WMP and Video are offloading more work to the GPU than CPU, or perhaps the opposite. Either way, the battery life results show just how big of a factor software optimizations can be.
Looking at the big picture, with the Windows 8 Modern Video app and sporting a 37Wh battery, the Sony VAIO Pro 13 manages nearly eight hours of battery life on a 1080p video file. Our tablet video file is a 720p video file with a higher bitrate but lower resolution, and with that Surface Pro 2 and updated firmware gets just under eight hours of battery life as well – on a smaller 10.6" display and with a higher capacity 42Wh battery. (Note that Anand tested Surface Pro 2 with the Modern Video app as well.) Update: I tested the VAIO Pro 13 in the Modern Video app with the 720p tablet MP4; battery life is slightly higher than with the 1080p MP4, as seen in the updated chart.
It's clear that Sony has done more to optimize for battery life on the VAIO Pro 13 than any other Haswell laptop that we've encountered. We're still not at the point where Haswell with Windows 8 matches the various Android or iOS devices on video playback, but with the right tuning of hardware and software that goal may be within reach, especially with a 10" display and other hardware tweaks. Unfortunately, most laptop manufacturers haven't put in the effort to get there, but Sony shows what's possible and we hope to see better efforts in this area from other manufacturers going forward.
I'm still looking at running additional tests of video playback battery life on the VAIO Pro 13, while I still have it in hand. If you have any specific requests (e.g. "Run MPC-HC version XYZ with the ABC decoder"), send me an email and I will try to accommodate any reasonable requests. Keep in mind that every test run requires at least six hours (including recharge time) and as much as ten hours, so realistically I can at best run two battery tests per day. Again, feel free to email me if you have any other suggestions or questions.