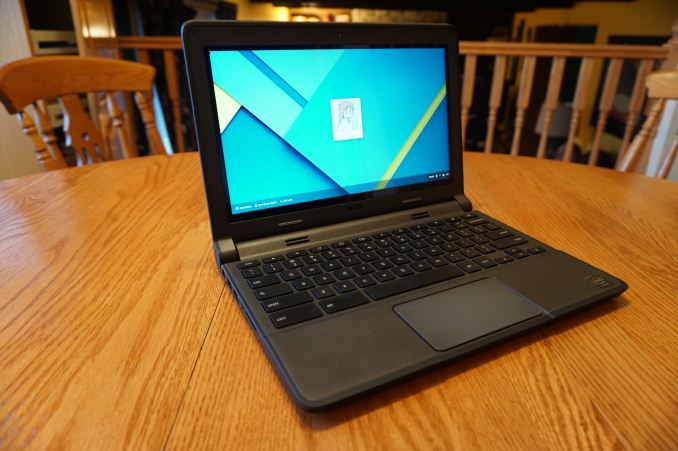 In my view, Chromebooks have gone hand in hand with tablets in eating away the part of the market that was once filled with low quality and low cost netbooks. I think that both tablets and Chromebooks offer a consumer a much better experience than netbooks ever did with their slow hard drives, extremely low resolutions, and inadequate hardware. Personally, I think tablets have a bit of an edge over Chromebooks due to their app ecosystems and typically better quality displays, but both stand above where the netbook was.
The Chromebook is an interesting device though, because I think it's something that both laptop and tablet buyers may consider as an alternative. While the Chromebook was originally criticized by many due to its limited functionality, the capabilities of Google's web apps have increased significantly since that time. Google's online product offerings like Chrome, Docs, Sheets, Slides, and Drive can satisfy the needs of many users, and this has driven growth in the consumer, education, and business sectors alike. The availability of Chromebooks from many different vendors has also contributed to their quick adoption.
One of the manufacturers that has begun to dabble in Chromebooks is Dell, and today's review takes a look at their newest Chromebook. It's the Dell Chromebook 11 Touch. More accurately, it may be called the New Dell Chromebook 11 Touch or the Dell Chromebook 11 (2015) as Dell had offered a previous generation of Chromebooks which were also called the Dell Chromebook 11. This new Chromebook from Dell appears to target a different section of the market than its predecessor, as it sports a new rugged design to protect it from accidents and environmental hazards that it may endure.
Dell Chromebook 11 Touch (2015)
Processor
Intel Celeron N2840
Dual-core 2.16-2.58GHz
HD Graphics 4 EU GPU
Connectivity
2x2 dual-band 802.11ac (Intel 7260NGW)
Bluetooth 4.0 (Intel 7260NGW)
Memory
2G or 4GB DDR3L
Storage
16GB eMMC
Battery
3-cell 43Wh
I/O
1 x USB 3.0
1 x USB 2.0
HD webcam
Dual array microphone
HDMI
Headphone/mic jack
SD Card reader
Dimensions
11.69" x 8.57" x 0.83" / 297 x 217.7 x 21 mm
Display
11.6" 1366x768 TN LCD with optional capacitive touch
Weight
2.74 lbs. / 1245g (non-touch)


2.91 lbs. / 1320g (touch)

Price
$249/$269 for 2GB/4GB non-touch, $329 for 4GB touch
At $329 most of these specifications are fairly standard for a Chromebook. In fact, you may notice that they are nearly identical to those of Toshiba's Chromebook 2. Apart from some differences in size and mass, and a 1Wh difference in battery capacity, the internal specifications and ports are the same on both Chromebooks. There are two key differences between the two which will likely be the deciding factor for a potential buyer. The first is the rugged build of the Dell, which compares to the more standard tapered plastic shell of the Toshiba. The second is the display, with the Dell Chromebook 11's 1366x768 TN LCD not looking near as appealing on paper as Toshiba's well calibrated 1920x1080 IPS LCD, but including touchscreen functionality. We'll be looking at both of these differences over the course of this review, and they're both important to keep in mind if you're trying to make a decision on what Chromebook to buy.
Design
From this point onward in the review, I'm just going to refer to this laptop as the Dell Chromebook 11 without the word touch on the end. This model is the version with the touch display, but all of my impressions that are unrelated to the touchscreen will also apply to the non-touch model and I don't think it's worth explicitly stating that this is the touch model when it's not necessary. It should also be noted that the non-touch version comes in both 2 and 4 gigabyte RAM configurations for $249 and $269 respectively.

A big part of the Dell Chromebook 11's design is its ruggedness. Dell is touting their MIL-STD testing which means that its durability has been tested against various levels of pressure, temperature, humidity, shocks and vibrations to meet a standard created by the U.S. Department of Defense. For consumers, this basically means that it should survive being knocked against things, having fluids spilled on the keyboard and trackpad, and other forms of daily abuse that other laptops may not stand up to.
While I didn't test its resistance to accidental spills, I did treat the laptop less carefully than I do with my other devices to see how well it would hold up. The rubberized coating that surrounds the edges of the display and all the ports was able to withstand my abuse. Based on that and how the chassis feels, I would say that the Dell Chromebook 11 is good for anyone who works in industries like construction, or who just tends to put their devices through a lot of hardship.

Another interesting design choice on the Dell Chromebook 11 is the cyclindrical hinge which allows the display to be opened up to 180 degrees. This actually has significant implications for durability, as it greatly reduces the risk of the hinge developing weakness or the display being snapped off of the rest of the body due to some force pushing it beyond its maximum angle. From my conversations with teachers at schools that have deployed Chromebooks, damage to them by students often occurs due to some accident or mistreatment causing the hinge to snap. The hinge also serves as the home for a pair of stereo speakers.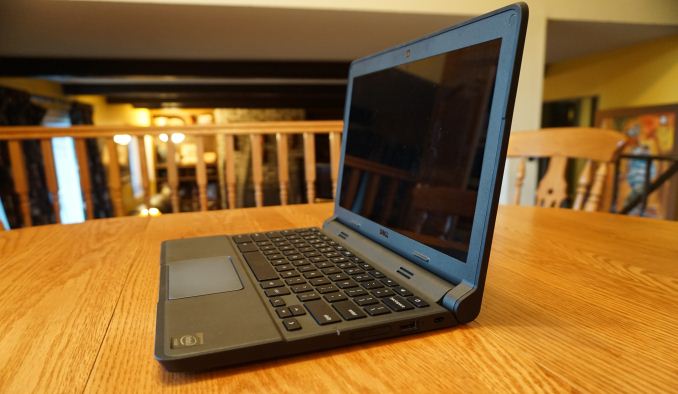 Overall I think the Dell Chromebook 11 looks fairly good for a rugged laptop. I'm fairly careful with my devices, and so I lean more toward more traditional plastic or metal designs without additional layers of material to increase durability. That being said, Dell has done a fairly good job of making their Chromebook aesthetically presentable while also making it durable. It's definitely not the most beautiful laptop out there, but its appearance suits its function well, and inspires confidence that it will be able to withstand the types of accidents that would put a large dent in my MacBook.
Other Impressions
Often many parts of a laptop experience are fairly subjective. For example, the feel of a keyboard or a trackpad. Other parts like audio quality can be objectively measured, but I simply lack the equipment to do so. Below you'll find some of my thoughts on these parts of the Dell Chromebook 11, as I think they're important even though they don't fit anywhere else in the review.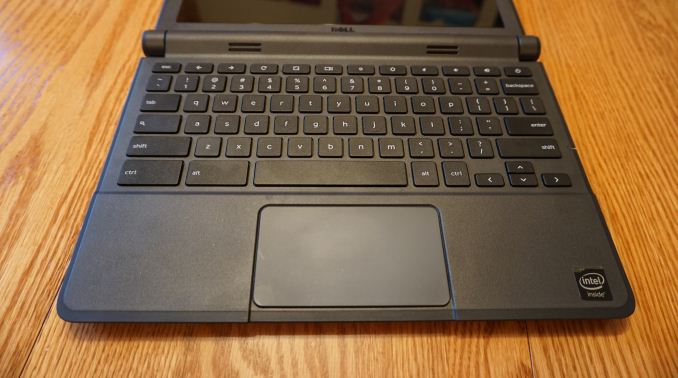 The first thing I wanted to discuss is Dell's keyboard. I was actually quite surprised by how nice it feels to type on. The travel distance and amount of force required to press down on the key is similar to that of my MacBook Pro with Retina Display and the Chromebook Pixel. The keys also actually seem less wobbly than my MacBook, and there's a comfortable amount of space between them. The key caps also seem to have a similar soft touch finish to the chassis itself. I'm not sure that I'm a fan of it, but that may just be due to all my other laptops and keyboards using a more glossy plastic finish on the keys which I have become used to.
The next thing to talk about is the trackpad. Unfortunately, this is where things fall apart when it comes to input methods. The tracking itself is normally okay, with no massive amounts of latency. I still feel that while Chrome OS has better default acceleration curves for trackpads than Windows, that it's still not as good as what you get on OS X. The big problem with the trackpad is that the cursor tends to jump around, which makes the act of clicking on a small object or trying to make a small cursor movement extremely frustrating.
The touchscreen in the third method of input on the Dell Chromebook 11. I actually found myself using it more often than I did on the Chromebook Pixel, but this is mostly because of the Dell Chromebook 11's less than optimal trackpad being annoying to use. However, touchscreens are still not extremely useful in Chrome OS, and I don't really think it's worth the $50 price premium that you have to pay compared to the non-touch model.
The last thing I wanted to talk about is the speaker quality. They sound slightly muffled, but they're not that bad as far as laptop speakers go. Having them facing toward you is also much nicer than many other laptops of this size which tend to put them on the sides, or even worse, on the bottom.