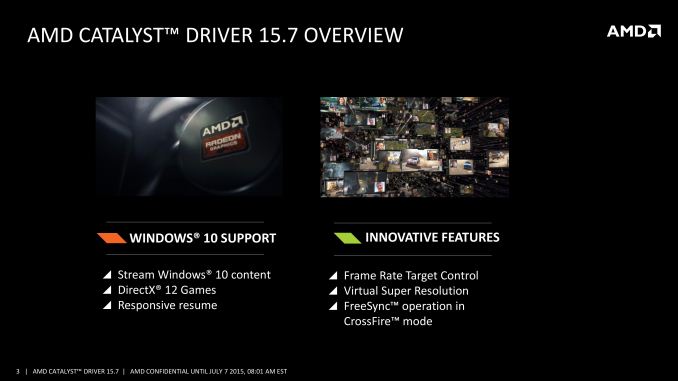 After a brief detour for AMD's driver team where they diverged their drivers for the Radeon 300 series and R9 Fury X launch, AMD has reunified their drivers with the release of Catalyst 15.7. The WHQL release, the first such release from AMD since Catalyst 14.12 in December, includes a number of major feature additions and performance improvements relative to both the previous 15.6 drivers for AMD's older cards, and the even older 14.12 WHQL drivers.
Overall here are the major additions to AMD's drivers that Radeon owners will want to be aware of:
Performance improvements for older cards
Frame Rate Target Control for older cards
Virtual Super Resolution has been extended to the 7000 series and AMD APUs
Crossfire Freesync is now supported
Preliminary "technical preview" Windows 10 support (WDDM 2.0)
The driver build, 15.20.1046, is based off a slightly newer branch than the one used for the 300 series launch (15.15). As that driver already incorporated most of these improvements, for new 300 series owners the changes compared to the 15.15 launch driver will be minimal other than the fact that WDDM 2.0 drivers are now available.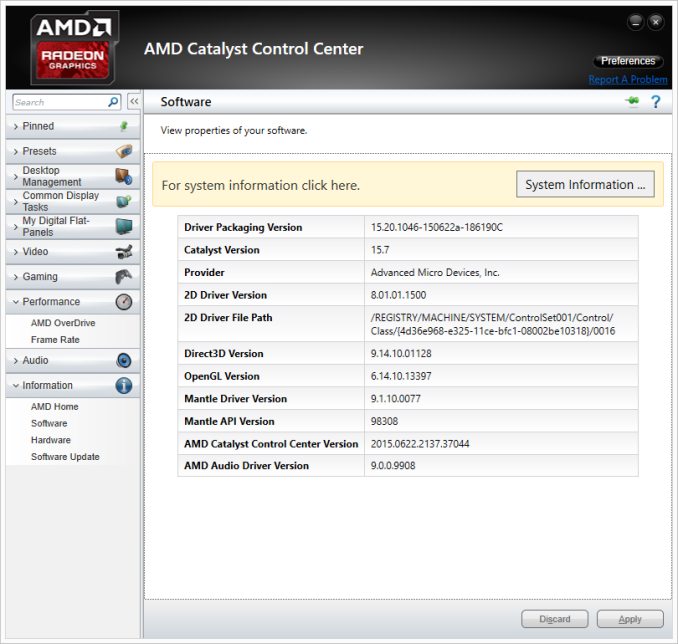 As for existing Radeon owners, this means that the functionality that was previously limited to the latest Radeon products has finally been backported. Frame Rate Target Control, which allows capping framerates between 55fps and 95fps, is now available on most GCN cards. And Virtual Super Resolution, previously only available on certain members of the 200 series, has been backported to all Bonaire, Pitcairn, and Tahiti GPUs, meaning that the R7 260 Series, HD 7790, HD 7800 series, and HD 7900 series all support VSR. So do AMD's latest APUs, with the 7400K and above getting VSR support.
Meanwhile Crossfire Freesync, after being held back by AMD earlier this year due to outstanding issues, has finally been enabled. We have not had a chance to test this yet to see how well it works, though AMD notes that it's working for DirectX 10 and higher (which implicitly excludes DX9 and OpenGL applications).
As for performance for older cards, we're still running numbers, but for the games in our benchmark suite it looks like there are consistent performance gains in The Talos Principle, with further minor upticks in performance in Total War: Attila, and in the minimum framerates for Shadows of Mordor. AMD's notes also mention a number of new Crossfire profiles, though this is relative to the 14.12 release. Finally, since I've had a few people ask me about this, according to AMD's notes they have not yet resolved the anti-aliasing corruption issues with Crossfire in The Witcher 3.
Last but not least, AMD has also released a Windows 10 driver package that includes WDDM 2.0 and DirectX 12 support. While earlier driver releases were available through Windows Update, this is the first external WDDM 2.0 driver release for the company, and the first WDDM 2.0 driver to support recent products like the R9 Fury X. For the moment AMD is covering their bases and calling this a "technical preview" driver, with official driver support to come on the 29th when Windows 10 launches. The driver is for all GCN video cards, as older Radeon 5000 and 6000 products will not be getting WDDM 2.0 support and will continue using the existing WDDM 1.x drivers on Windows 10.
Finally, for this driver release you'll want to check out AMD's master driver download page. The company has released individual driver packages for Windows 7, Windows 8.1, and Windows 10 (in both 32-bit and 64-bit varieties), so you'll want to grab the right package for your operating system.
Source: AMD