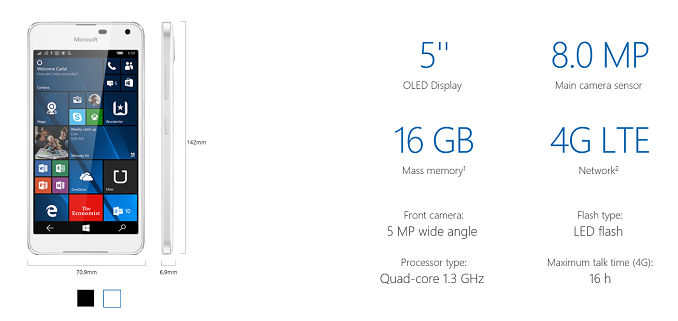 Today Microsoft launched their fourth phone in the x50 series, with the Lumia 650 being the latest Lumia to roll out of what used to be Nokia's smartphone business. In July of 2015, Microsoft wrote down the majority of their acquisition of Nokia, laying off a large portion of the former Nokia employees. CEO Satya Nadella changed strategy on phones, and his new strategy has now been brought to fruition. Rather than the numerous handsets that Nokia was releasing to cover every single part of the market, Microsoft would step back on phone hardware, and focus on three areas instead. The first was the high end enthusiast phones, with are covered by the Lumia 950 and 950 XL announced last October. The low end is served by the $139 original asking price for the Lumia 550. That left just the third market that Nadella wanted to provide for, and that is the business market. Today's Lumia 650 is being pushed as an affordable business phone. Let's go over it and see how they did.
The first part is pretty easy. It is an affordable phone, with a suggested MSRP of just $199. It's not the most affordable phone, but that's not the goal here. The business phone is much more nuanced than price, and needs a bit more investigation.
What is going to make a phone successful in the business and enterprise markets is a lot bigger question than whether something is affordable. You need security, manageability, integration with company networks and applications, and more. Windows 10 put a lot of focus into endpoint security, with features like Data Loss Prevention, and integration with VPN functions as a start. Manageability would be handled through MDM solutions such as Microsoft System Center, or In-Tune, and Windows 10 has expanded the manageability of devices running this OS. Application integration can be handled through the Windows Store for Business and enterprises can leverage in-house developers with C# experience to write their own apps. I think on that note it can be successful, but if your company or enterprise leverages third-party mobile apps, it is certainly not a guarantee that there will be an app for Windows 10 Mobile.

But what I just described applies to any Windows 10 Mobile handset, and not specifically the Lumia 650. Biometric authentication is supported in Windows 10 Mobile, but not leveraged here. Continuum on Windows 10 Mobile allows you to use your phone as a PC by connecting it to a monitor and keyboard, but that functionality requires USB-C and a more powerful GPU than the Lumia 650 has, so it's absent.
So despite being targeted towards business users, it lacks some of the most exciting functions for a business handset. So let's stop looking at it as a business phone, and just look at it as a Windows 10 Mobile smartphone.
Windows 10 Mobile is of course the latest iteration of Microsoft's phone operating system, but the new codebase is available for small tablets as well. It officially was released with the Lumia 950 and 950 XL's launch in November, and many existing Windows Phone 8.1 handsets will be offered this as a no-charge update. It runs all of the apps from Windows Phone 8.1, as well as the new Universal Windows Platform apps designed for Windows 10, assuming the developer targets the app towards the phone screen size.
| | |
| --- | --- |
| | Microsoft Lumia 650 |
| SoC | Snapdragon 212 (quad-core Cortex A7 @ 1.3 GHz) |
| RAM/NAND | 1 GB RAM, 16 GB NAND + microSD 200 GB |
| Display | 5.0" 1280x720 ClearBlack AMOLED Corning Gorilla Glass 3 |
| Network | LTE up to 150 Mbps |
| Dimensions | 142 x 70.9 x 6.9 (mm) |
| Weight | 122 grams |
| Rear Camera | 8 MP, 1/4" CMOS, f/2.2, 28 mm focal length, LED Flash |
| Front Camera | 5 MP wide angle, f/2.2, 1280x720 video resolution |
| Battery | 2000 mAh, 3.8 V, 7.6 Wh |
| OS | Windows 10 Mobile |
| Connectivity | 802.11 b/g/n + BT 4.1, USB2.0, DLNA, FM Radio |
| Location Technologies | Cellular and Wi-Fi network positioning, A-GPS, A-GLONASS, BeiDou |
| SIM Size | Nano SIM |
The Lumia 650 is a 5-inch smartphone with a 1280x720 resolution AMOLED display. Luckily, it does support Glance, which is a low power mode where the time and some other information is on the display even when the phone is off (this is all configurable) which is one of my favorite Windows Phone features. It is powered by a Qualcomm Snapdragon 212, which is a quad-core Cortex A7 at 1.3 GHz. This should in theory be a small increase in performance over most of the previous Lumia phones powered by Snapdragon 400, since both used A7 cores but the 212 is clocked a bit faster. The A7 is the older 32-bit chip, but at the moment that's not an issue anyway since Windows 10 Mobile is currently a 32-bit operating system. The GPU is Adreno 304 in the Snapdragon 212. The Lumia 650 comes with 1 GB of RAM, and 16 GB of storage, with microSD card expansion for up to another 200 GB. Windows 10 Mobile supports moving data to the SD card very easily, and you can set your default save location for apps, music, and more, to the internal or SD storage individually. The camera is an 8 MP sensor, but only 1/4" in size and it lacks the OIS of the higher end Lumia phones. The front camera is becoming more important, and the Lumia 650 has a 5 MP FFC with f/2.2 aperture and a wider field of view.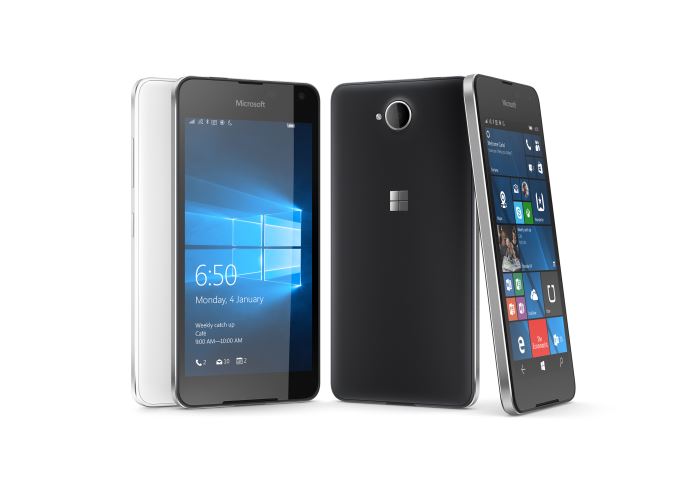 The Lumia 650 features a very thin and light design, coming in at just 6.9 mm in thickness and weighing in at only 122 grams. The removable back can be had in either black or white, and unlike the more expensive Lumia 950 and 950 XL, the 650 features a diamond cut anodized aluminum metal frame around the phone, which should give it a much better in-hand feel.
Despite the naming, the Lumia 650, to me, feels like a successor to the Lumia 830 with its metal frame and similar display size. The camera is likely not going to be quite as good, but my one big criticism of the Lumia 830 was the price, and the Lumia 650 comes in under half of what the 830 was sold for when it first launched. They certainly fixed that. I'm not sure where Windows 10 Mobile is headed, and maybe we'll learn more at Microsoft's Build developer conference at the end of March. The Lumia 650 will be available in the EU starting today and wider distribution later on.
Source: Microsoft