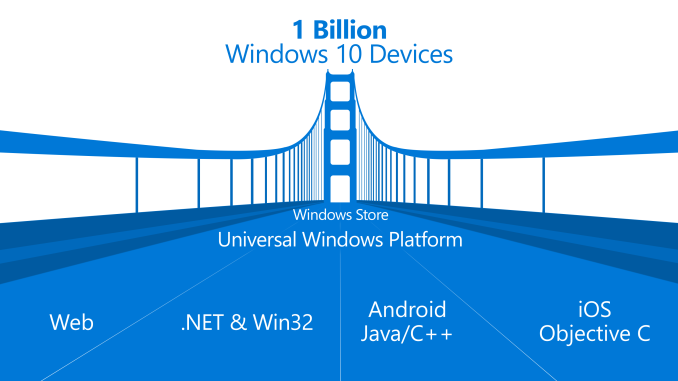 At the 2015 BUILD developer Conference Microsoft demoed four application bridges that they hoped would improve the number of applications available for Windows 10 Mobile, which would benefit the Windows platform as a whole. The two most interesting showcases were Project Islandwood, which helps developers to port their Objective-C applications to Windows, and Project Astoria, a subsystem for running existing Android applications right on a Windows smartphone. Today it looks like the latter of those projects has officially met its end.
The death of Project Astoria won't come as a big surprise to those who have been keeping track of Windows 10 Mobile's development process since BUILD. Back in October of last year, preview builds of Windows 10 Mobile stopped including the Android runtime and there wasn't really any explanation as to why. Since that time, Project Islandwood has continued to be promoted by Microsoft while there hasn't been much news about Astoria. This led many in the development community to suspect that Microsoft had decided to kill the project, although there was no official confirmation until today.
In my view, the death of Project Astoria has both good and bad elements. Since it was essentially packaging Android applications to run on Windows 10 Mobile, the applications never fit in with the rest of the platform and so the question then became why you wouldn't just go buy an actual Android device. On the other hand, it did provide an easy way for developers and users to bundle up applications that didn't exist at all on Windows 10 Mobile, which would help fill the app gap in a less than optimal but usable manner.
According to Microsoft, the official reason for the death of Astoria is that developers felt that having two bridges from mobile operating systems was mostly redundant when their applications likely existed on both Android and iOS. With Microsoft's recent purchase of Xamarin, they may also be betting on developers creating applications in C# that can be deployed across Android, Windows, and iOS. In any case, Microsoft's bridges for Objective-C, JavaScript, and Win32 apps are still very much alive, but the prospect of easily bringing over Android applications to Windows 10 Mobile is gone.
Source: Microsoft Windows Blog