Cougar is a German manufacturer of PC components that was founded in 2007. The company originally focused on cases and PSUs, but recently diversified towards gaming peripherals as well. A year ago we had a look at their first and, at the time, the most advanced keyboard and mouse they had to offer. Following the success of their 700-series peripherals, Cougar released nearly a dozen additional keyboards and mice during this past year, designed to cover many tastes and budgets. Today we are having a look at one of their newest keyboards and mice, the Attack X3 mechanical gaming keyboard and the 450M optical gaming mouse respectively.
The Attack X3 keyboard and the 450M mouse are targeted at what Cougar considers the "average gamer" class, trying to offer appropriate gaming functionality and high quality at a competitive price. The two devices we're looking at today aren't strictly a bundle, but within Cougar's product lineup they are practically complementary goods for the market segment Cougar is after.
Of all the peripherals we look at, those meant for the "average gamer" are perhaps the most interesting. Unlike flagship products where pricing is rarely a concern and virtually every feature can be (and is) added, for products aimed at the mass market manufacturers need to balance functionality and design with the needs of the market, and ultimately cost concerns. I dare say that having a restriction of some kind forces manufacturers to be more creative, as rather than simply adding the most bells and whistles they need to do proper research and put some real thought into what they're building if they're going to be successful in the mass market. Trying to strike a delicate balance between functionality, quality, features and price is not an easy task; manufacturers have to make sure they provide what buyers will consider the essential gaming features without creating an overpriced final product.
That brings us to today's review of Cougar's Attack X3 keyboard and 450M mouse. While these aren't budget-priced parts - the keyboard is still $80 or so - for gaming peripherals these are mid-range products, or at least a lot closer to it than the twice as expensive 700 series. The 700 series products were very well designed and built, and if Cougar can maintain this level of quality with the X3 and M450, then they should have a winner on their hands. To that end we will be thoroughly examining the advantages and disadvantages of the Attack X3 mechanical keyboard and the 450M optical gaming mouse, evaluate their quality, test their performance and assess their value.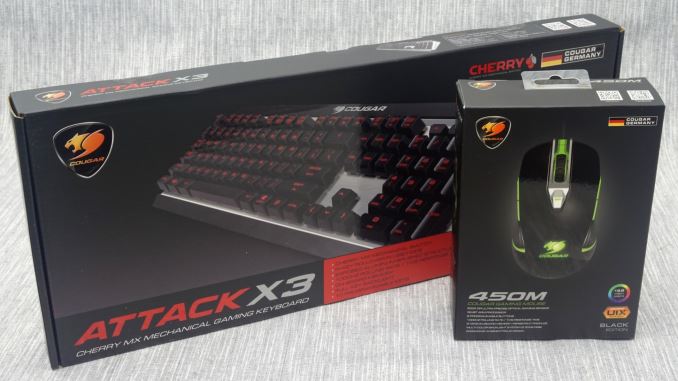 Cougar Attack X3 Mechanical Keyboard - Key features and specifications
Cougar UIX System
Cherry MX Mechanical Switch
Aluminum brushed structure
N-Key Rollover in USB Mode
1 kHz Polling Rate
Full key backlight
Dedicated Media keys
Non-slip rubber foot
Braided cable & golden-plated connectors
Cougar 450M Gaming Mouse - Key features and specifications
Omron Micro Switches
Braided Cable
Ergonomic Ambidextrous Design
3-Stage DPI LED Display
On-the-fly DPI Tuning
Gaming Grade Scroll Wheel
2 Side buttons (on each side)
Multi-Color Backlight
32-Bit ARM processor / 512KB On-Board Memory
5000 DPI Optical Sensor
Eight programmable buttons
Anti-Slip Flanks
Cougar UIX system
Braided cable & golden-plated USB plug