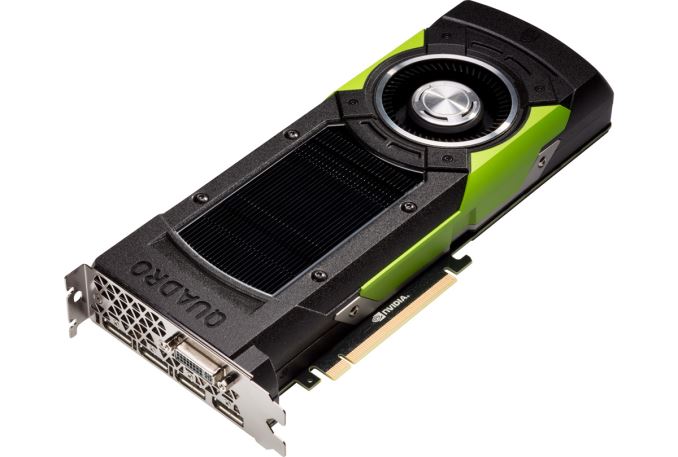 With NVIDIA currently between GPU generations, things have been relatively quiet on the professional graphics front for the company. On the high-end NVIDIA released the Quadro M6000 back in 2015, bringing their fully enabled GM200 GPU into the professional market. Now just over a year later, they are giving the Quadro a refresh with a newer, higher capacity model.
NVIDIA Quadro Specification Comparison
M6000 (24GB)
M6000 (12GB)
K6000
6000
CUDA Cores
3072
3072
2880
448
Texture Units
192
192
240
56
ROPs
96
96
48
48
Core Clock
N/A
N/A
900MHz
574MHz
Boost Clock
~1140MHz
~1140MHz
N/A
N/A
Memory Clock
6.6Gbps GDDR5
6.6Gbps GDDR5
6Gbps GDDR5
3Gbps GDDR5
Memory Bus Width
384-bit
384-bit
384-bit
384-bit
VRAM
24GB
12GB
12GB
6GB
FP64
1/32 FP32
1/32 FP32
1/3 FP32
1/2 FP32
TDP
250W
250W
225W
204W
GPU
GM200
GM200
GK110
GF110
Architecture
Maxwell 2
Maxwell 2
Kepler
Fermi
Transistor Count
8B
8B
7.1B
3B
Manufacturing Process
TSMC 28nm
TSMC 28nm
TSMC 28nm
TSMC 40nm
Launch Date
03/22/2016
03/19/2015
07/23/2013
N/A
Launch Price (MSRP)
$5000
$5000
$5000
$5000
When the original Quadro M6000 was launched, NVIDIA outfitted it with 12GB of VRAM in a 24x4Gb configuration, a large amount of memory for the time but not the full amount a GM200 card could be equipped with. Now this week the company is giving the card mid-cycle upgrade by increasing its VRAM capacity, replacing the 12GB model with a 24GB model utilizing higher density 8GB GDDR5 memory chips.
The target market for the 24GB M6000 is relatively straightforward: certain segments of the professional visualization market need all of the VRAM they can get, so for NVIDIA ecosystem users this should be a welcome upgrade. At the same time since 8Gb GDDR5 has been on the market for some time now, I'm surprised it has taken NVIDIA this long to bring GM200 to its maximum 24GB capacity. None the less this does give NVIDIA bragging rights as the highest capacity professional graphics card – surpassing the 16GB FirePro W9100 – though it's worth noting that AMD should have the capability to push that to 32GB if they want final bragging rights.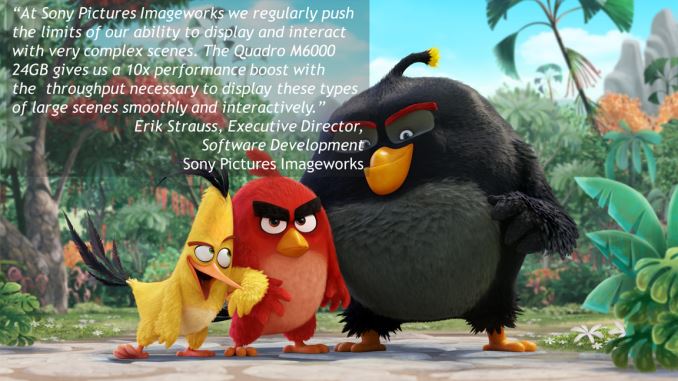 Meanwhile NVIDIA's press materials also briefly note that the updated Quadro M6000 ships with some new temperature & clockspeed management options – presumably via a newer firmware – though details are limited. The new M6000 features "More discrete GPU clock options for a better customer experience when running their application" and "Greater software temperature control to keep the GPU temperature below the hardware slowdown threshold for the best user experience." NVIDIA's professional cards (Quadro & Tesla) feature more performance controls than we see on consumer cards (which just run as fast as they can) and from the description I expect that NVIDIA has put in some new, finer grained options to better control automatic throttling behavior by manually setting both the maximum clockspeed and temperature. For single card workstations this is rarely an issue, but for large arrays of cards (e.g. Quadro VCA), keeping all of the cards in lockstep with regards to performance is a desired feature.
Finally, since this is a mid-cycle refresh, the new 24GB Quadro M6000 will be launching this week. It will be a drop-in replacement in NVIDIA's product stack, and will occupy the previous M6000's spot at $5000.