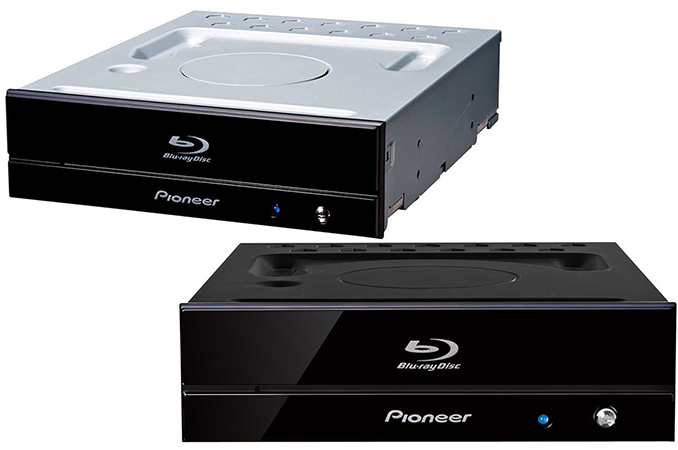 Pioneer has announced its first Blu-ray disc burners that officially support playback of Ultra HD Blu-ray discs. The drives will be Pioneer's top-of-the-range ODDs and will thus support all the latest technologies from the company, but it is important to note that Ultra HD Blu-ray discs have a number of specific requirements and despite formal support for the latest media format, the drives will not transform any PC into a UHD BD player alone due to the numerous requirements (something that system integrators will have to ensure).
The New Drives
The Pioneer BDR-S11J-BK and the BDR-S11J-X are advanced optical disc drives in a 5.25" form-factor with the SATA 3.0 interface capable of reading and recording CD (CD, CD-R, CD-RW), DVD (DVD, DVD±R, DVD±R DL, DVD±RW, DVD-RAM) and Blu-ray (BD, BD-R SL/DL/TL/QL, BD-RE SL/DL/TL, BD-R LTH) discs. The drives have 4 MB buffer underrun protection (which is in line with other higher-end ODDs from competitors) and support 16x burning speed for BD-R SL (25 GB) media. Meanwhile, writing capabilities are not the key feature of the new ODDs. Pioneer advertises improved CD audio playback as well as support for Ultra HD Blu-ray discs as the key selling points of the new drives by way of updated technologies.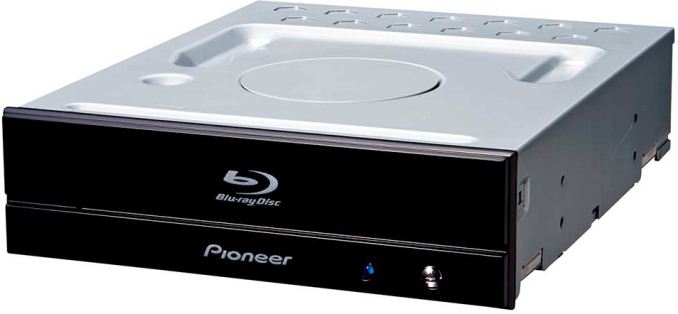 Usage of optical discs has been declining in the recent years, but those people who still use ODDs tend to demand features like fine reading/playback of scratched discs in general and audio CDs in particular (simply because they have large collections of appropriate media). To appeal to these people, the Pioneer BDR-S11J-BK and the BDR-S11J-X support the PureRead 4+ and Real Time PureRead functions specifically tailored to improve reading performance of scratched audio CDs. In addition, the more expensive BDR-S11J-X has further enhancements to improve playback quality of inserted audio CDs. Pioneer does not reveal too many details other than saying about finely tuned internal components (possibly to minimize vibration) as well as a feature called the "playback quality check."
Another important capability of the Pioneer BDR-S11J-BK and the BDR-S11J-X ODDs is guaranteed support for Ultra HD Blu-ray discs. Technically speaking, to read a 100 GB Ultra HD Blu-ray disc, an ODD must support triple-layer Blu-ray disc with 33 GB layers and up to 128 Mbps data rate (i.e., 4x read speed). Therefore, any BDXL-supporting BD ODD has technical capabilities to read UHD BDs. However, not everything is that simple.
New Requirements for Ultra HD Blu-ray Video Playback
Meanwhile, to actually playback an Ultra HD Blu-ray disc, users will need:
A PC that supports AACS 2.0 and Intel Software Guard Extensions (SGX)
An appropriate optical disk drive,
Software that handles UHD BD playback,
Windows 10,
A GPU that has an HDMI 2.0a output with HDCP 2.2 (and AACS2 supported by its driver, which eliminates current-gen standalone GPUs) and,
A 4K TV/display that has an HDMI 2.0a input with HDCP 2.2.
While there are graphics adapters that support HDCP 2.2, as well as displays that also support it, at the time of writing there are no software packages that support playback of Ultra HD Blu-ray discs. CyberLink last year promised to update its PowerDVD 16 Ultra to support UHD BDs, but so far, this feature has not been formally added to the player. Now, while many contemporary BDXL-supporting ODDs can read Ultra HD Blu-ray discs (and allow users to browse files or write to them), manufacturers tend not to declare UHD BD playback support by their products. While it is possible that this is a software limitation, it is also possible that the limitation is hardware and currently available optical drives miss an important piece or two required to playback UHD BD movies even once appropriate software is available and they are installed into qualifying PCs. That said, Pioneer is currently the only ODD supplier that formally declares support for UHD BDs, at least in terms of files.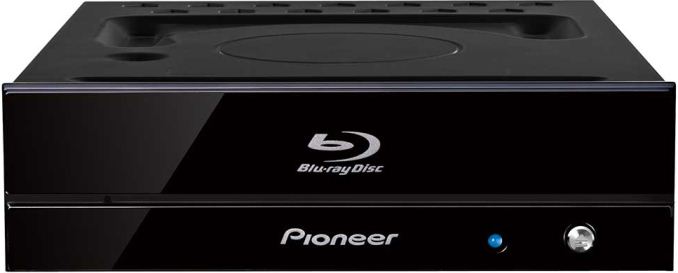 Apart from the ODD, the GPU (and its driver), the display, and the playback software, AACS 2.0 support seems to be a major concern. Its implementation on the PC is different from other consumer electronics, according to CyberLink. In a bid not to let AACS 2.0 encryption keys leak (as it happened in the past to the original AACS), AACS LA demands to handle their decryption in a secure hardware environment. To create secured private regions of memory that cannot be accessed by third-party applications (to prevent access to AACS2 keys), software developers have to use Intel's Software Guard Extensions (SGX) instructions, whereas end users have to use platforms featuring the technology. Intel's SGX has to be supported by the CPU, the OS and the application, but one of the problems is that not all modern processors support it. Intel first incorporated SGX into its Skylake CPUs in 2015, but not all of such chips support the tech: for example, some of the early higher-end processors have it disabled. Moreover, SGX has to be supported by motherboard's BIOS and at present Pioneer recommends Intel 200-series based platforms (note that this does not mean that every Intel 200-series mainboard supports SGX). It is also important to note that not every Intel 200-series motherboard/system supports HDCP 2.2, which is required if the integrated is used. In fact, in the latter case Pioneer says that Intel's HD Graphics 630 or more advanced is required, which eliminates low-power CPUs.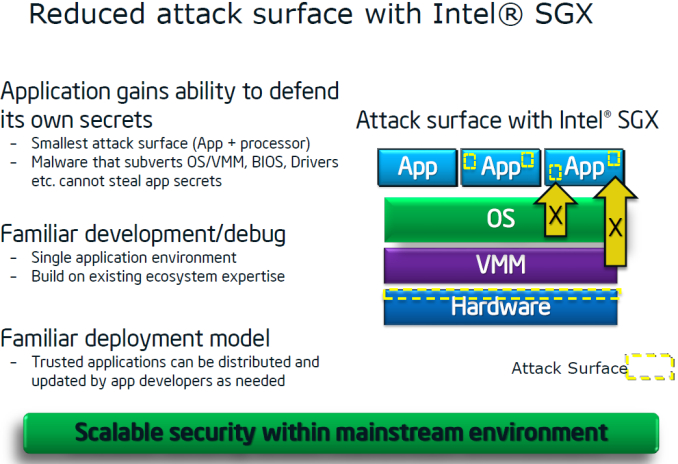 One of the peculiarities of playback via AACS2 is that it has to be supported by the whole system, not just certain critical components. This may not be a big problem for consumer electronics (even though it has its peculiarities there as well, for example, a requirement to pair a drive with its host that binds them at time of manufacture that will make lives of people who rip disks harder, but will also make it impossible to replace a failed ODD in a player), but for PCs things are going to get considerably more complicated. The content has to be encrypted using AACS2 throughout the whole data transfer from the optical disc to the decoder (i.e., the GPU for a PC) and then decoded in a secure environment. Since AACS2 mandates the use of secure environment at all times, decryption of Ultra HD Blu-ray content in a PC is now possible only on an iGPU that uses system memory with appropriate regions set aside for this particular task. Unless companies like AMD and NVIDIA invent their own SGX-like technology or manage to support Intel's extensions in their drivers and by their discrete hardware, it will not be possible to use standalone GPUs for Ultra HD Blu-ray playback despite all their advanced media decoding capabilities. Quite naturally, this leaves systems based on Intel's multi-core Core i7 HEDT processors without Ultra HD Blu-ray encoded playback content, but that is a price that PCs have to pay for AACS2.
Pioneer will bundle various programs with the BDR-S11J-BK and the BDR-S11J-X ODDs, including CyberLink's PowerDVD 14 (not quite new), PowerDirector 14, PowerProducer 5.5, Power 2 Go 8, InstantBurn 5 and so on. The manufacturer did not reveal the official price of the new drives, but PC Watch reports that the BDR-S11J-BK and BDR-S11J-X will be priced at ¥22,000 ($193) and ¥35,000 yen ($307) respectively when they are available in Japan in late February.