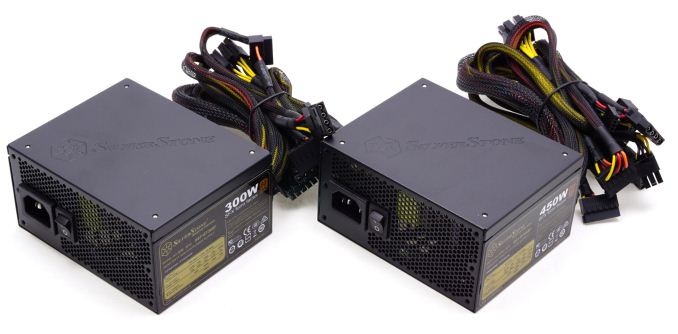 With the vast selection of advanced ATX PSUs available today, PC users can easily pick one that perfectly suits their budget and needs. When shopping for an SFX PSU however, the options are very limited, as very few companies do market advanced high quality SFX PSUs. Even when the company has a few SFX units available, most of the time these are expensive top-tier models, leaving budget-driven users bewildered.
One of the companies that invests a lot on small form factor systems is SilverStone. The company currently markets dozens of proprietary PC cases, many of which require SFX PSUs. SilverStone is also marketing some of the most advanced SFX PSUs available, such as the 700W SX700-LPT that we reviewed a few months ago and their newly released 800W SX800-LTI with 80Plus Titanium compliance. Outrageously powerful (and expensive) SFX PSUs are not useful to users that want to build simple, compact media or office PCs. Their "SFX extended" form factors make them incompatible with very compact case designs anyway, including many of SilverStone's own products.
Today we are having a look at the two SFX units that SilverStone is offering for budget-conscious builders, the ST30SF and the ST45SF. Although they are not as grand as the top-tier PSUs we mentioned before, they do have a high power output of 300W and 450W respectively, sufficient for typical media and gaming PCs. They only have an 80Plus Bronze efficiency certification, but what they lack in technology they make up for in price. We should clarify that the units in this review are the latest version, V2.0 for the ST30SF and the V3.0 for the ST45SF, that have been reengineered for improved performance in home and gaming PCs. Most of the differences over their previous versions will be highlighted in the following pages, but the first difference that we should point out is that the new units are rated at 40°C ambient temperature, whereas the previous versions were rated at 50°C.
SilverStone ST30SF Power specifications ( Rated @ 40 °C )
AC INPUT
100 - 240 VAC, 50 - 60 Hz
RAIL
+3.3V
+5V
+12V
+5Vsb
-12V
MAX OUTPUT
16A
16A
25A
3A
0.3A
90W
300W
15W
3.6W
TOTAL
300W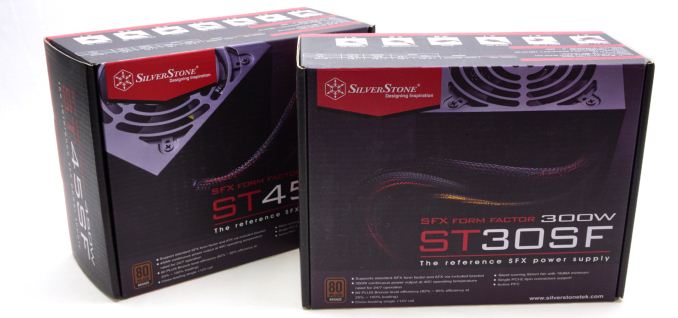 SilverStone ST45SF

Power specifications ( Rated @ 40 °C )
AC INPUT
100 - 240 VAC, 50 - 60 Hz
RAIL
+3.3V
+5V
+12V
+5Vsb
-12V
MAX OUTPUT
20A
20A
37.5A
3A
0.3A
110W
450W
15W
3.6W
TOTAL
450W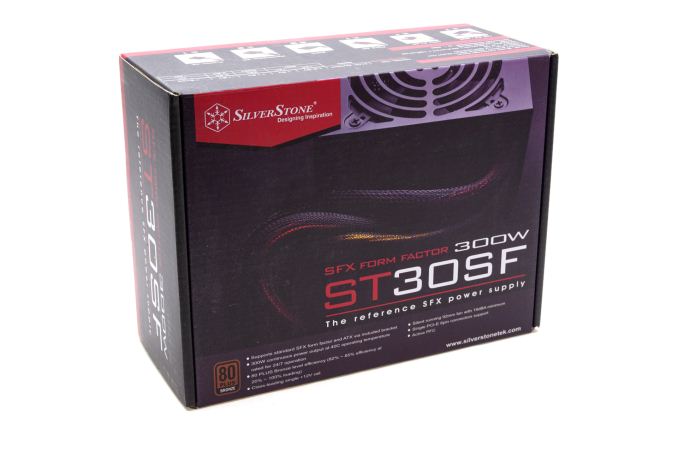 Packaging & Bundle
SilverStone supplies their cost-effective SFX PSUs in aesthetically simple, practical cardboard boxes. The artwork on the black boxes is minimal, but SilverStone had every worthwhile bit of information printed on them and they should provide ample shipping protection to the lightweight units.
We expected to find only the absolute minimum of items bundled alongside such units but SilverStone had us surprised. Except from the thorough manual, black mounting screws and the necessary AC cable, the company also supplies an ATX to SFX adapter frame, allowing these SFX units to be installed into ATX compatible cases. This greatly enhances the value of the units, ensuring that they may fit into other cases into the future, as well as their potential market group, as they may be appealing to modders and other people that wish to save some space in their PSU compartment for some reason.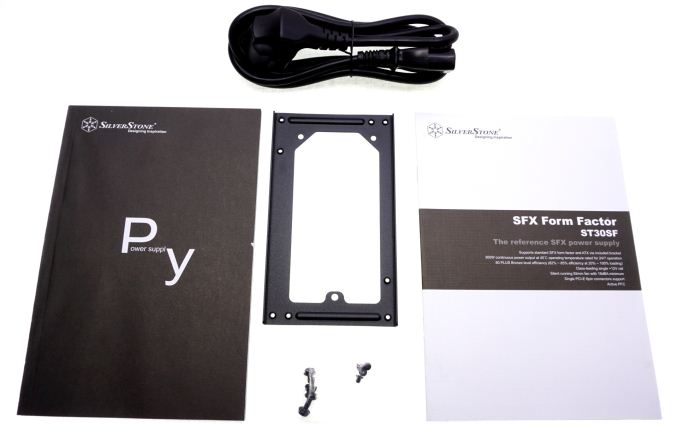 Connector type
SilverStone ST30SF

SilverStone ST45SF

ATX 24 Pin
1
1
EPS 4+4 Pin
1
1
EPS 8 Pin
-
-
PCI-E 6+2 Pin
-
1
PCI-E

6

Pin
1
1
SATA
3
3
Molex
2
2
Floppy
1
1