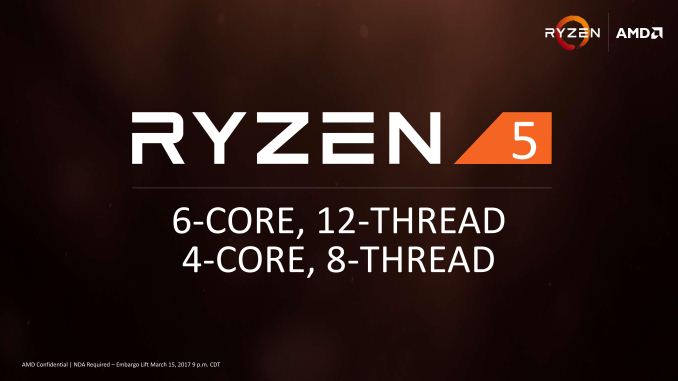 As part of our initial Ryzen 7 review, AMD also teased the presence of two more elements to the Ryzen lineup, specifically Ryzen 5 and Ryzen 3, both aiming at a lower cost market and allowing AMD to sell some of the silicon that didn't quite make it to the Ryzen 7 lineup. Today is the official announcement for Ryzen 5, featuring four processors in hex-core and quad-core formats, all with Simultaneous Multi-Threading (SMT) and all using the same AM4 platform as Ryzen 5.
Ryzen 5
Whereas Ryzen 7 was AMD's main attack on high-performance x86 and a shot across the bow against Intel's high-end desktop platform, Ryzen 5 is targeted more at mainstream users. The goal here is that where Intel has four cores with no hyperthreading, AMD can provide six cores with SMT, effectively offering three times as many threads for the same price and potentially smashing any multithreaded workload.
Without further ado, here is where the Ryzen families stand:
AMD Ryzen 7 SKUs
Cores/
Threads
Base/
Turbo
XFR
L3
TDP
Cost
Cooler
Ryzen 7 1800X
8/16
3.6/4.0
+100
16 MB
95 W
$499
-
Ryzen 7 1700X
8/16
3.4/3.8
+100
16 MB
95 W
$399
-
Ryzen 7 1700
8/16
3.0/3.7
+50
16 MB
65 W
$329
Spire
RGB
AMD Ryzen 5 SKUs
Cores/
Threads
Base/
Turbo
XFR
L3
TDP
Cost
Cooler
Ryzen 5 1600X
6/12
3.6/4.0
+100
16 MB
95 W
$249
-
Ryzen 5 1600
6/12
3.2/3.6
+100
16 MB
65 W
$219
Spire
Ryzen 5 1500X
4/8
3.5/3.7
+200
16 MB
65 W
$189
Spire
Ryzen 5 1400
4/8
3.2/3.4
+50
8 MB
65 W
$169
Stealth
Traditionally we are used to a part with fewer cores having a higher clock frequency, however perhaps due to the voltage scaling of the design, we see a matched Ryzen 5 1600X in frequency to the Ryzen 7 1800X, but the rest of the Ryzen 5 family are offered at a lower TDP instead.
All the Ryzen 5 parts are unlocked, similar to the Ryzen 7 parts, and all four exhibit some movement in XFR mode, with the 1500X offering +200 MHz depending on the cooler used. AMD is going to offer some of these SKUs with their redesigned Wraith coolers: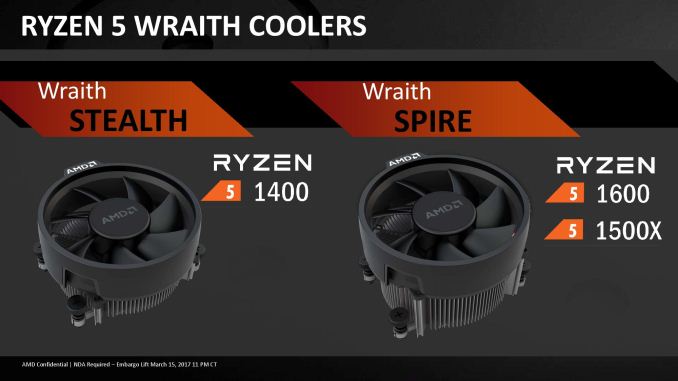 It is worth noting that the Wraith Spire for Ryzen 5 will not have RGB lighting, whereas the Wraith Spire for Ryzen 7 does use an RGB ring. OEMs will be able to use the higher-end Wraith Max stock cooler for their pre-built systems. AMD stated that at present, there are no plans to bring the Wraith coolers to retail as individual units, however they will keep track of how many users want them as individual items and regularly approach the issue internally.
To clarify some initial confusion, AMD has given me official TDP support numbers for the coolers. The entry level Wraith Stealth is 65W, the Wraith Spire is 65W for high-ambient conditions (AMD states this might be considered an '80W' design in low-ambient), and the Wraith Max is 95W for OEM builds using Ryzen 7 95W parts.
All the Ryzen 5 parts will support DDR4 ECC and non-ECC memory, and the memory support is the same as Ryzen 7, and will depend on how many modules and the types of modules being used. Recently companies like ADATA announced official support for AM4, as some users have found that there were memory growing pains when Ryzen 7 was launched.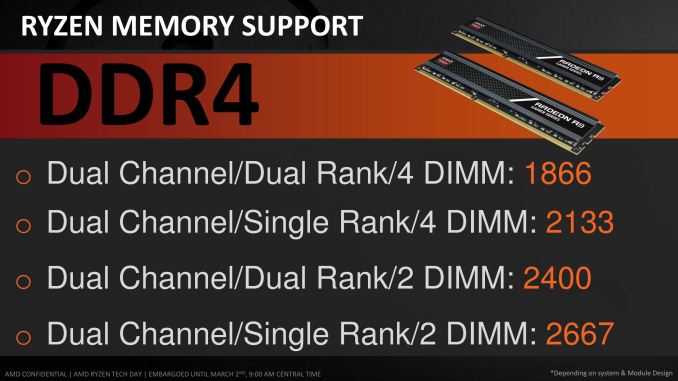 Platform support for Ryzen 5, relating to PCIe lanes and chipset configurations, is identical to Ryzen 7. Each CPU offers sixteen PCIe 3.0 lanes for graphics, along with four lanes for a chipset and four lanes for storage. Chipsets can then offer up to eight PCIe 2.0 lanes which can be bifurcated up to x4 (AMD GPUs can use chipset lanes for graphics as well, however at reduced bandwidth and additional latency).
Competition
The high-end Ryzen 5 1600X, at $249, is a shoe-in to compete against Intel's i5-7600K at $242. Intel's CPU is based on the Kaby Lake microarchitecture, and we've already shown in the Ryzen 7 review that by comparison Ryzen is more circa Broadwell, which is two generations behind. AMD won't win much when it comes to single-threaded tests here, but the multi-threaded situation is where AMD shines.
Comparison: Ryzen 5 1600X vs Core i5-7600K
AMD
Ryzen 5 1600X
Features
Intel
Core i5-7600K
6 / 12
Cores/Threads
4 / 4
3.6 / 4.0 GHz
Base/Turbo
3.8 / 4.2 GHz
16
PCIe 3.0 Lanes
16
16 MB
L3 Cache
6 MB
95 W
TDP
91 W
$249
Price (MSRP)
$242
Here we have twelve threads against four, at a 95W TDP compared to a 91W TDP (the 1600 is 65W, which looks better on paper). It is expected that for situations where a compute workload can scale across cores and threads that the AMD chip will wipe the floor with the competition. For more generic office workloads, it will interesting to see where the marks fall.
On the quad-core parts, there are several competitive points to choose from. The AMD Ryzen 5 1500X, at $189, sits near Intel's Core i5-7500 at $192. This would be a shootout of a base quad-core versus a quad-core with hyperthreading.
Comparison: Ryzen 5 1500X vs Core i5-7500
AMD
Ryzen 5 1500X
Features
Intel
Core i5-7500
4 / 8
Cores/Threads
4 / 4
3.5 / 3.7 GHz
Base/Turbo
3.4 / 3.8 GHz
16
PCIe 3.0 Lanes
16

16

MB
L3 Cache
6 MB
65 W
TDP
65 W
$189
Price (MSRP)
$182
The reason why I didn't pull out the Core i3-7350K there, at $168, is because the performance of the 7350K sits near the Pentium G4560, which is only $64 (and the subject of an upcoming review). That all being said, the $168 price of the i3-7350K matches up to the $169 price of the Ryzen 5 1400, although the 1400 has double the cores and double the threads of the 7350K.
Cutting up the Cores
Ryzen 5, both the hex-core and the quad-core variants, will use the same eight-core base Zeppelin silicon that Ryzen 7 does.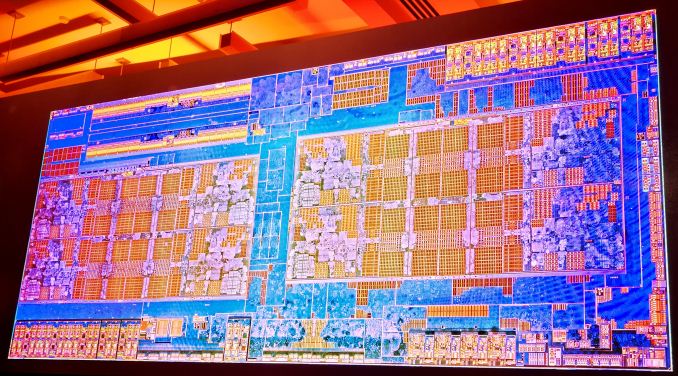 The silicon design consists of two core complexes (CCX) of four cores apiece, and each with 8MB of L3 cache that is an exclusive victim cache. One of the suggestions regarding Ryzen 7's performance was about thread migration and scheduling on the core design, especially as core-to-core latency varies depending on where the cores are located (and there's a jump between CCXes). Despite the use of AMD's new Infinity Fabric, which is ultimately a superset of HyperTransport, there is still a slightly longer delay jumping over that CCX boundary, although the default Windows scheduler knows how to manage that boundary as demonstrated by Allyn at PCPerspective earlier this week.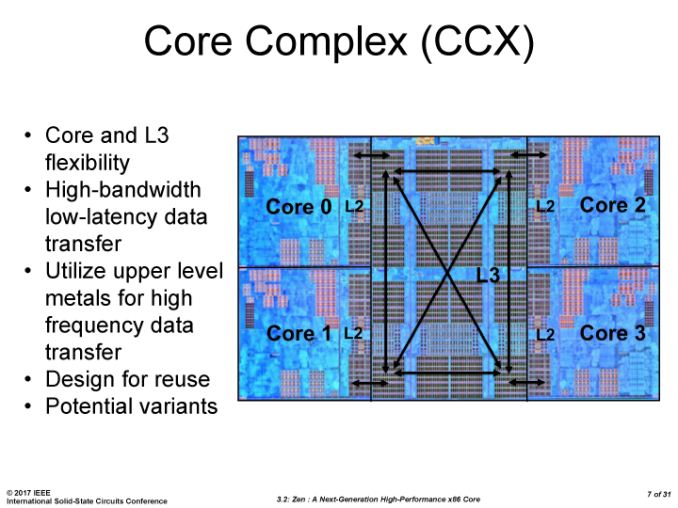 So when dealing with a four-core or six-core CPU, and the base core design has eight-cores, how does AMD cut them up? It is possible for AMD to offer a 4+0, 3+1 or 2+2 design for its quad-core parts, or 4+2 and 3+3 variants for its hexacore parts, similar to the way that Intel cuts up its integrated graphics for GT1 variants. The downside with this way is that performance might differ between the variants, making it difficult to manage. The upside is that more CPUs with defects can be used.
We have confirmation from AMD that there are no silly games going to be played with Ryzen 5. The six-core parts will be a strict 3+3 combination, while the four-core parts will use 2+2. This will be true across all CPUs, ensuring a consistent performance throughout.
Performance Estimates
We won't have these CPUs in for a while, but given our new benchmark suite and the results we've seen so far with Ryzen, we've tried to lay out some estimates in performance in both single thread and multi-threaded workloads.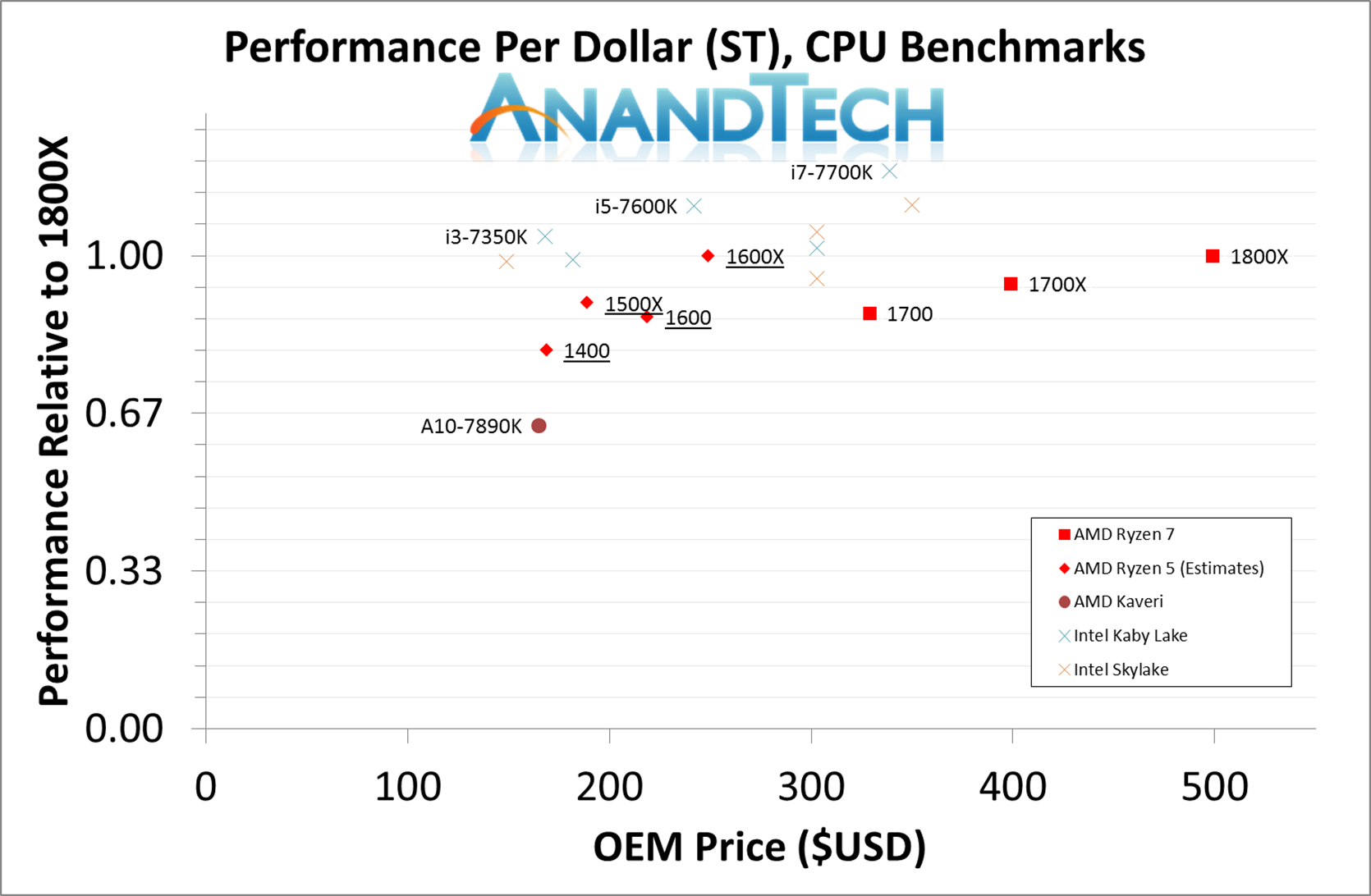 Single thread performance is easy enough to estimate – we work from the turbo and XFR frequencies of each processor. For users looking for peak single thread performance, something like Intel's Pentium G3258 or i3-7350K that can be overclocked to 5GHz+ (or starts as a base 4.2 GHz) is going to be a performance per dollar crown here. On the AMD side, we expect the Ryzen 5 1600X to match the Ryzen 7 1700X as it has the same frequency.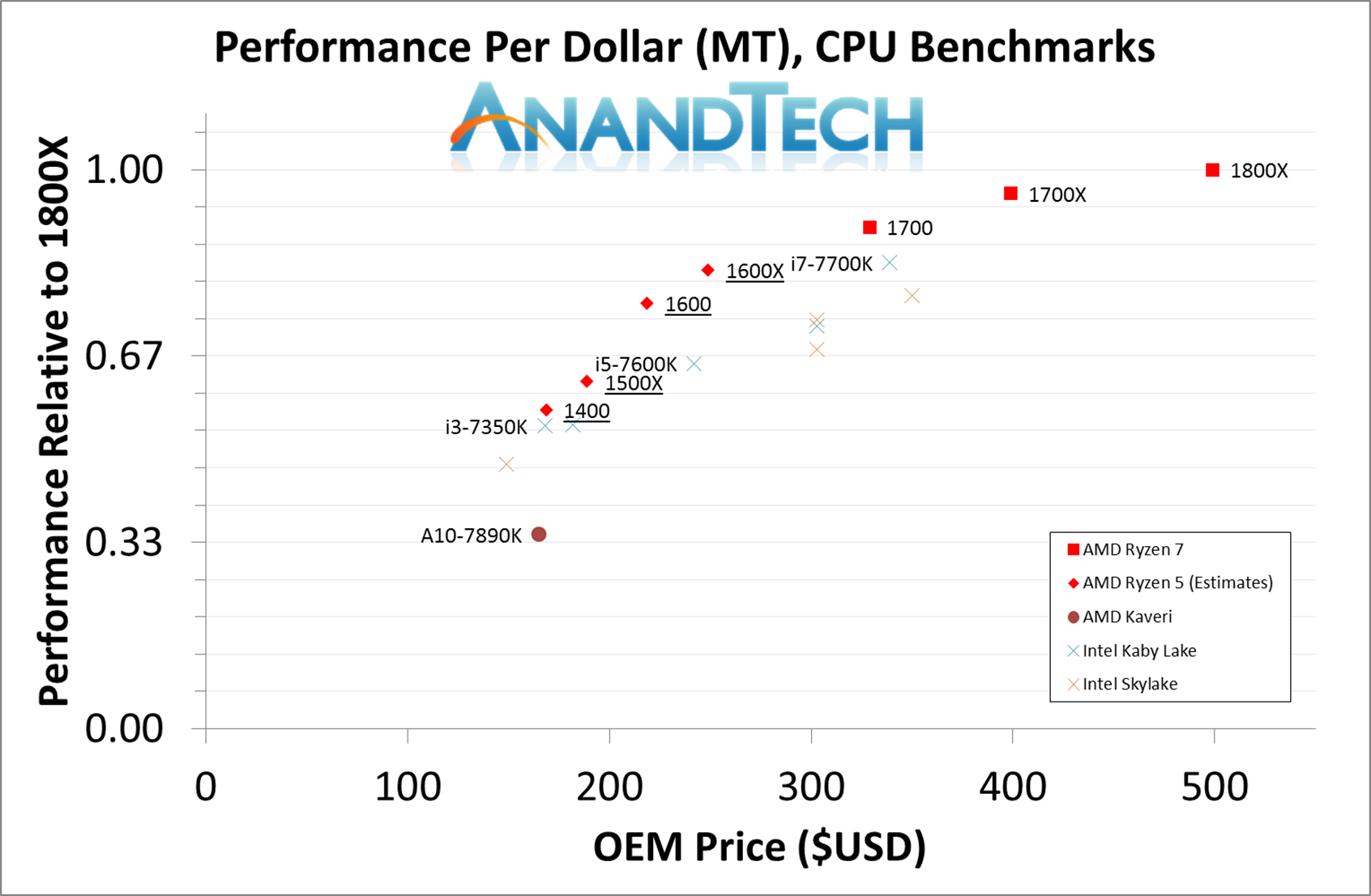 Multithreaded is more difficult to predict. Some of our benchmarks offer perfect scaling across cores and threads, meaning that if you half the cores, you get half the score. Some of the benchmarks are not as clear cut though, hence why we see something like Intel's Core i3-7350K, which should get about half the score of an i7-7700K, scoring 65% instead of 50%. We've tried to take this into account with the Ryzen 5 parts, and we get the graph above.
The key results here show that the 1600 and 1600X should sit way above the i5-7600K, and the 1600X should offer so much better performance per dollar than the Core i7-7700K.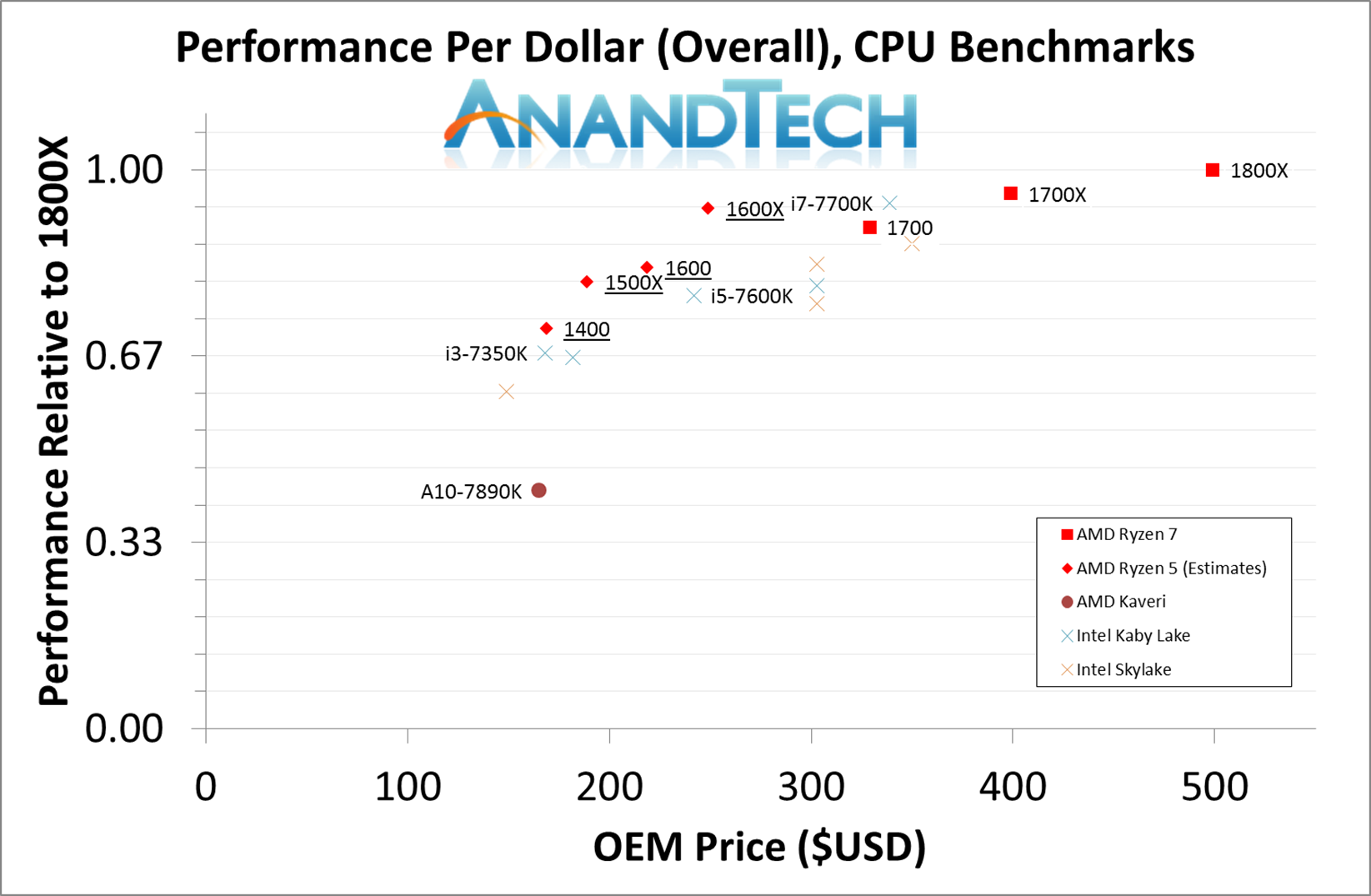 On overall performance, taking the combination of results (our suite is slightly unbalanced in favor of MT, but this is taken into consideration) we funnily see a straight line between the 1800X, 1700X, 1700, 1600 and 1500X, putting the 1600X at a really good position as a performance per dollar CPU.
The caveat here is that the Ryzen 7 processors came across as good workstation processors. Ryzen 7 was marketed towards that group of users, and it made sense. Ryzen 5 is more targeted towards mainstream gamers and users, which might offer some interesting results. Our results don't feature any gaming numbers yet (still working on a Ryzen 7 part 2 for this), but it will be interesting to see how the core counts and frequency will affect gaming performance.
The Bottom Line
Ryzen 5.
Two CPUs with six-core, from $219-$249.
Two CPUs with four-core. From $169-$189.
Retail availability on April 11th.
Stay tuned for the AnandTech review.
(Ryzen 3 is still slated for 2H17.)
Related Reading