The Azio/Kailh Typelit Switch
The center-LED "Typelit" switch is the technological highlight of the Retro Classic. The placement of the LED at the center of the switch allowed for the positioning of the characters at the exact center of the keycaps. With the round keycaps that the keyboard is using, backlighting would be very awkward without such a switch.
It is obvious that the design of these switches was inspired from Omron's Romer-G switch, a product that Logitech has been using for many of their high-end gaming keyboards. We are unsure how Kailh circumvented Omron's patent on the design but that is not up to us to scrutinize. The switch seems to be a hybrid between the Cherry MX and Omron Romer-G, using the core Cherry MX design for the housing and actuation but having a reformed stem for the LED to be placed at the center of it.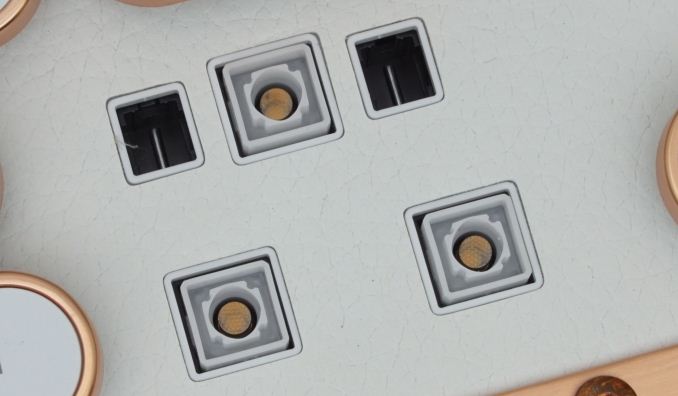 Azio needed a switch to emulate the behavior of old mechanical typewriters and an audible tactile switch is the obvious choice here. We feel that the Kailh "Typelit" switch is a good, yet not perfect match. It is a stiff, tactile switch, feeling much like a stiffer version of the Cherry MX Blue switch. The tactile feedback is clearly audible but not as loud as that of common Cherry MX Blue switches (and their copies). What we did not like is the shortened travel distance that makes the switches less comfortable. It also makes the experience less authentic, as the old mechanical typewriters it is trying to emulate had three to five times the travel distance (i.e. 12 to 20 mm, depending on the type and model) of a typical mechanical keyboard, not less.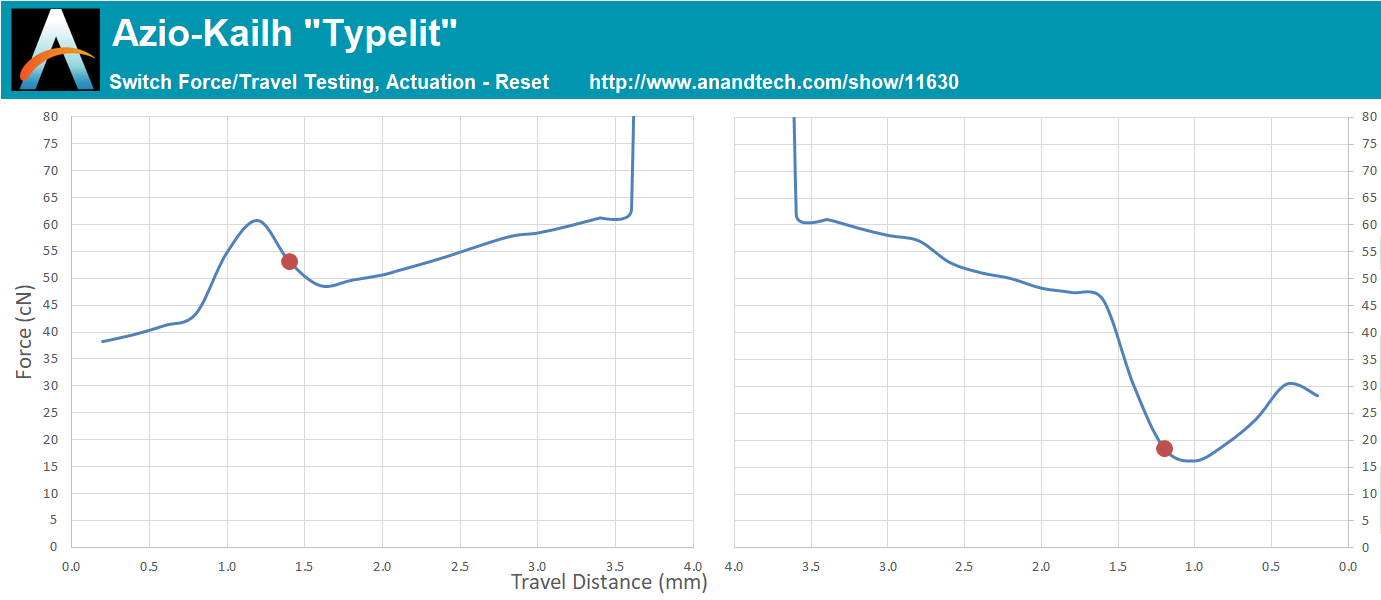 The performance of the switch is very close to what Azio has posted in their website, with the minor exception being that our tests indicated the switches actuating quite a bit before their specified average actuation point. In all our tests, the switch would actuate at 1.3-1.4 mm down the travel distance. Azio/Kailh states that the actuation distance is 1.6 ± 0.5 mm, so that is technically within the switch's specifications, but not very satisfactory. The manufacturer's rating itself is the problem here, because the X ± 0.5 mm range actually covers nearly 28% of the whole travel distance. Stating that the switch would actuate "about halfway to the bottom" is just as accurate as that.