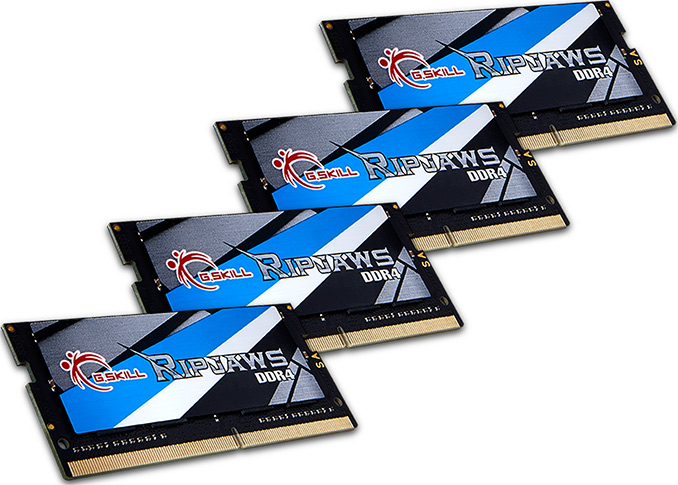 G.Skill has announced its new family of Ripjaws DDR4 SO-DIMM kits designed specifically for Intel's Core X processors. The current number of consumer motherboards supporting SO-DIMMs is limited: only the ASRock X299E-ITX/ac motherboard is at retail, although there could be potential to see some high-performance notebooks also make use of the high-performance memory. The modules being launched operate from DDR4-3200 to DDR4-3800 and are currently are the fastest DDR SO-DIMMs in the industry.
Intel's latest processors for high-end desktops feature the company's new-generation memory controllers that can handle very high DDR4 data transfer rates. Full-size PCs can take advantage of this capability because there is a wide choice of DDR4 modules, and we have seen modules rated for DDR-4000 and higher hit the market. By contrast, motherboards such as the ASRock X299E-ITX/ac use SO-DIMMs, of which the choice is limited due to the low number of SO-DIMM capable motherboards and systems. At present, the fastest SO-DIMMs are rated for DDR4-3200 (the Ripjaws DDR4-3200 16 GB kit), so in a bid to offer owners better memory performance, G.Skill this week introduced a new family of its Ripjaws DDR4 SO-DIMM kits.
The new high-speed 8 GB and 16 GB memory modules are based on Samsung's B-die DRAM ICs used for most enthusiast-class memory hitting very high speeds. G.Skill will offer four different SO-DIMM kits, being advertised as optimized for the ASRock X299E-ITX/ac and Intel's Skylake-X processors: three 32 GB kits rated to operate in DDR4-3200/CL16, DDR4-3600/CL16 and DDR4-3800/CL18 modes as well as one 64 GB DDR4-3200/CL16 kit. All new modules feature XMP 2.0 profiles and require 1.35 V.
G.Skill's Ripjaws DDR4 SO-DIMM Kits for SFF PCs
Speed
Sub-Timings
Voltage
Kit
Config.
Kit
Capacity
DDR4-3200
CL16 16-16-36
1.35 V
4×8 GB
32 GB
4×16 GB
64 GB
DDR4-3600
4×8 GB
32 GB
DDR4-3800
CL18 18-18-38
4×8 GB
While the new SO-DIMMs are compatible with the latest laptops that use Intel's desktop Coffee Lake CPUs (from Clevo, Eurocom and others), it is unknown whether they can work and remain stable at full speed in them. Laptops typically a different memory sub-system topology than desktops and therefore may require some additional SPD tuning. As a result, G.Skill has positioned the new Ripjaws DDR4 kits only for "SFF platforms" rather than DTR laptops.
G.Skill says that its new quad-channel Ripjaws DDR4 SO-DIMM kits will be available from its partners in early December. The company does not disclose estimated MSRPs of the new kits, but since these are unique memory modules built for a unique platform, expect them to be priced accordingly. For example, G.Skill's previous-generation Ripjaws DDR4-2800 32 GB SO-DIMM kit is priced between $348 and $390 in the U.S. Meanwhile, the aforementioned G-Skill's dual-channel Ripjaws DDR4-3200 16 GB kit is priced at $250.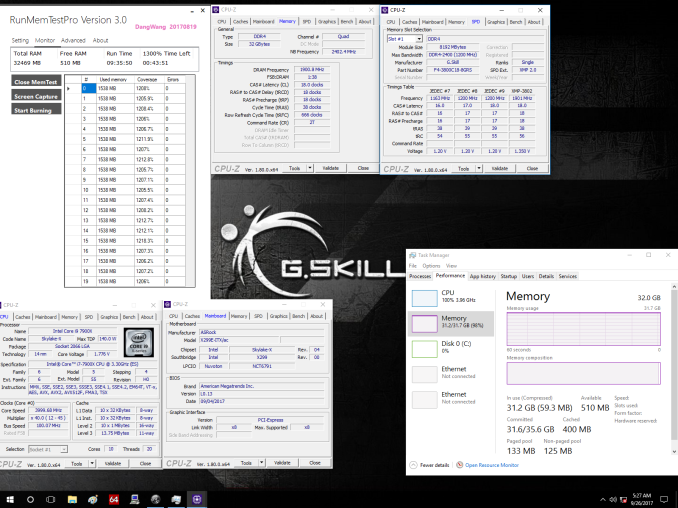 Related Reading
Source: G.Skill