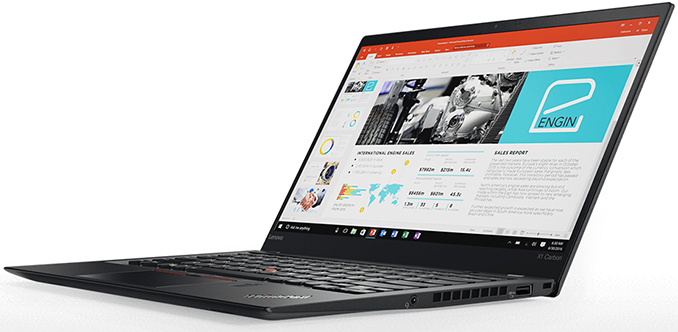 Lenovo this week has began a voluntarily recall of some of its 5th Generation (Kaby Lake, Intel 7000-series) ThinkPad X1 Carbon notebooks because of an unfastened screw that can potentially damage the battery and cause a thermal runaway. The recall covers tens of thousands of laptops produced between late 2016 and mid 2017.
So far Lenovo has received three customer complaints about an issue with this range of laptops, which have resulted in increased thermal activity beyond expected safe boundaries. Upon inspecting the issue, the conclusion is that an unfastened screw has the potential to damage the laptop batteries, causing thermal runaway. To date, no actual laptops have resulted in combustion, nor have they caused any injuries or property damage, but Lenovo naturally wants to eliminate any potential issues related to the manufacturing oversight.
After conducting an internal investigation, Lenovo has confirmed that some of its ThinkPad X1 Carbon notebooks (machine types 20HQ, 20HR, 20K3, and 20K4) produced between December 2016 and October 2017 are affected by the issue, and as a result it has started a voluntarily recall program. The ThinkPad Carbon X1 computers made before or after the said dates are not affected. The PC maker advises ThinkPad Carbon X1 owners to visit a special website and check out whether their machines are recalled.
Lenovo reports that the aforementioned ThinkPad X1 Carbon laptops were sold worldwide and that customers need to check their machines and contact Lenovo for a free-of-charge repair. The company confirmed that around 83,500 units were sold in the U.S. and Canada, but did not indicate how many of them were shipped to customers in other countries.

Lenovo advises customers who have an affected laptop to stop using it immediately and contact the manufacturer. The company claims that it will set up a repair date for each customer, and fix the things with a minimal delay. The repair process itself should not take long because the only thing that has to be done is the elimination of an unfastened screw.
In the recent years laptop recalls because of potential battery problems have became more frequent. As batteries and notebooks are becoming more compact, any damage to a battery pack has the potential to cause severe problems (not just for the user, but also for the reputation of the company). Nonetheless, this is the first situation in recent memory that has identified an unfastened screw as a potential thermal cause for recall.
Related Reading
Source: Lenovo